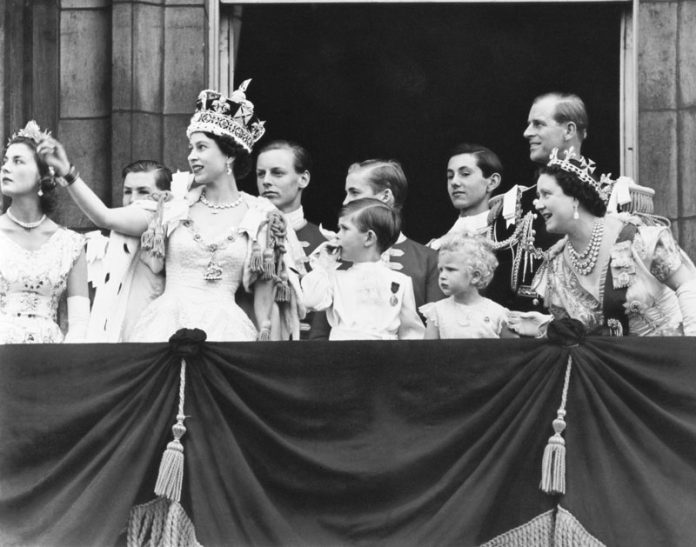 Queen Elizabeth II's seven most memorable gemstones span her seven decades as monarch of the British Empire, from ceremonial pomp and circumstance to state visits, international summits and yes, Zoom calls, an often one-of-a-kind and sometimes surprising array of gemstones accompanied her. Such treasures, from some of the largest and most colorful, to the unexpected and tenderly sentimental, are each as exceptional as the woman and her reign.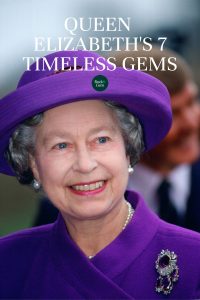 Largest Gemstone
1. The Sovereign's Sceptre with Cross
No stone is more up to the task of transferring imperial titles from one generation to the next than the Cullinan Diamond, discovered in South Africa in January 1905 in the No. 2 mine of Thomas Cullinan and the largest (3,106.75 carats) gem-quality rough diamond ever found. That April it was put for sale in London where, albeit tantalizing, it sat unclaimed until 1907, when the Transvaal Colony government purchased it for Prime Minister Louis Botha to present to Edward VII (Elizabeth's great grandfather) as a goodwill gift between England and South Africa after the Boer War.
The gift, cut by Joseph Asscher & Co. of Amsterdam, became the Cullinan Diamond, yielding a plethora of cuts and sizes. Two diamonds became the 158-carat Granny's Chips, among the world's most valuable and recognizable brooches, and bequeathed by Queen Mary to her granddaughter Elizabeth upon her coronation. Cullinan II, at 317.4 carats, is mounted in the Imperial State Crown (part of the official Crown Jewels).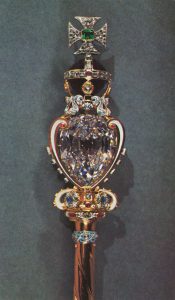 Great Star of Africa
But nothing compares to the huge drop-shaped Cullinan I, or 'Great Star of Africa,' the largest (530.4 carats) clear-cut diamond in the world, surmounting The Sovereign's Sceptre with Cross. Originally made in 1661 for Charles II, the three-foot-tall scepter, symbolizing the sovereign's temporal power, has 333 table and rose-cut diamonds, 31 rubies, 15 step-cut emeralds, seven sapphires, six spinels, and one faceted amethyst monde. 1910 saw the most major alteration when, to receive the weighty Cullinan I, the scepter was reinforced and a hinge added to the structure which holds the stone so that it may be removed and displayed separately.
"Heavy the head that wears the crown" may have applied to Henry IV's 14th-century reign, but by the 20th and 21stcenturies, heavier still is the scepter, once created for King Charles II that will introduce King Charles III.
Most Colorful Gemstones
2. The Williamson Pink Diamond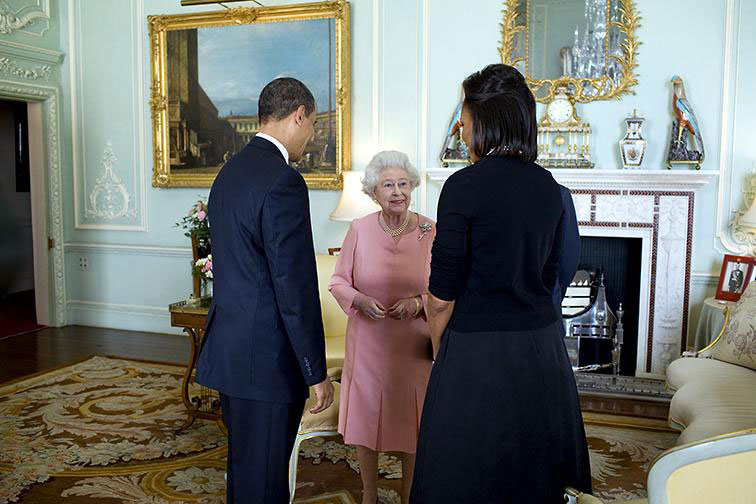 The Williamson Pink Diamond Brooch created by Cartier in 1947 was a 54.5-carat rough cut pink diamond wedding gift from Canadian geologist, Dr. John Thorburn Williamson, owner of the Mwadui mine in Tanzania where it was discovered.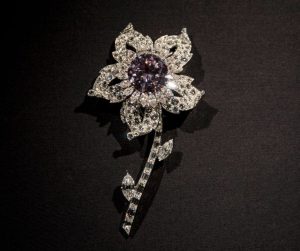 It took lapidaries Briefel & Lemer of London two months to cut the stone into a nearly 4" tall, 23.6 carat round brilliant-cut diamond, and the platinum setting -- a white diamond flower brooch by Frederick Mew of Cartier – was not completed until 1953, purportedly because Williamson wished to elaborate on his generous gift of one of the largest pink diamonds in the world by adding more pink diamonds. But when those proved unavailable, he acquiesced to adding a mere 170 small brilliants, 12 baguettes and 21 marquises.
3. The Cambridge Emeralds
From scandals to teleconferences, nothing matches the colorful history of the Cambridge Emeralds, acquired in 1818 when a homesick Duchess of Cambridge (nee Princess Augusta of Hesse-Kassel), bought a raffle ticket while visiting her native Germany and won a small box filled with dozens of cabochon emeralds.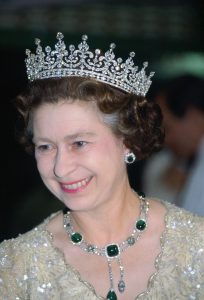 When their niece Victoria rose to the throne in 1837, the Cambridges moved to Kensington Palace, where the Duchess had an English jeweler craft the Cambridge Emeralds into drop earrings and a necklace displaying five pendants. Their daughter, Princess Mary Adelaide, Duchess of Teck, inherited the set and loose stones but, while Mary's own daughter, Princess May, would go on to marry King George V and produce six children (including Elizabeth's father, George), she did not inherit the emeralds. They went to her brother, Prince Francis, an unwed bachelor who died suddenly and – equally unexpectedly – had injudiciously chosen to bequeath the emeralds to his mistress, Nellie. Just a few weeks after Frank's death, Princess Mary gained considerable leverage in her efforts to reclaim the emeralds by becoming Queen Consort. After instructing lawyers to make her brother's will private, she went to Nellie with an offer she wouldn't refuse.
Creating a Parure Set
Upon reclaiming the stones, Mary commissioned jeweler Garrard to use the Cambridge Emeralds to create a parures et, including a tiara with 10 pear-shaped stones atop a diamond border, a nine-emerald necklace, a seven-emerald stomacher, and a pair of earrings with two emeralds apiece. That's one way to keep a mistress's mitts off the family jewels.
Since then, the set has expanded to include a bracelet with three Cambridge Emeralds, plus emeralds Mary received at the Delhi Durbar, including The Ladies of India Brooch and choker necklace later made famous adorning Diana, Princess of Wales. Mary was an important figure in a young Elizabeth II's life and, as her reign extended into the digital age and through a pandemic, she was seen, as recently as April 2022, on Zoom in a green jacket wearing (what else?) Cambridge Emeralds.
4. The Brazilian Aquamarines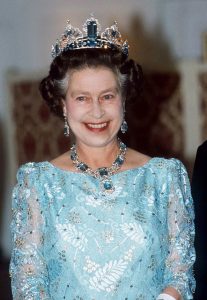 Thanks to the president and people of Brazil, this royal gift kept on giving. In 1953 they presented Elizabeth II with a necklace, of nine large oblong aquamarine stones and aquamarine drop pendant, and matching earrings, set in diamond and platinum, by Rio de Janeiro's Mappin & Webb.
Five years later, more perfectly matched pieces of aquamarine collected in Brazil were presented to her, as a bracelet and brooch. To complete the parure, Garrard was commissioned to create a bandeau tiara with three upright, rectangular stones that could be detached as brooches or mounted on a platinum band. Eventually replacing the central stone with one from a larger pendant, the Brazilian Aquamarines were among her most popular.
Most Unexpected Gemstone
5. The Kent Amethyst
Amethysts at the palace? Yes! Part of an heirloom collection dating to the 19th century, The Kent Amethyst is a hexagonal stone in a deep royal purple, nestled in a brooch set with diamond scrolls and round brilliants, and starring three diamond and amethyst pendants whose provenance can be pinned to the bodice of the Duchess of Kent in an 1830 hand-painted miniature. Upon her death in 1861, the set was left to Queen Victoria who designated the amethysts official heirlooms of the crown.
Elizabeth II preferred the brooch without its pendants, but did wear it complete on Ladies' Day at Royal Ascot in 2013, when her horse Estimate won the Gold Cup (the royal racing silks are red and purple) and, for state banquets, she paired the amethyst demi-parure (without tiara) set with The Girls of Great Britain and Ireland Tiara.
Most Sentimental Gemstone
6. Granny's Tiara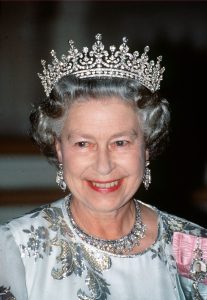 Formally known as The Girls of Great Britain and Ireland Tiara, the original by Garrard featured diamonds set in silver and gold festoon and fleur-de-lis designs, and topped by 14 pearls. A second, stylishly pragmatic frame allowed the tiara to be worn as a coronet or necklace. Named after the committee of women who raised the funds for its creation as a wedding gift to Queen Mary in 1893, they proved so successful that they had more money than they needed. But not for long: A maritime disaster struck Britain when the HMS Victoria collided with another ship off Tripoli, at the cost of 350 souls. Mary appealed that the surplus establish support for widows and children of the perished, and the committee heeded the call.
In 1914, Mary had Garrard replace the pearls with 13 diamond brilliants, while the pearls went into a new Lover's Knot Tiara. When her granddaughter Elizabeth II married Prince Philip in November 1947, the tiara was a wedding gift. Lovingly referred to as "Granny's Tiara," Elizabeth II wore it for one of her first public appearances after the funeral of her father, King George VI. Since 1960 she has paired it with nearly all the jewels in her collection, including amethysts, aquamarines and emeralds.
7. The Richmond Brooch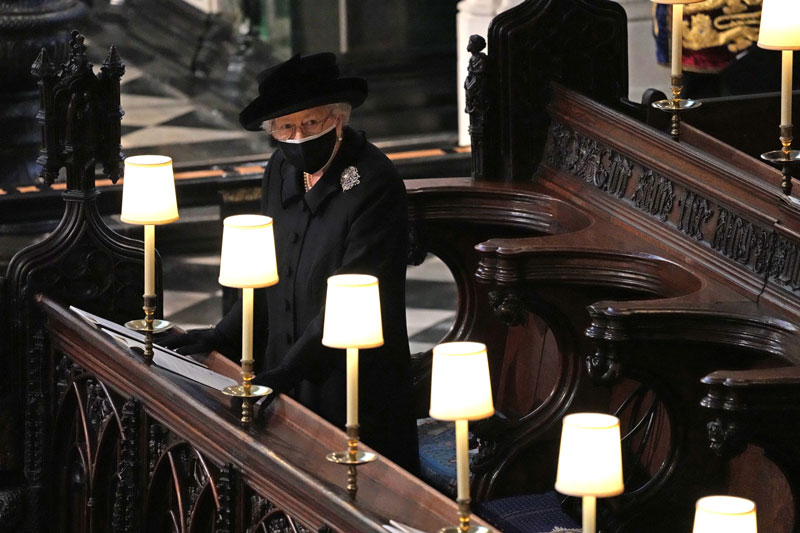 Sadly, another sentimental royal piece is connected to the loss of someone she deeply loved. With the passing of Prince Philip, her husband of 73 years, the world watched her mourning alone in the chapel, dressed in black with an oversized brooch pinned to her left shoulder. Like Granny's Tiara, the brooch was an 1893 wedding gift to Queen Mary, this time from the people of Richmond. The brooch and its pendant of diamonds and pearls were set in silver and gold and crafted by Hunt & Roskell (holders of a Royal Warrant from Queen Victoria).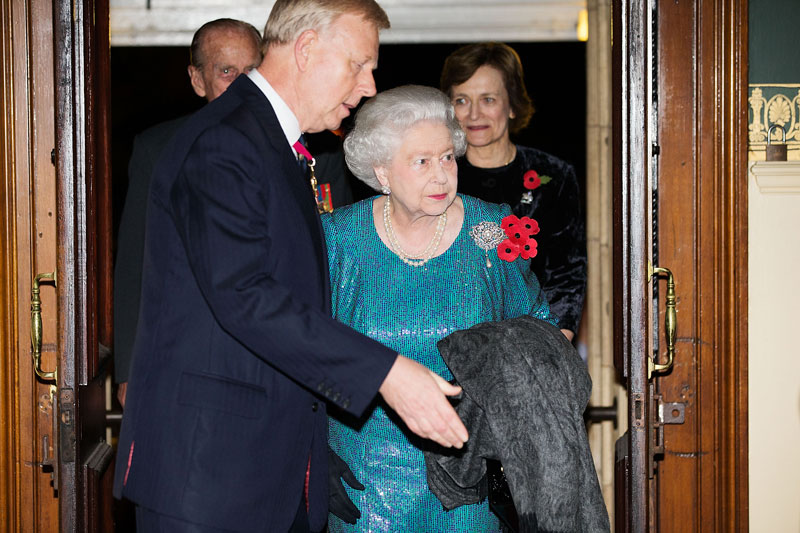 Claibourne Poindexter, a jewels specialist at Christie's Auction House, told the Robb Report in April 2022, "I think that [Queen Elizabeth] is very similar to her grandmother, in that she loves jewelry and believes it is a serious and necessary part of the job. [It] may have been worn to represent not only her grandparents' long marriage but also her own. Queen Elizabeth continued to expand the royal jewelry collection like her grandmother did, and this is a wonderful example of wearing favorite family heirlooms."
Shine On
We may never be royals, but can still love and protect our own heirloom gemstones. Family is the most solid rock we can build on. The Queen is dead. Long live the King.
Royal Jewels: By the Numbers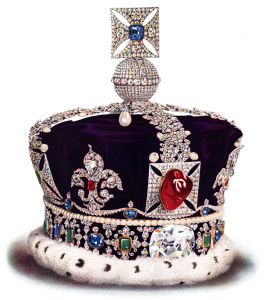 Queen Elizabeth II owned a historic collection of jewels both as a monarch and individual. Her private collection of 300+ items included:
98 brooches
46 necklaces
37 bracelets
34 pairs of earrings
15 rings
14 watches
5 pendants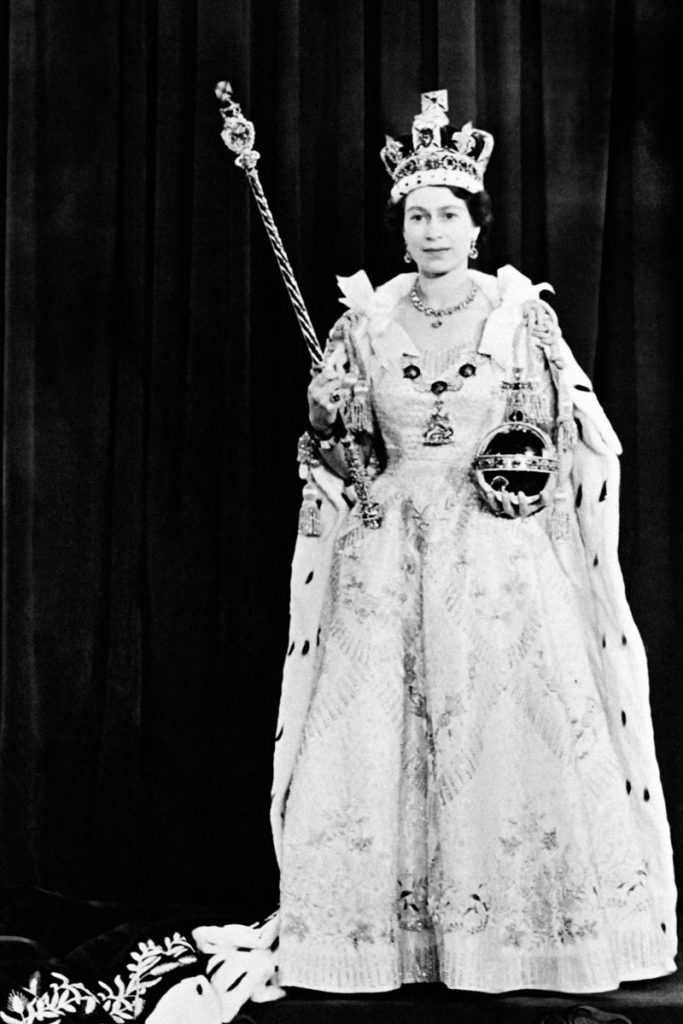 The Crown Jewels of the United Kingdom, in the Tower of London, are a collection of royal ceremonial objects and regalia dating back 350 years to Charles II, and contains 23,578 stones including the Cullinan I, Cullinan II, Stuart Sapphire, St. Edward's Sapphire, Black Prince's Ruby (red spinel), and 105-carat Koh-I-Noor Diamond acquired by Queen Victoria and featured on three consort crowns.
This story about Queen Elizabeth II's seven memorable gemstones is by LA Sokolowski. Click here to subscribe to Rock & Gem magazine.