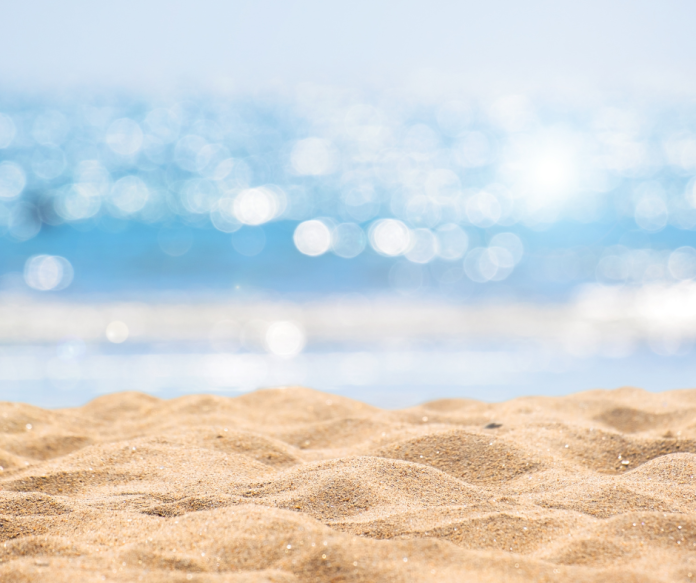 Pink sand beaches are fairly uncommon and flung worldwide among such exotic locales as Crete, Indonesia, the Philippines, Spain and Tahiti. They bring to mind the soundtrack of summer with a little Beach Boys, especially when a song like Kokomo asks, "Bermuda, Bahama, come on pretty mama… Key Largo, Montego, baby why don't we go?"
Yes indeed, why don't we go? Especially if the beachcombing includes long walks on magical, naturally pink (yes, pink) sand and maybe a little sea glass collecting too.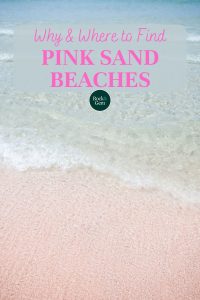 We've found some blushing beauties that offer attainable adventure for more pragmatic bucket lists. Here's why the sand is pink and where to go to see it.
What Makes Pink Sand Pink?
Sand is eroded quartz, so what gives a pink sand beach its incomparable color?
The answer lies in microscopic coral insects, known as Foraminifera, (forams for short) who extend pseudopodia or false little feet out of tiny holes in the red and pink shells known as tests, to attach themselves to coral and to feed.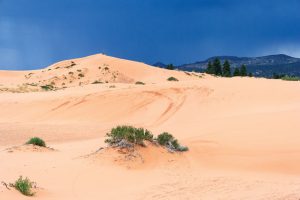 If fossil lovers are going hmm, this sort of behavior sounds familiar, they'd be right. Forams rank in the same phylum as the brachiopods whose Paleozoic Era marine fossils are commonly collected today. Like those ancient forbears, forams are not quite animals (because they don't have bodies divided into multiple cells) and not quite plants (because they don't photosynthesize), instead straddling freshwater and saltwater environments and serving a key role as primary producers.
Primary producers, the National Oceanic and Atmospheric Administration (NOAA) says, represent the foundational base of the aquatic food chain by synthesizing their own energy without the need to eat, and include algae, bacteria and phytoplankton. Scientists estimate there are more than 4,000 species of forams, with the majority (90 percent) living at the bottom of the ocean and growing in sand, seagrass and other benthic substrates.
Scientists believe that the relationship forams have come to share with the algae living inside coral skeletons contributes to their distinct color.
The Bermuda Institute of Ocean Sciences (BIOS), explains how algae get the benefit of a place to live and grow (within the foram's tests) while the foram acquires nutrients by digesting the waste products of the algae. Thus symbiotic algae give red forams their color.
When forams die, either naturally or from the crushing forces of wave action, they sink to the bottom of the sea floor and, over time, tidal forces wash the tests ashore where the remains intermingle with pulverized skeletons of other marine organisms and give beach sand its pinkish hue.
Bermuda Beaches
Understanding a little about the symbiotic relationship between foraminifera and coral-loving algae explains why pink sand is found most commonly on tropical beaches close to coral reefs.
Bermuda boasts not one but two pink sand beaches, Horseshoe Bay and Elbow Beach. This is thanks to the proliferation of a particular species of red foraminifera, Homotrema rubrum, which grows in abundance on the undersides of its coral ledges.
Horseshoe Bay Beach lies off the southeast coast of the island, where offshore coral reefs prevent waves from pounding their way to shore. Beachcombers and snorkelers alike love this spot so, if the beach blanket bingo gets too busy for your liking, consider the quieter charms of Bermuda's mile-long Elbow Beach in Paget Parish, a short hop from the capital, Hamilton.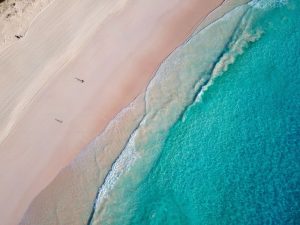 California Dreaming
Closer to home, you don't have to dig out a passport to dig your toes into the sand at mile-long Pfeiffer Beach, in California's Big Sur. One of the West Coast's best-kept secrets -- and a rarity by any geologic standard -- its sand has both pink and patches of purple thanks (especially after a fresh rain) to manganese garnet washing down from the nearby hillsides.
"Pfieffer State Beach is known for Keyhole Arch, a beautiful rock formation, and for purple sand," describe Esther and Jacob, founders of the popular travel blog, LocalAdventurer.com. "It takes a bit of effort and planning to find. Just south of Big Sur Station is an unmarked road called Sycamore Canyon Road, which winds its way two miles down to the road to the parking lot. It's the only paved, non-gated road heading west of Highway One between Big Sur Post Office and Big Sur State Park." The beach is just five minutes from the parking lot.
"If it's your first time visiting, you might be underwhelmed by the color since the whole beach isn't purple (most photos online are probably enhanced). You won't see purple sand every visit," they say, "but the best chances are after it rains."
Harbour Island
Betwixt the southeast coast of Florida and The Bahamas lies The Devil's Backbone, a shallow, jagged coral reef with the notorious distinction of having ripped the bottom off more vessels than any other reef in the country. But where there's a coral reef there could be pink sand and, in this case, a beach akin to a Google Search unicorn.
Harbour Island in Freeport, The Bahamas, or "Briland" to its fans, is more than three miles long, 50- to 100-feet wide, and among the most famous pink sand beaches in the world. It has drawn a bevy of celebrity homeowners and beachcombers, including George Clooney, Jennifer Huston, and 'cast away,' Tom Hanks, and for animal lovers, this is where tourists swim with the island's friendly "sea pigs."
"The sand here is different and dreamy," travel blogger Mamta Madhavan said about Harbour Island Beach in September 2022 for USATales.com. "The soft white sand of the beach is said to have come from the Appalachian Mountains."
Harbour Island Beach is not in the United States but is just a three- or four-hour ferry ride to The Bahamas from Florida via Fort Lauderdale or Clearwater (hence the occasionally baffling search result, 'pink sand Clearwater beach, Florida,' as no such beach exists in the Sunshine State).
"Despite the internet saying otherwise," FloridaVacationers.com explains, "the 'pink sand Clearwater beach' people go nuts asking about isn't in Clearwater, or Florida for that matter! But it is still easy to reach and a great place to go for vacation."
Michigan Sand
Last but not least, not all pink sand belongs on beaches. Along the shores of Lake Superior in Michigan, pink sand can be found on the northeast corner of Sand Point at the end of Sand Point Road. The pink sand, reported the Detroit News in 2017, is actually garnet, eroded from the sandstone layers of nearby Pictured Rocks that washes up at Sand Point to create the unusual attraction.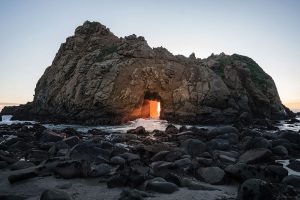 Keeping Earth In the Pink
Last year marked the 150th anniversary of the voyage of the HMS Challenger, the world's first global marine research expedition (which included the first mapping of the ocean floor), led by Captain (later Sir) George Strong Nares and Sir C. Wyville
Thomson (in charge of scientific study), and the foraminifera collected by its crew continues to have relevance today well beyond the simple attraction of tourist-friendly, rose-colored beaches.
Since forams use calcium carbonate to make their shells, specimens collected on the Challenger are being used to investigate the impact of climate change on our oceans.
"At the time, the importance of these specimens to study climate wasn't appreciated," Dr. Stephen Stukins, Senior Curator of Micropalaeontology at London's Natural History Museum told writer James Ashworth in 2022, for HMS Challenger: How a 150-Year-Old Expedition Still Influences Scientific Discoveries Today.
"It wasn't until the 1960s that Sir Nicholas Shackelton would link foraminifera to ancient climate and ice ages, which have since been built on to investigate more recent climate change. I was part of a study which compared plankton tow material from the Challenger to that collected by a recent expedition," he continued.
"While the species composition was mostly the same between the expeditions, we found the thickness of their shells has thinned over the past 150 years. It's not just one species, but every specimen and species we looked at. This thinning is due to ocean acidification, as a result of increased carbon dioxide in the atmosphere."
When it comes to understanding the earth beneath our feet, staying in the pink is about more than just a rosy complexion.
This story about pink sand beaches previously appeared in Rock & Gem magazine. Click here to subscribe. Story by L.A. Sokolowski.