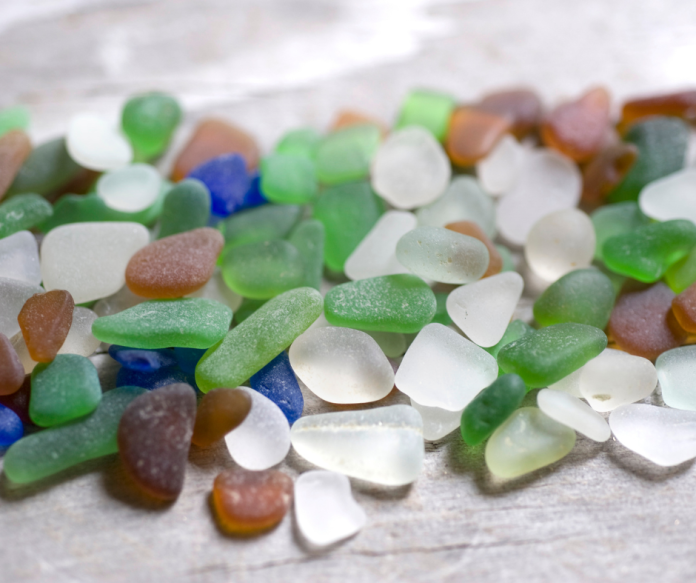 Sea glass art makes fun use of beach vacation finds and its appeal goes back to ancient times. The first manmade glass appeared roughly 4,000 years ago in Mesopotamia. By 1200 B.C., a technique for pressing it into molds had been developed in Egypt (also known for its use of Egyptian gold) and, with the invention of glass blowing, perfected in the first century in the city of Sidon along the Syrian coast, cities like Damascus and Tyre became flourishing epicenters for a new industry. Syria is where glass was 'born' and with growing affordability to a larger market, it was incorporated into daily domestic use by the Romans.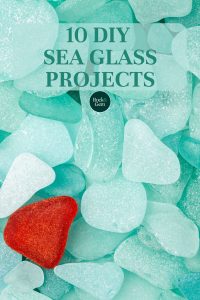 Credited with some of our earliest graffiti (over 5,000 bawdy wall remarks and name tags have been discovered) Roman historians have yet to find a Claudius bug lectica est ("Claudius is a litterbug"), but glass inevitably broken in such ancient households may be among the earliest examples of such seaside castaways, where time and tides turned shards into strange gemstones. Into the first "sea glass."
We've been smitten by this colorful byproduct of both nature and human civilization ever since. A 2016 blog by Lita Sea Glass Jewelry described this natural recycling process as "one of those rare phenomena that only occur when two worlds work together," and collecting sea glass has only increased in popularity in the 21st century. Just this year, the travel blog Icelolly.com ranked beachcombing collectibles sixth among its Top 10 Most Popular Souvenirs (a less permanent commitment than #5, tattoos, yet more unique than #7, fridge magnets).
Whatever Your Imagination Whispers
Want to turn your lake and ocean shore souvenirs into permanent keepsakes? For not-so-crafty beachcombers and rock hounds, here are 10 fun and easy tips for how to display your finds, collected from sea glass lovers like Tesla Odyssey of LoveSeaGlass. com, décor doyenne Martha Stewart, and TikTok DIY ("You're welcome!") favorite, The Gooch.
"Whatever your imagination whispers, whatever your creative mind comes up with, sea glass is a material that allows you to turn it into reality. It works equally well with glass, wood, and on its own, making displaying it very easy, too," says Tesla, whose 100% recycled glass creations can be seen on Instagram @loveseaglasscom.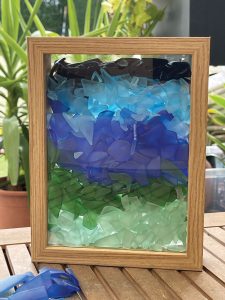 1. Frames and Shadow Boxes: Sea glass pictures make wonderful home decorations on a wall or desk next to a computer. You can create pictures just by arranging/gluing various colors of sea glass, cultured glass and/or shells next to one another. Tesla recommends Etsy sea glass artist Cathy Shimmen, @cathyshimmenillustration, who has "really mastered this technique."
Or… suspend your finds in a tray or box filled with clear cast, nonyellowing epoxy resin, bona fide fun from former Ringling Bros. circus clown and social media star, The Gooch. Here's a link to one such project: https://www.tiktok.com/@the_gooch/video/7223090186190621998.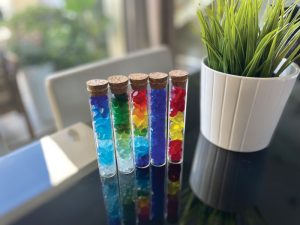 2. Jars: It's okay, we've all had a jam-making/canning phase and yes, it's hard to let good jars go. So fill them up and let beach glass shine. The more sizes and shapes the merrier.
3. Miniature Vials: Good things still come in small packages, as Tesla's "flagship idea" of two types of glass working together, proves. Even the smallest sea glass pieces look stunning when capturing light through glass apothecary tubes like this https://loveseaglass.com/product-category/sea-glass-sets-in-vials/.
4. Message in a Bottle/Vase: We're accustomed to colorful flowers arranged in vases, so why can't sea glass share that spotlight? It's not like water is going to hurt them. Or fill a vintage decanter for a pop of color behind you on those Zoom calls.
5. Glass Bowls: Think horizontal space and let a clear glass bowl or plate display your sea glass. The upside is that you can arrange and rearrange your glass as much as you'd like. The downside? Your cat can, too.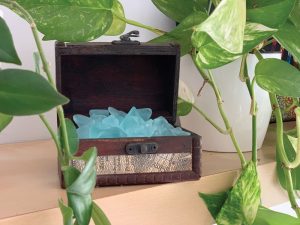 6. Treasure Chests: Memories attached to sea stones are as precious as Spanish galleon doubloons, so display their whimsical worth in a chest. Any chest will do. Once sea glass fills it, it will instantly look like discovered treasure.
7. Greeting Cards: Giving loved ones something handmade is always more special than store-bought, so why not make your own cards? With good card stock and a little glue, you can bring to life a vacation memory.
8. Christmas Ornaments: Why stop there? Want DIY gifts and ornaments for holiday decorating? Sea glass is an awesome material and glue gun-friendly. Turn green shards into fir branches or leaves, glued on Styrofoam cones, wreaths or balls. Use pastel colors to apply the same crafty idea to wedding decorations or, in "Pirate Glass" black, to dress up a spooky Halloween.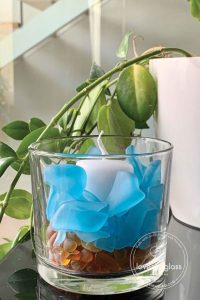 9. Votive Candles: Even Martha Stewart Crafts can't resist a little faux stained glass added to a shelf or mantelpiece. Put a candle (white makes a fine backdrop) inside a clear glass votive. Put that inside a larger glass container and fill the space created between with sea glass plus – if you choose - coral, shells, sand dollars or other vintage glass pieces. Mimic the colors in a beach horizon at sunset with a gradient color scheme of blues and greens to pinks and purples.
10. Personalized Jigsaw Puzzles: If this was a take only photos, leave only footprints experience, no problem! Services like Amazon, CreateJigSawPuzzles, Im-A-Puzzle, PuzzleYou, Shutterfly, Staples, and Walgreens can help you make your own puzzle(s) from your sea glass photos. They will walk you through choosing your puzzle type and size, customizing your design, and uploading your photos to create sea glass jigsaw puzzles all ages can enjoy.
Let Sea Glass Reflect Your Joy
"Looking back, falling in love with sea glass was simply meant to happen," says jewelry maker and sea glass artist Tesla Odyssey of LoveSeaGlass.com. When the Polish native moved from "mostly dark and rainy" Ireland to Costa Blanca she had no idea there was such a thing as sea glass.
"After I moved, I walked the beach a lot collecting seashells, rocks, and every once in a while, sea glass. I was amazed by what nature creates out of something we humans throw away. It made an impact. I fell in love with those small bits halfway between rock and glass."
As soon as she could collect enough, she looked for "cool ways" to display it and show off the colors. She started playing with colors and different containers, asking herself what would happen if she had more colors to work with, beyond the commonly found browns and greens.
"I came up with my own process for making cultured sea glass, using real sea water, sand from the beaches of Costa Blanca, sea shells and some other items (that are my secret)," she grins. After a few months devoted to refining her method, she has created sea glass in nearly 30 different colors. "This allows me to pretty much 'paint' with sea glass. I can create any composition I want."
Color also needs light. "When displaying sea glass, light is very important. You need to choose the right glass to display. If you want to bring a piece's natural color out, use a white or transparent background so light can pass through. That will make it almost 'glow' on its own."
You won't need to do much to show off sea glass and its natural beauty. "Sea glass works great with rocks, seashells and wood," Tesla encourages. "Pretty much anything you can think of. It's a great material to create with, and extremely satisfying, too."
Here's to the souvenirs that make a house a home where others see glass through sea glass lovers' eyes.
This article about DIY sea glass art previously appeared in Rock & Gem magazine. Click here to subscribe! Story by L.A Sokolowski. Photos by Tesla Odyssey