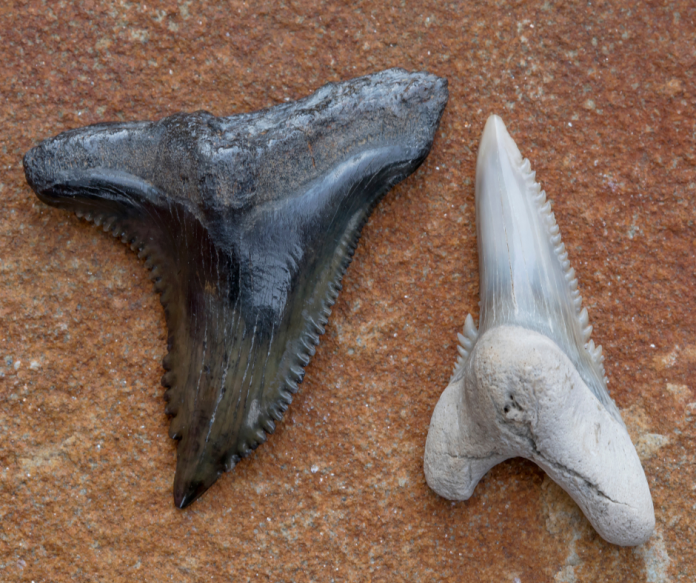 Fossilized shark teeth are readily found on its beaches and have made the Venice, Florida area legendary for fossil hunting in Florida. Searching for sea glass and finding agatized coral are also popular activities.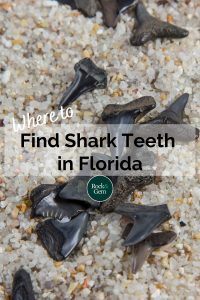 More than 20 years ago, geology and earth sciences teacher Steve Scott arrived in Venice, Florida with his family for a vacation. One day, while he was combing the beach, Scott talked to a couple of locals who told him that the fossil beds under the water were teeming with the remains not only of sharks but of other animals who roamed the earth and water there millions of years ago. It didn't take long before he was off the shore and into the water.
"I've been collecting minerals and rocks my entire life, so when I learned about the underwater fossil beds, I became a certified diver," he says.
His first dive was a game-changer. "I found a jaw from a giant sloth, and about 15 yards away I found a 5 1/2-inch Megalodon tooth," he recalls. "That sloth jaw was a wonderful find. I've never forgotten that dive. I was hooked."
Located on Florida's Gulf Coast, Venice, Florida, was initially settled as long ago as 8200 BCE by Paleo-Indians who hunted the animals whose remains are contained in fossil beds beneath the water.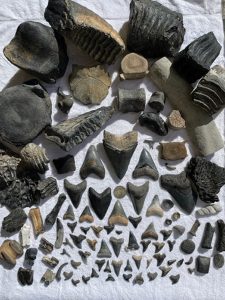 Thanks to those offshore fossil beds, Venice has long been a mecca for divers who come from all over the U.S. and around the world. They search not only for shark's teeth but for fossilized remains of everything from the large extinct elephant-like Mastodon to prehistoric giraffe.
At the same time, the waters off the Venice shore were a favorite birthing and resting spot for Megalodon or "Big Tooth" sharks that cruised the area sometime between 23 to 3.5 million years ago.
"This was a shark nursery," explains Capt. Mike Konesnik, the owner of Aquanutz Charters who has hosted and supervised fossil dives in Venice for the better part of 10 years. "The females would drop pups, rest and feed before they returned to sea and headed north to the Carolinas."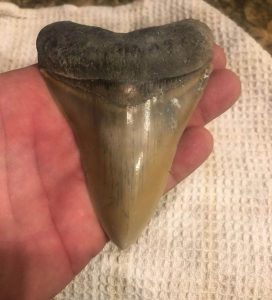 The young sharks remained in the nursery until they instinctively knew their bodies were strong enough to ward off predators in the open ocean, he says. Meanwhile, the evidence of their diet was left behind.
"They (the females) may have been feeding on whales and the babies may have been feeding on whales because we've found (whale) ribs," Konesnik says.
As a result, the amount of still undiscovered shark teeth is seemingly endless. "What's amazing is that we keep finding things," says Scott, who now has 325 dives under his belt. "This shows you how big and thick those fossil beds are – there are more sharks there than there are people on earth."
What's attractive to divers is that most of those finds are made in just 30-feet of water. "It's an easy dive," Konesnik explains. "If you're a fossil hunter you have a tendency to push the limit, and it's much safer to push the limit in 30-feet of water than in 100-feet."
That makes a difference even to an experienced diver, according to Ethan Schuth.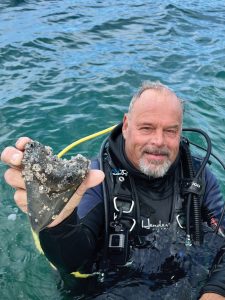 A fossil hunter since childhood, Schuth does most of his exploring for evidence of dinosaurs on land. In 2016, when some friends from the Dallas Paleo Society raved about their Florida dive, Schuth decided to find out why.
So he became a certified diver, headed to Venice and booked a trip on Konesnik's charter. "I had never hunted for fossils in the water before, and it's totally different," Schuth points out. "On land, you can see, in the water, it's darker and the environment is constantly changing – it's a brand new dive every day - you can be in the water and find nothing, but the next day another diver may have brushed the site with a fin and opened up an entire area that you overlooked."
That was the case during the first dive on his first day in Venice.
"I found a couple of little shark teeth – maybe two inches, but the last dive on the last day gave me the big tooth I was looking for," Schuth recalls. "It's as though it was meant to be. I was hooked."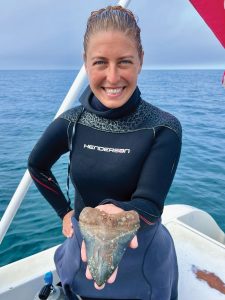 These days, Schuth spends 10 days every year fossil hunting off Venice's beaches.
Meanwhile, the pursuit is growing, according to Konesnik. Every year a new crop of divers arrives in Venice to explore the waters there. Most are men, some veteran divers in their 80s, some as young as 12 years old making their first dives.
Meanwhile, underwater fossil searching is catching on with women, too, he says.
In any case, Konesnik requires that only certified divers who have made a minimum of 15 dives may sign on for one of his charters. Safety is one reason for that, but it's not the only one. Inexperienced divers are most likely to focus on the mechanics of their dive and not on the reason they are in the water in the first place.
"They have to have some experience because if you are concentrating on the dive, you are not concentrating on the hunt," Konesnik says. "Finding the shark's teeth is not the reward, the hunt is."
Even so, many divers are on the hunt for large finds – no matter what their condition, says Scott.
"Most of the fossils divers find are weathered and battered from being in the water for millions of years, and people are always looking for that 5 ½-inch tooth," Scott says.
"But there are a million possibilities."
These days, Scott, now retired, owns a condo on the beach and spends at least two months every year diving for fossils off Venice Beach. Whatever he finds, all the dives are good ones.
"I remember during November and December in 2021 the dives were especially memorable because the water was crystal clear," Scott recalls. "But really it's a treasure hunt – every time you find something, you make a memory – every day is a day you'll remember."
This story about shark teeth previously appeared in Rock & Gem magazine. Click here to subscribe. Story by Pat Raia.
New to Fossil Hunting?

Consider these Tips
Fred Mazza has been guiding people on fossil hunts for years, and if there's one thing that he knows for sure it's that we all come by our love of treasure hunting honestly.
"We all have the 'treasure hunting' gene," says Mazza, president of Paleo Discoveries™, a Florida-based firm that leads excursions for both amateur and experienced fossil hunters. "Whether it's collecting gemstones, shark's teeth, fossils, or even mushroom hunting....we all want to find something."
Even so, knowing what you seek, where to find it, and where to start looking are all keys to fossil searching success.
"For example, the beach is easy - a lot of people go there," Mazzo says. "That's where novice fossil hunters get their start, especially in Venice (Florida)."
That's not to say there aren't things that novice fossil hunters should consider before they start combing the beaches or searching anywhere else.
Here are some tips that Mazzo offers to those new to the pursuit.
Do some research.
That means learning about what you are hunting, and in what location you are most likely to find it.
"That also means being aware of any permits that may be required by the state or local authorities to explore a particular site, or take anything out of that site," he says.
Be aware of safety issues whether on the land or in the water.
"Whether searching for fossils on land or searching in the water there are differences at any site," Mazza says. "Know how to be safe in whatever environment you are going to explore."
Get a guide.
A guide can lead fossil seekers to sites where fossils have been found in the past and can demonstrate how to best locate and retrieve them, especially the first time you go.
Have fun!
"Most of my clients are fossil hunting just for fun – they are not looking to find something that is going to pay for the hunt," Mazzo says. "So just go do it - and have a good time."