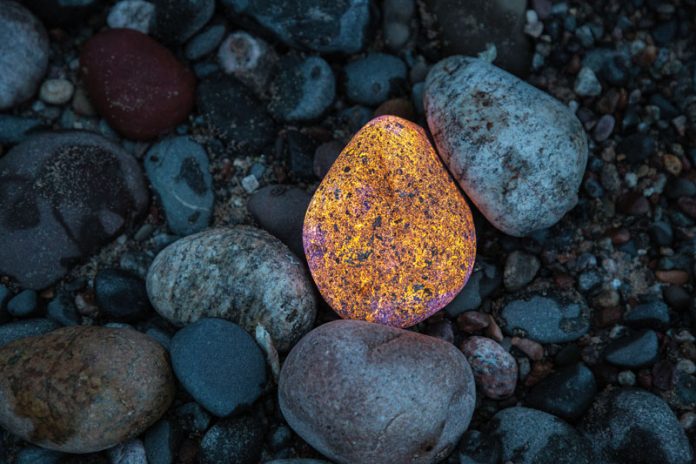 Yooperlites are a unique formation of a fairly common element, fluorescing sodalite. They're fun to hunt during the season in Lake Superior.
If you ask Erik Rintamaki, the man behind the discovery of Yooperlites, to describe the 2021 Yooperlite hunting tour season, he can sum it up in one word: Fantastic."I've had a lot of people come from far away to hunt Yooperlites," said Rintamaki, who leads multiple hunting excursions each week from July through the second week of October. "It's been really fantastic. I had one woman come from Virginia to do her third and fourth tour with me. "I have many people who've come before, and they return for another tour."
Yooperlite Season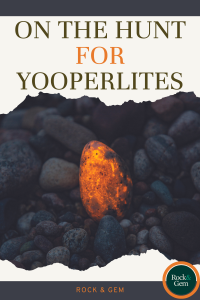 The Yooperlite hunting season this year has seen a few differences. The hunt has been more fruitful, and in some cases, the Yooperlites are easier to find because Lake Superior is down by six or so inches creating about 20 feet more of lakeshore to scan, Rintamaki explained. Participants have also been treated to some amazing sunsets because of wildfires in Canada.
The bulk of the Yooperlites discovered during tours this year have measured between the size of a quarter and that of an adult's fist, Rintamaki said. On occasion there are larger-sized specimens, but as Rintamaki explained he prefers the smaller ones, as they are lighter in size, and often they glow brighter.
Discovering Yooperlites
To recap Rintamaki's Yooperlite journey, he has been hunting Yooperlites (a name he coined) since he discovered the glowing beauties along the shores of Lake Superior in Michigan's Upper Peninsula in 2017. What he discovered was a unique formation of a fairly common element, fluorescing sodalite. The discovery of this unique find by a self-proclaimed "joe schmo rockhound" attracted the attention of geologists, mineralogists, rockhounds, educators, news media, and people who simply found the glowing rocks to be fascinating. So, several people on the planet have, let's say, become fans of the glowing rocks.
Before we go any further, let's talk names. "Yooper" is the abated abbreviation of "U.P." for Michigan's Upper Peninsula — "Yoopers" are the area's colloquial citizenry, as explained in an article by Wayne Peterson, published in the March 2019 issue of Rock & Gem. "Lite" refers to the rock's fluorescent properties from sodalite. Together, it forms Yooperlites.
Tourist Adventures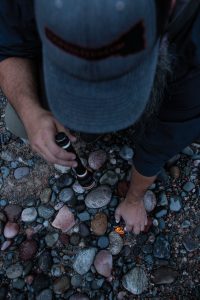 The 2021 tour season attracted first-time Yooperlite hunters Nate and Max Coady from Midland, Michigan. The father-son duo made the trek three-and-a-half hours north on July 25th, making them among the early participants of Yooperlite hunting adventures with Erik during this year. While the Coady men don't consider themselves rockhounds, after seeing photos of Yooperlites (taken by Doug Julian), they simply had to know more, Nate explained.
"I know Doug Julian the photographer because of some real estate photos he's taken, and I'm in real estate, and that's where I first saw the photos of the Yooperlites, and those rocks blew my mind."
Nate and his 13-year-old son, Max, each found 13-16 fascinating Yooperlite specimens during the tour, and were equally impressed by the memories they created.
"We had a really good time. My son enjoyed it quite a bit, and Erik does a great job with the tour" said Coady, who said the hunt reminded him of times in his youth when he'd spend time running up and down creek and stream beds searching for various rocks and fossils.
An Anticipated Trip
Another attendee of a recent outing was Sandra Gustafson of Harbor Springs, Michigan. Gustafson and her sister, visiting from Connecticut, both of whom enjoy beachcombing and the outdoors, had been planning for the trip for the past year, Gustafson explained.
"It was in 2020 that an article about Yooperlites appeared in a publication put out by our local utility company. The article included several photos and I began investigating more about it online after that. My sister and I have planned for a trip like this for a while. My sister purchased the (UV) flashlights from Erik's website and she gave me one for Christmas."
After a year of waiting to experience a Yooperlite hunt, the sisters enjoyed a several-hour hunt scouring the shores of Lake Superior, with a few other experience participants.
"It was an absolutely magical experience," Gustafson stated. "All of the pieces of the experience, which is what Erik calls it, rather than a tour, came together beautifully."
Traveling about three hours, the group arrived on the shore of the designated meeting spot with enough time to take in a remarkable Upper Peninsula sunset. From there, they enjoyed an exciting night of Yooperlite hunting, before returning to their hotel around 1 a.m.
"We pretty much had the beach to ourselves, and it was an amazing experience," said Gustafson on her first Yooperlite hunting experience. "Erik did a superb job. He showed us the techniques, how to use the flashlight to scan, safety measures, and we had the pleasure of discovering (specimens) for ourselves. It was really amazing."
"Erik is such an interesting person. My first impression of him is that he is a wonderful storyteller. He's very knowledgeable, imaginative, curious, and patient. He's truly an educator."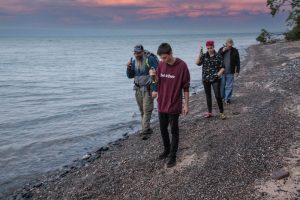 As someone who lives in Michigan, and has had a lifetime of experiences searching for agates and Petoskey stones, to have the opportunity to enjoy hunting for this newly discovered stone was an enjoyable privilege, Gustafson explained.
"Since he made the discovery there has certainly been more and more exposure and we know the word is getting out about it. We feel very fortunate to be able to participate in this experience," she added. "It's just one more thing that proves how unique and interesting this part of the world is."
In addition to a busy tour season, Rintamaki has had a fantastic experience fielding ongoing requests from media and educational programs to share his experience hunting for Yooperlites and leading others in the same exciting expeditions.
"I took the month of June off from shows and hunting so I could do filming with the Discovery Channel, the Smithsonian Channel, and this thing with the History Channel," Rintamaki said. "It's been awesome to do filming with them."
Show Season
Additionally, Rintamaki has attended a few shows. While the number of shows he's attended (about half a dozen) is far less than the 30 or so he'd attend each year prior to the COVID-19 pandemic, the show experience has been different; albeit exceptional in its own right, he explained. For example, while attending the Tucson spring show this year, it was Instagrammers that were the most active customer base Rintamaki served, while he works toward achieving a $1 million sales year in 2021.
"Instead of the regular buyers I'd see from Germany and China, it was Instagrammers who'd come and buy $5,000 worth of Yooperlites, and then they'd return to their hotel rooms at night and do lives on Instagram and sell what they bought. Then they'd come back the next day and buy more and sell what they'd bought that same night.
"It's a very different world we're living in now, but it's exciting," he added while discussing the sense of instant gratification that comes from the buying and selling that involves Instagram. Instead of having to wait months to see how inventory sales fared, the response is nearly immediate.
Whether it is spending evenings along the beautiful shores of Lake Superior showing others how to hunt for Yooperlites, selling specimens via his website or in person at shows, or discussing the discovery and the joy of Yooperlites with anyone interested, Erik Rintamaki is living his best life, encouraging others to do the same, and serving as an ambassador for celebrating the beauty and bounty of nature, anywhere life takes him.
This sponsored story about hunting for yooperlites appeared in Rock & Gem magazine. Click here to subscribe. Story by Erik Rintamaki. Photos by Doug Julian.