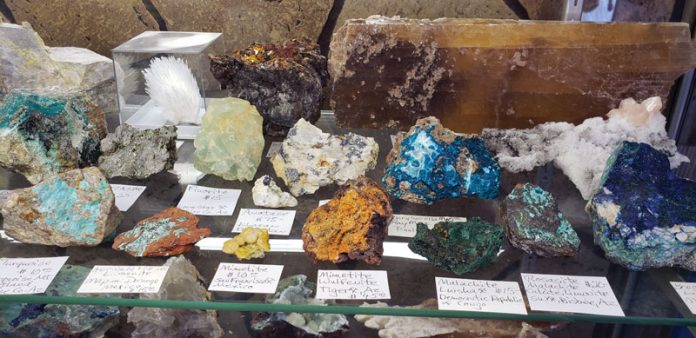 Three miles south of Benson, in St. David, Arizona, is the Sunshine Gallery and Gifts. The gallery's exterior is a simply-built adobe building, decorated with a beautiful welcome sign and several colorful copper art suns. Inside, a wonderful world of rocks, minerals, and jewelry awaits.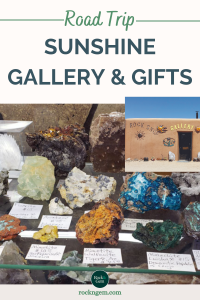 My husband and I visited this Arizona rock shop with fellow Old Pueblo Lapidary Club (OPLC) member and longtime friend, Jerry Glazman. We were welcomed by shop owner, Rolf Luetcke. He and his wife Marie opened the gallery in 1985.
The rock shop and gallery is considered a local favorite and has a loyal clitentele, especially with snowbirds – Arizona's winter visitors.
Beautiful Specimens
As we walked through the gallery, several cabinets were full of beautiful mineral specimens. I always ask proprietors for local material, and Rolf was happy to show us his case with Arizona minerals. Among the specimens was the following:
• Mimetite with wulfenite from the Tiger Mine
• Fluorite from the Lonestar mine in Cochise County
• Chrysocolla from the Ray Mine in Pinal County
• Rosasite with malachite, calcite and limonite from Bisbee
• Turquoise from Turquoise Mountain in Courtland, Cochise County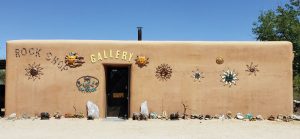 I loved their beautiful gypsum blades from the California Wash in St. David. Some of them were about a foot in length and a couple of inches thick. Another rockhound favorite, delicate Desert Roses —a gypsum variety also from St. David — are available for sale. Gypsum is a soft sulfate mineral of calcium sulfate dihydrate (CaSO4 - 2H2O).
Lots to See!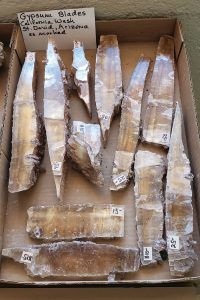 We were also attracted to beautiful specimens of cave material broken during mining processes from the Southwest Mine in Bisbee. Among them are Cave Calcite, aragonite and calcite; all forms of calcium carbonate but with different crystal formations. A rare and large specimen of Cave Calcite has beautiful botryoidal formations.
Rolf also showed us his special specimens which are not for sale – his museum of small reptiles in jars and a case full of animal skulls.
We loved his dad's paintings on the walls, his dad passed away about 12 years ago, and his mom's painted rocks and gourds. In a separate glass case tower is some of Marie's beautiful jewelry.
At the back of the shop, Rolf has his lapidary workshop in a screened porch area, where he cuts his slabs and polishes his specimens. Looking out the window, the yard is full of rocks. Rolf has a large table with a variety of rocks – petrified wood, bornite, galena and gypsum – which he uses for show-and-tell education for young visitors.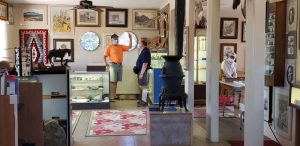 I love being surprised and finding this treasured Arizona rock shop and gallery was a welcome occasion. We all agreed that the Sunshine Gallery and Gifts has a nice mix of minerals and art. The mineral collection has reasonable prices with something for every level of mineral collecting from around the world and, in particular, local specimens.
This story about the Sunshine Gallery and Gifts appeared in Rock & Gem magazine. Click here to subscribe. Story by Helen Serras-Herman.