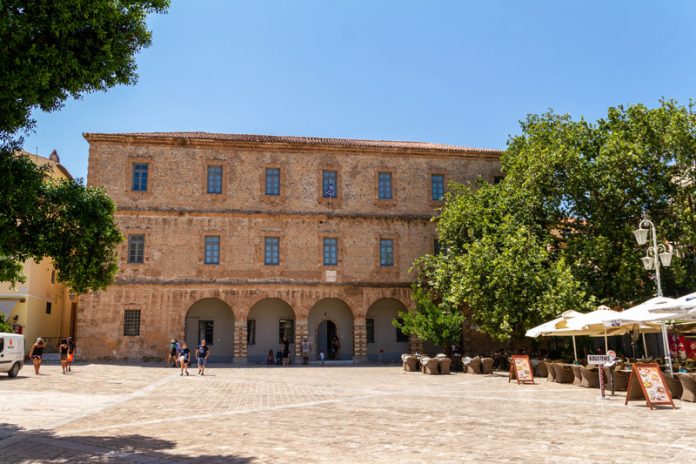 The Archeological Museum of Nafplio is a must-see stop on a rockhound bucket list trip to Greece with lapidary finds from the Bronze-age Mycenaean civilization.
Seaside Nafplio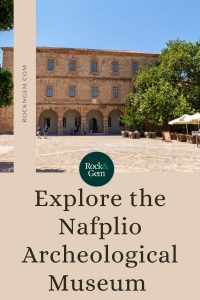 The historic seaside town of Nafplio is located on the eastern Peloponesse peninsula of Greece. Nafplio (also spelled Nafplion or Nauplio) is accessible via an easy two-hour drive south of Athens. The town is close to the famous Bronze-age acropolis of Mycenae and Tiryns, both recognized as UNESCO World Heritage sites since 1999. The citadels are famous for the massive Cyclopean walls, tombs, and the immense collection of Mycenaean gold masks, engraved gems, and jewelry. The Mycenaean Greek civilization flourished during the last phase of the Bronze Age in ancient Greece, from around 1600 to 1100 B.C. Several discoveries from that period are on exhibit at the Archeological Museum of Nafplio.
The beautiful old city of Nafplio with its narrow alleys and streets, three Venetian fortresses, sea breeze and panoramic views, is a favorite place for tourists and Greeks alike. The town became the capital of the first Hellenic Republic from the start of the Greek Revolution in 1821 until 1834. The Venetian castle of Palamidi, built under Venetian rule (1685 to 1715), looms majestic over the old town.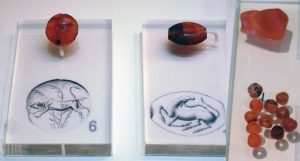 The Archeological Museum
Nafplio's Archeological Museum is located in the heart of the old town. The massive, three-floor stone building dominates the picturesque Syntagma Square. The building dates from 1713, when Nafplio was governed by Venetian Proveditore Augustino Sagredo and used as the navy's arsenal depository.
The museum's extensive collections are displayed on the building's two upper floors. Exhibits include objects from the Paleolithic Age, Neolithic times from 6,000-2800 B.C., vases and terracotta masks from the Classical period (7th century B.C.) and beautiful terracotta female figurines from the later Hellenistic period.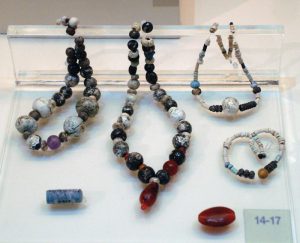 Among the museum's highlights are finds from the Bronze-age Mycenaean civilization (1600-1100 B.C.). Fine-looking pottery and bronze vases fill the cases. A very unique discovery and prominent display in the museum is a warrior's bronze panoply (armor suit) from the 15th century B.C., with remains of boar tusks on the helmet. It was discovered at the cemetery of Dendra, which is outside the third Mycenaean center, the well-preserved 13th century B.C. Acropolis of Midea. Excavations there brought to light elaborate jewelry and figurines, valuable discoveries that document the wealth of that era.
Other highlights include beautiful Bronze Age terracotta goddess figurines, some with raised arms, about 11 inches tall. One of them, a wheel-made divinity figurine from Midea has bright horizontal stripes. Another one, found in a shrine at Tiryns, exhibits a prominent nose and very round eyes, bedecked with jewelry –a diadem, necklaces and bracelets, while her garment is adorned with garlands.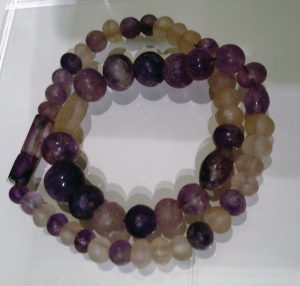 Bronze Age Jewelry
The Bronze-Age jewelry collection, dating from about 3,000 years ago, includes necklaces that could rival any contemporary design.
One of these necklaces was made with various shells, including Luria Lurida (a cowry shell), Glycimeris (bittersweet clams), Pinna nobilis (noble pen shell) and Cerithium vulgatum (sea snails) shells, dating ca. 6800-3200 B.C. This necklace was discovered in the Neolithic-era Franchthi Cave, where obsidian was also found, indicating the extent of exchange networks.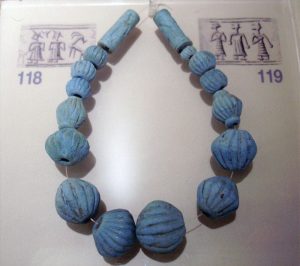 Another necklace had blue faience grooved beads, graduating in size, with two engraved cylindrical beads at the end, discovered in a chamber tomb in Panariti, from the 16th-15th centuries BC. The ancient faience glass was a sintered quartz material. The quartz underwent vitrification by exposing it to heat and was covered by a vitreous coating, resulting in lustrous colors of transparent blue or green glass.
Three strings of amethyst beads demonstrate the precision techniques the ancient lapidary artists processed, cutting perfectly round beads by hand. They were discovered in burial pits at the tholos (beehive) tomb at Kazarma, another Mycenaean fortress on the road from Epidavros (where the ancient theater is) to Nafplio. All the jewelry and pottery from that tomb — dating from around 1500 B.C. — is exhibited in one case, along with a photograph showing the excavated tomb.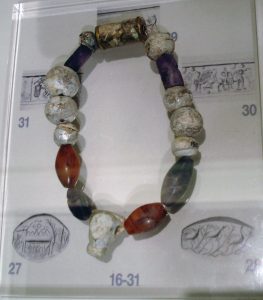 Kazarma Tomb Necklace
Another amazing necklace from the Kazarma tomb consists of several engraved beads, exhibited with numbered drawings denoting those engravings. The necklace includes glass beads, carnelian (#25) and amethyst (#26) beads, an amethyst seal stone with animal (#27), a carnelian seal stone with birds (#28), a glass cylinder seal with gold fittings with griffin (#29), and two amethyst cylinder seals with griffin, lion and female figure (#30) and chariot with lions (#31). An incredible amount of lapidary work in one necklace!
There are more necklaces with glass, faience, amethyst and carnelian beads (15th c. B.C.). In addition, engraved cornelian gemstones and beads are on exhibit, even some uncut rough carnelian material. A fabulous string of gold beads, possibly from a bracelet, dates from 1500-1350 B.C.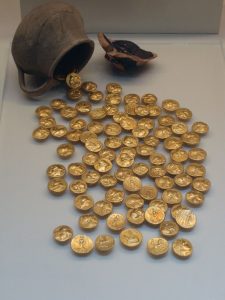 Numismatic Collection
Lastly, there is a wonderful numismatic hoard consisting of 92 gold stater coins of Phillip II, Alexander III, Phillip III Archideaus, possibly Lysimachus, Seleucus I and Demetrius Poliorcetes. The hoard was found inside a clay vessel in the sanctuary of Artemis from the early 3rd century BC Hellenistic era. The presence of coin hoards inside sanctuaries reveals the importance of coins as offerings to the gods and the sanctuaries' function as banks during antiquity.
This story about the Archeological Museum of Nafplio appeared in Rock & Gem magazine. Click here to subscribe. Story by Helen Serras-Herman.