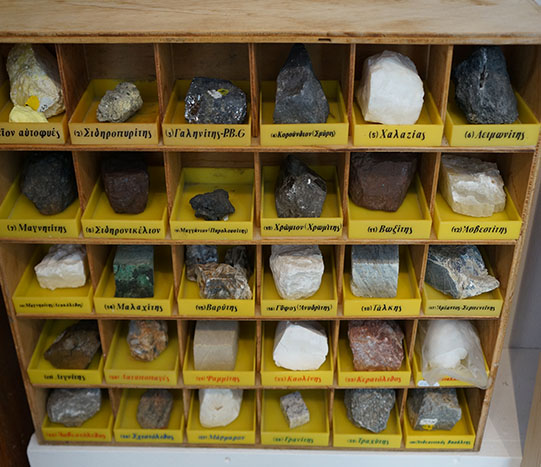 Story and Photos by Helen Serras-Herman
Every time my husband, Andrew, and I visit Greece, we try to visit a place that we have not been before. For our trip in September of 2016, I chose the island of Naxos for its archeological and geological appeal. Ancient temples, gigantic kouros marble statues and iconic Cycladic idol marble figurines, and high-grade white marble and emery were elements of that attraction.
Exploring Naxos
The island of Naxos is part of the Cyclades, an island group in the Aegean Sea. It is easily accessible by ferry from the seaport of Rafina (near Athens). The voyage lasts less than six hours. We stayed in the capital of Naxos, Naxos Town (Hora). I always find it more advantageous to stay in the capital towns of the islands where there is always more to see and do culturally.
While researching the places to visit, I came upon the Museum of Natural History and the Geological Museum, both located in the remote and picturesque mountain village of Apiranthos (also spelled Apeiranthos, or Aperathos), about 32 km from the capital Naxos Town.
Like many other Greek islands, Naxos has beautiful sandy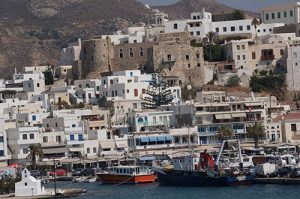 beaches and a splendid shoreline, but inland there are very tall mountains, which present incredibly scenic views, but risky driving conditions, as well. So instead of renting a car, for two consecutive days, we decided to join a tour bus from Naxos Bus Transfer Tours and visit all the important sites on the island. Our wonderful guide, Ms. Eirini, gave us endless information. The only disadvantage is the limited time allotted to sites and museums!
The village of Apiranthos is situated at an elevation of nearly 2,000 feet. The village almost hangs on the edge of the hillside, built amphitheatrically on the slopes of Mount Fanari. Once you reach the center of the town, the view overlooking the valley and the surrounding mountain peaks is amazing! The town's architecture is influenced by the Venetian occupation, which lasted for over 300 years. In 1204, after the Fourth Crusade, Venetian Marko Sanudo established his Duchy of the Archipelago with Naxos as its center, which fell in 1566 under Turkish occupation. Citadels and 21 towers are still visible around the island, and coats of arms above house doors and ornate balconies are reminders of the Venetian history of the island.
I found Apiranthos to be the most interesting and charming village on Naxos. Five museums are open to the public: the community-maintained Folk Art Museum, Visual Arts Museum, Natural History Museum, and Geological Museum, and the government-run Archaeological Museum. For a small village of 1,100 inhabitants, that's an astonishing cultural level! Apiranthos has been called the crown jewel of Naxos, and I would totally agree.
After a short walk around the heart of Apiranthos, looking at the imposing Venetian-era Tower of Zevgolis, the marble-paved alleys, and quaint shops, we visited the Natural History Museum.
Natural History Museum of Naxos
This museum was established in 1996 with exhibits that had been part of the Geological Museum until that time. It has been enriched with private collections and donations, and today it contains more than 1,300 specimens of sea and land fauna and flora of the island of Naxos.
Four skeletons of sea mammals found within the Cycladic waters are a whale (phyceter macrocephalus) and a bottlenose dolphin (tursiops truncatus), both hanging from the ceiling of the museum, and the well-preserved skeletons of a sea turtle (Caretta caretta), also known as a loggerhead turtle, and a Mediterranean Monk seal (Monachus monachus). There are two aquarium tanks and an assortment of fish preserved in jars, all labeled and classified for anyone who is interested in further study.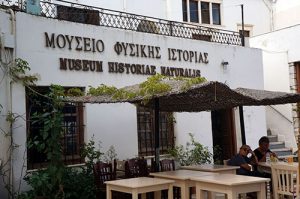 Also on exhibit are a variety of sea sponges and corals, some of them rare species. A couple more rare exhibits caught our interest: a small taxidermic crocodile and the fossilized bones of a dwarf elephant from the Late Pleistocene Epoch, around 70,000 years ago.
An incredible exhibit of 260 shells, some local and others from around the world, was a private collection of Mr. Manolis Bardanis, who donated them to the Natural History Museum.
The Museum of Natural History is open every day from April through October from 11 am to 5:30 pm. A 2 euro (just over $2) fee includes entrance to all community museums in Apiranthos.
The warm welcome that we received by museum guardian Mrs. Eirini Bardani was unbelievable. In the short time that we had available, she made a huge effort to show us every exhibit and tell us the story of the exhibits and the museum. The museum also had a very small gift shop, where we purchased a couple of specimens of emery and a small selection of books. She also explained, to our surprise that our main interest, the Geological Museum, was not housed there, but back in the center of town, and that with our time limit that visit would not be possible on that day.
Geological Museum of Naxos
We returned to Apiranthos the next day, and set off immediately to find the Geological Museum. It was established in 1966 and was originally housed in the library, then at the elementary school. It is dedicated to the memory of Petros Protopapadakis (1854-1922), a native son of Apiranthos, who studied mathematics and engineering in Paris and later became a politician and, in 1922, Prime Minister of Greece. He was interested in the geology of the local emery and helped promote the area around Apiranthos.
The museum collection includes more than 3,000 specimens of minerals, fossils and metals, mostly found on the island of Naxos. Also on display are obsidian blades and sulfur from the neighboring volcanic islands of Milos and pumice from Santorini, along with other volcanic minerals from Mount Vesuvius and Mount Etna in Italy, and an array of minerals from around the world.
More than 1,000 specimens of the collection were donated by another famous Naxian politician, Mr. Manolis Glezos, who was also instrumental in the re-opening of the museum in 1987 after several years of being closed.
The Geological Museum of Naxos is under the scientific supervision of the Greek Institute of Geology and Mineral Exploration (IGME) (www.igme.gr/), which has enriched the museum with specimens, books and geologic maps. (Aperathian Culture, Association of Friends of the Museums and Library N.N. Glezou, Apeiranthos, Naxos, 2009).
A wonderful small section of the museum is dedicated to limestone and Greek marble, with samples of white, semi-white, and crystallina Naxian and Parian marbles, as well as marbles of other colors. Also included are stalactites and stalagmites from caves from Naxos, and aragonites and dolomites from the Cyclades and other parts of Greece. A beautiful specimen of blue aragonite from Laurion is also on display. Handsome wooden and metal cabinet towers contain all these beautiful specimens.
Within the museum section on Cyclades, there are mineral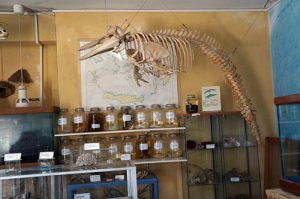 specimens and ores from almost every island in the Cyclades, among them, a stunning specimen of tourmaline and quartz, and a terrific large crystal specimen of green quartz from Serifos. I immediately recognized the origin, as we have a small crystal of that same green quartz in our collection.
A large part of the exhibit is devoted to the local emery: mineral specimens, data, maps and tools. Part of an exhibit case is devoted to the emery products for sanding and polishing: grit, blades, sanding paper, and emery wheels.
The unique specimens I was drawn to were white marble with distinct crystals of blue sapphire. I asked if they had any specimens for sale, but unfortunately, the Geological Museum does not have a gift shop. Later, we returned to the Natural History Museum and, although there were none of the specimens with the blue sapphires, we found a couple dark emery specimens for purchase to bring back home.
In the paleontological section of the Geological Museum of Naxos, there is a variety of fossilized specimens. One is a very rare upper jawbone of a dwarf elephant, found at the eastern shores of Naxos. This elephant lived around 70,000 years ago and was about 4 or 5 feet tall. Bones from a similar elephant are on display at the sister museum of Natural History.
There is also a 5.5 million-year old fossil part of a giraffe from Pikermi in Attica (near Athens), ammonites from Epidaurus and Crete, and fossilized wood from the 20 million-year-old forest on the island of Lesvos, as well as trilobites from Tunesia and Brazil.
The Geological Museum of Naxos is open every day from 10 am to 7 pm from April through October. During the winter it is only open for one hour a day, noon to 1 pm.
The museum guardian on duty that day was Mrs. Argyro Karapati, who was so wonderful, proud and excited to show us all the exhibits and share her knowledge. Unfortunately, we were not able to meet the geologist in charge of the collection, Professor Nikos Scarpelis.
One small detail I have yet to mention is that the museum is located in the elementary school building, three stories down.
At noon on a hot September day, it was a feat just to reach the museum! And it was an even bigger accomplishment to climb back up the stairs and the hill and return to the bus on time! But we felt really good for achieving our goal to visit this remote museum.
Although not a huge museum, the Geological Museum of Naxos was impressive, informative and hospitable. Both the Natural History and the Geological museum are community efforts, without any government assistance, which is rare for Greece. Besides, there are very few other geological museums in Greece. It is definitely a destination for any rockhound, fossil and gem and mineral lover visiting Greece!
My only regret is that our visit to the village of Apiranthos was too short. Had I realized the depth of the museums, I would have reserved at least one more day to stay in that area. Maybe next time!
Archeological Museum in Apiranthos
The small Archaeological Museum of Apiranthos is located in the center of town. The museum has been open since 1960 and houses archaeological discoveries from around the island of Naxos. The majority of the collection is pottery and small marble statuettes (idols) from the Early Cycladic Era (3200 to 2000 BCE), when Naxos flourished.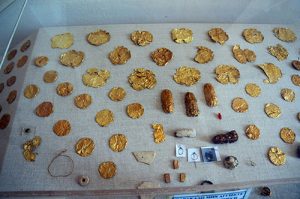 Many of these finds came from farmers, who donated them to the museum. A large part of the collection also came from a private citizen, a mathematician named Michael Bardanis, who understood the importance of the archaeological finds. He went around the island salvaging them, and they became the core of the Archaeological Collection of Apiranthos. The collection grew over the years from 500 pieces to more than 1,200 (Aperathian Culture).
Also in the collection are small bronze tools and utensils, bronze weapons, and beautiful bead necklaces, probably made out of green serpentine, and bone or ivory. Series of fragments of marble idols, small torsos, little heads and feet, all exhibited in neat rows are testimony of the early Cycladic art.
Something that I had not seen before in Greece are gray marbles plaques with engraved hammered representations, rock carvings similar to Native American petroglyphs. These plaques, discovered in a sanctuary in the southeastern part of Naxos, date from the third millennium BCE and show primitive depictions of men, animals and ships. In their simplicity, they reveal everyday life scenes of hunting, dancing and navigation. I was really taken by their beauty and rarity.
The Archaeological Museum of Apiranthos is open daily, except Monday, from 8:30 am to 2:30 pm. The entrance fee is 3 euros (just over $3).
Archeological Museum in Naxos Town
On our last morning in Naxos, we visited the Archeological Museum in Naxos Town (Hora). The museum is located inside the Venetian castle, high above town, in a five-story building, which has been declared a historical monument itself. Built between 1600 and 1800, it was part of the Venetian wall system. The building was given to the archaeological service and since 1973 it has been home to the museum. Thankfully, there is an elevator to take visitors from the ground floor to the upper level where the museum is.
The Archeological Museum of Naxos houses art and objects of daily use dating from the Late Neolithic period to the Early Christian times (5300 BCE through 400 AD). During the Early Cycladic period (about 3200 to 2300 BCE), Naxos was the most important commercial and cultural center in the Aegean.
Excavations from several sites—especially tombs—around the island, have brought to light many finds that are now exhibited at the Naxos museum.
Astounding is the quality and quantity of the Early Cycladic marble figurines. Cases upon cases are filled with these flat, minimalistic sculptures. The collection is considered second only to the one at the National Archaeological Museum in Athens.
The most common shape is the so-called "Spedos" type, named after an Early Cycladic cemetery in Naxos: a female with arms folded below the breasts; the pubis is delineated by an incised line, and on the large head, which leans slightly backwards, only the nose is carved. It is theorized that the rest of the features were painted on these figures. These figurines were crafted prolifically and sent to various places of the ancient world.
A multitude of fine ceramic vases with painted decorations of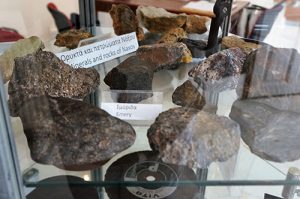 birds, fish and particularly octopuses, dating from the Mycenaean (1600 to 1100 BCE) and the Geometric periods (900 to 700 BCE) are on display. Pottery, sculptures and terracotta figurines from every other period from Archaic to Roman, and glass vases were also part of the collection.
What drew my attention were some very beautiful gold jewelry and stone bead necklaces. A stunning display of gold rosettes from a decoration of a wooden chest or a dress from the 12th century BCE manifests prosperity. I was truly taken with the fine craftsmanship of a necklace with 20 gold beads graduating in size and four gold sheets stamped with a representation of a child from the same Late Mycenaean period. Also exhibited were finely engraved seals, some cylindrical and others lenticular, in carnelian and agate, and carved beads in what seemed to be green serpentine, rock crystal, carnelian and shells.
The Archaeological Museum of Naxos is open daily from 8:30 am to 3 pm, except Monday.
I am forever in awe by the labor that my fellow ancient lapidaries and sculptors invested in their pieces. They chiseled the ancient Greek Cycladic Civilization one strike at a time.
They were so prolific in their work, and had mastered their art and technique, developing a speed in their work that we contemporary carvers are not used to. I always wish archaeologists would uncover more details on the ancient workshops. How many workers did it take or how long did it take to carve each of these idol figurines or the large kouros sculptures? They are definitely a source of inspiration!
---
Author:
Helen Serras-Herman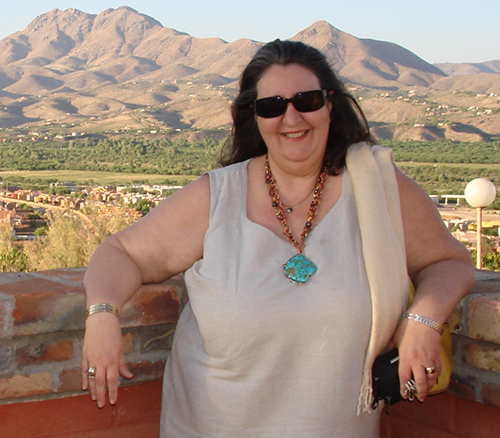 A 2003 National Lapidary Hall of Fame inductee, she is an acclaimed gem sculptor and gemologist with over 35 years of experience in unique gem sculpture and jewelry art.
her business Facebook page at Gem Art Center/Helen Serras-Herman.