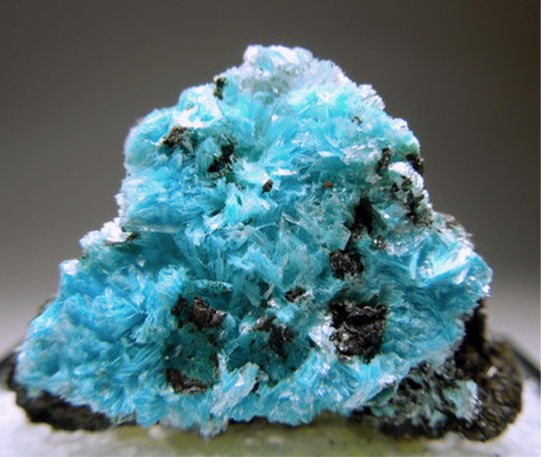 By Antoinette Rahn
At first glance, aurichalcite may appear to be sturdy and dense, but it is fragile and on the soft side of the Moh's Hardness scale in reality. We may be able to call it fanciful and fragile, but that certainly doesn't take away the wonder and awe-inspiring characteristics of this member of the carbonate family and a natural brass ore.
It often presents as light blue, a distinctive sky blue, as well as blue-green, and at times a pale green color, as described at minerals.net. The crystal formation of aurichalcite certainly contributes to its common presentation, which is tiny needle-like crystals that are often interwoven. Some have even described the crystals of aurichalcite as scales or even radiating crystals. I mean, being described as radiating is a good thing, regardless.
It is not a commonly found mineral, even within copper ore deposits, but aurichalcite recorded localities are found in nearly every continent. The list of localities reads like a "who's who" of impressive historic localities, including Laurium, Greece; Cumbria, England; Tuscany, Italy; and the Roddenhaus Quarry in North Rhine-Westphalia, Germany. It also appears at the Ojuela Mine in Mapimi, Durango, Mexico. Within the U.S., localities include the Keeler Mine in Cottonwood Canyon, Utah; Custer County, South Dakota; and the 79 Mine in Hayden, Gila County, Arizona, which is a classic locality and the place this specimen was found.
This specimen of aurichalcite boasts what the dealer describes as "bright blue-green tufts of acicular crystals of copper carbonate Aurichalcite on a brown limonitic matrix." It measures 2.4 x 1.7 x 1.2 cm and is featured in the Dealer's Choice auction being held at Mineral-Auctions.com. The specimen is offered by Luciana Barbosa.
---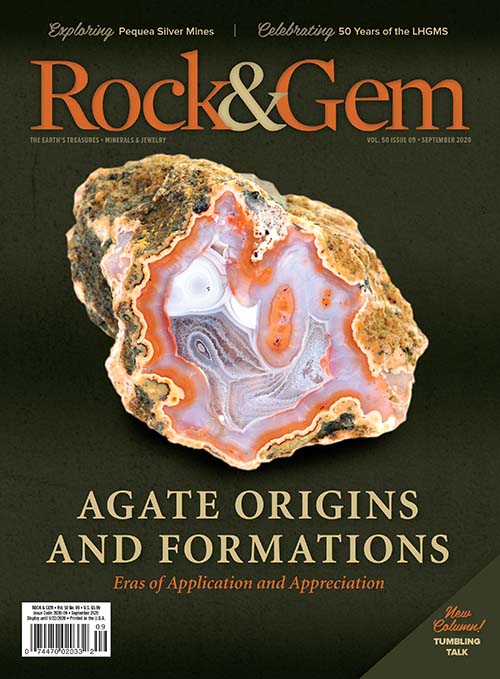 If you enjoyed what you've read here we invite you to consider signing up for the FREE Rock & Gem weekly newsletter. Learn more>>>
In addition, we invite you to consider subscribing to Rock & Gem magazine. The cost for a one-year U.S. subscription (12 issues) is $29.95. Learn more >>>
---