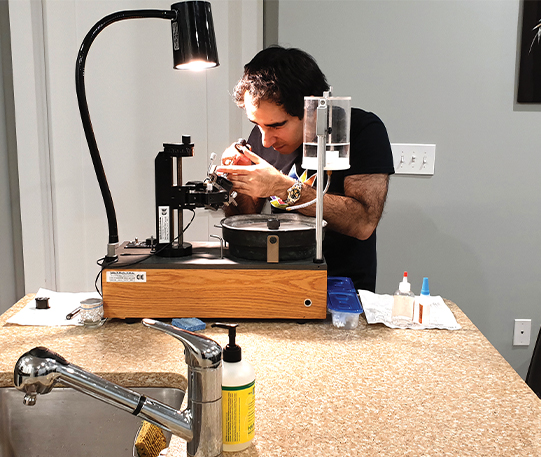 By Antoinette Rahn
Arya Akhavan
Lapidary hobbyist
(Mr. Akhavan is an artist featured in the Tools of the Trade profile sponsored by ULTRA-TEC.)
At some point in life, many fortunate people will receive a family heirloom of some kind, and what they choose to do with such a gift can vary greatly, but for Arya Akhavan, an heirloom opened the door to a world he could never imagine.
While in college, Akhavan's grandmother gave him a small parcel of lab rubies from France that dated to the 1920s. The stones once belonged to his great-grandmother. In short order, Akhavan used his research skills and began learning about the stones and faceting process. Turning to publicly available instructional resources created by the legendary faceter, the late Jeff Graham, and other pioneers of faceting instruction, he learned and developed an interest in faceting. Fortunately for Akhavan, who was a student at Arizona State University at the time, the Arizona Mining and Mineral Museum offered, among other courses, a faceting class. Akhavan didn't hesitate to sign up.
With the doorway to the world of faceting flung wide open, Akhavan walked through and hasn't looked back. Attending that one course prompted him to purchase a used ULTRA-TEC machine, a unit manufactured in the 1980s, and continue to absorb every ounce of information, instruction, and advice he could.
"I met a whole bunch of people from the US Faceters Guild (USFG), participated in their faceting competition, and after a lot of discussions, ended up on the board of directors for a few years," said Akhavan, a doctor who is in the process of completing training in plastic surgery. "I bought GemCAD to try and learn how to write my own designs, and since there weren't many free resources out there, I published more than 200 designs online, for free."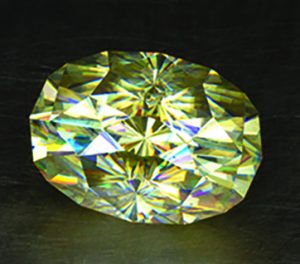 At the time, the lack of free faceting resources was frustrating, Akhavan said. So, as is often the case with innovation, the necessity for information led Akhavan to create one of the first videos that demonstrate how to use a faceting machine and explains how faceting works. And while he definitely enjoys helping others to learn about faceting and being active in the wider community of faceters, Akhavan is focused on maintaining his interest in faceting as a hobby.
"As a doctor, I very much need something to do that has nothing to do with medicine and has nothing to do with the current COVID-19 pandemic. Being able to come home from the hospital and unwind with faceting and a good TV show is one of my favorite ways to decompress," he explained. "It's wonderful to take a break from the rest of the world and sit down with a nice piece of synthetic gem rough and an easy, fun design to cut."
Finding Peace In Faceting
Purchasing various equipment through ULTRA-TEC makes his goal of creating to decompress smooth and enjoyable. After using his 1980s-era ULTRA-TEC machine for some time, he saw the improvements made in the V5 model. The improved repeatability, mast stability, and digital angle dial of the V5 convinced him to upgrade. Immediately, he found that it was much easier to facet.
"With the extra repeatability and stability, I've been much more comfortable writing and cutting designs that are much more complicated, or have angles that are much closer together," he said. "And my cutting time went down as well, thankfully."
In addition to the machinery, Akhavan has also found ULTRA-TEC accessories to be incredibly useful. For example, after hearing that pentagonal designs can be unusually bright, Akhavan examined the theory behind it and purchased an 80-index and a 120-index, which resulted in "hilariously bright designs out of some garnets and sphene that would otherwise have been way too dark."
Among the valuable skills, experiences, and insight Akhavan has gained from cutting gemstones and using ULTRA-TEC equipment include: the machine's calibration and quality really do matter. And a well-maintained, highly accurate machine saves an absurd amount of effort and time, he explained.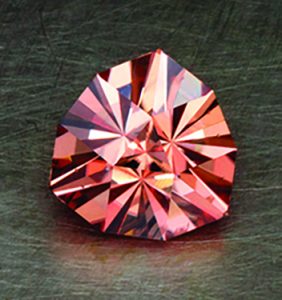 Another piece of widely applicable advice Akhavan has gained through developing a fondness for faceting is a theory first shared by Voltaire, loosely defined as "the enemy of good is better," he said.
"In faceting, one of the most common frustrations is if you get something nearly perfect and good-looking, then decide to try and make it more perfect…and then screw it up. Sometimes you blow past a meet point, or the stone chips or cleaves, and it would have been better to just leave it be."
Akhavan went on to explain how that impacts more than just faceting.
"The same applies in life," he said. "Sure, it's good to try and do things as well as humanly possible. But if you're getting to the point where trying to get that last little bit of 'perfect' out of something you're trying to do, there might not actually be any real-world difference in getting that last 1% flawless. Or the perfectionist attitude might prevent you from getting other things done."
Who says there isn't room for philosophy in faceting and vice versa?
---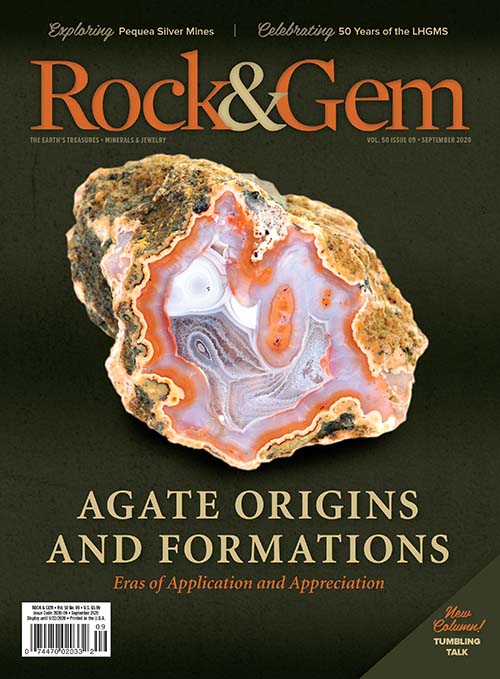 If you enjoyed what you've read here we invite you to consider signing up for the FREE Rock & Gem weekly newsletter. Learn more>>>
In addition, we invite you to consider subscribing to Rock & Gem magazine. The cost for a one-year U.S. subscription (12 issues) is $29.95. Learn more >>>
---