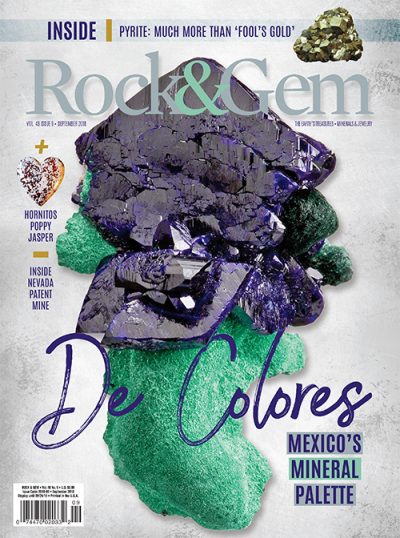 The September issue of Rock & Gem covers a lot of ground….
• 'De Colores': Mexico's endless palette of colorful minerals. By Dr. Peter K.M. Megaw
• Fossil Park: Exploring India's iconic natural archive. By Khursheed Dinshaw
• Nevada Patent Mine: United State's only active azurite mine. By Stuart "Tate" Wilson
• Pyrite: A Natural History: It's much more than 'Fool's Gold.' By Steve Voynick
• Rock Shops of Distinction: Part II – Mining supplies and rock shop. By Jim Brace-Thompson
---
Are you intrigued by the topics you see mentioned here?
Are you interested in learning more about Rock & Gem magazine or regularly receiving copies of this stunning magazine in your mailbox or inbox?
You can purchase a one-year subscription (12 issues) for just $29.95. That's a savings of 71% off the newsstand price.
---