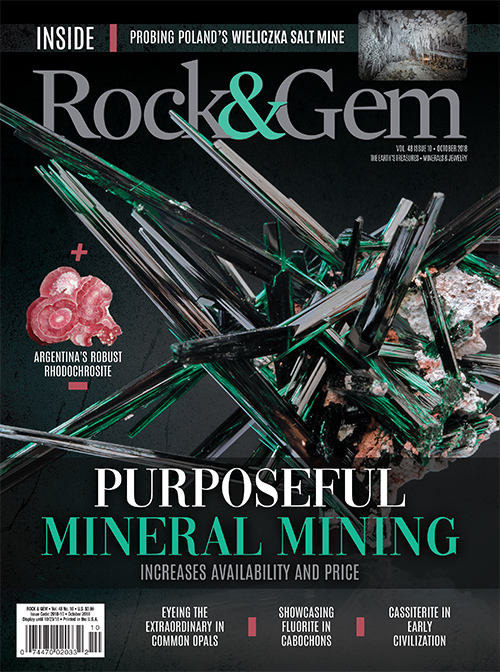 The October issue of Rock & Gem takes us to many fascinating places, both above and below ground.
• Argentina's Banded Rhodochrosite: Centuries of Precipitation and Evaporation. By Bob Jones
• Crystal Mine: Galena and Calcite: Exploring New Mexico's 'Boot Heel' Region. By Robert Beard
• Cassiterite: Tin Oxide With a History — An Early Influence of Innovation. By Bob Jones
• Wielczka Salt Mine: Pride of Poland. By Steve Voynick
• The World of Emeralds: Premiere Variety of Beryl. By Bob Jones
• Specimen Spotlight: Uncommon Mineral, Extraordinary Collector. By Antoinette Rahn
In addition, you'll find the following regular R&G columns: Bench Tips with Bob Rush, Rock Science with Steve Voynick, What to Cut with Russ Kaniuth, Rock & Gem Kids with Jim Brace-Thompson, On the Rocks with Bob Jones, and Parting Shot.
Do the subjects in this issue pique your interest? Learn how you can receive
Rock & Gem
in your mailbox or email inbox each month for less than $30 a year
>>>