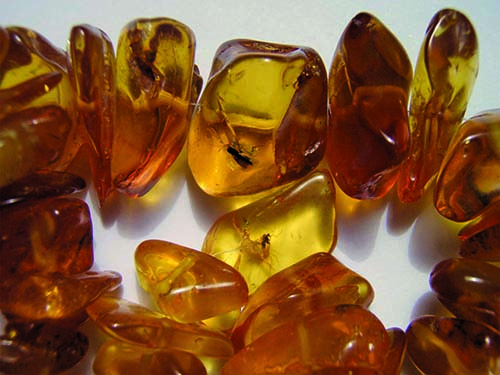 Editor's Note: Search our site for additional "Gemstones of the Breastplate" articles to learn about the remaining 11 specimens of the biblical breastplate. The "Gemstones of the Breastplate" posts are part of the second part of a two-part series. Enjoy the first part >>>.
By Steve Voynick
Ligyrion (row three, first stone)
Although ancient literature consistently indicates that ligyrion is amber, a fossilized tree resin, it has also been translated as "zircon," "tourmaline," and "opal." The ancient Greeks knew ligyrion as elektron and were aware of its electrostatic properties. Rubbing ligyrion with wool cloth produces a strong negative electrostatic charge that attracts feathers and other light, positively charged materials.
Theophrastus writes that elektron is found in Liguria, an area of northwestern Italy and southeastern France, where it is "dug from the earth" and "has the power of attraction." Other writers use the words elektron and ligyrion interchangeably.
In his Naturalis Historia, Pliny notes the sources of ligyrion, which he calls sucinum, as Liguria and the "northern sea" – the latter referring to the Baltic Sea coast. The Baltic coast supplied the Roman Empire with large quantities of amber and remains the world's most prolific amber source.
Some biblical historians have translated ligyrion as yellowish or brownish zircon; others as tourmaline, likely because of tourmaline's electrostatic properties. But neither zircon nor the tourmaline-group minerals were used as gemstones during the first millennium B.C.E., whereas amber was common. Harrell believes that ligyrion is definitely amber.
Achates (row three, second stone)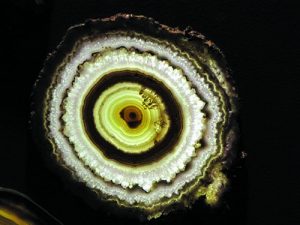 Achates has usually been translated as "agate," which is almost certainly correct. In On Stones, Theophrastus discusses achates as "a handsome stone from the river Achetes in Sicily that fetches a high price." The Achetes River (now the Drillo River) is the root of the English word "agate" and a classic agate locality.
Pliny describes different colors and patterns of achates, all of which fit agate. He also writes that achates "was once held in high esteem, but now enjoys none," apparently indicating that formerly valuable translucent and opaque gemstones had fallen out of favor in Rome by the first century C.E. and had been replaced by transparent stones from India.
Amethystos (row three, third stone)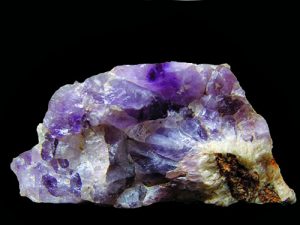 The Greek word amethystos, the root of the English word "amethyst," has been translated only as amethyst and has no conflicting identifications. Amethystos means "without drunkenness;" the stone was believed to prevent drunkenness or to alleviate its unpleasant aftereffects.
Theophrastus discusses amethystos as "transparent ... with the color of red wine ... and found by splitting certain rock." This description fits amethyst, because red wine is actually purplish-red, and amethyst often occurs in geodes that must be "split." Pliny describes the stone as "violet" and notes that it comes from Egypt, where the Abu Diyeiba mine produced amethyst throughout the first millennium B.C.E. The ancient descriptions of amethystos can only fit amethyst.