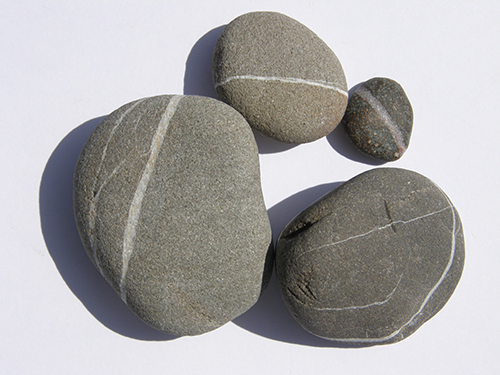 Wishing stones may be drab gray rocks with a belt of white or pink but they are rumored to have the power to grant wishes. Here's what you need to know.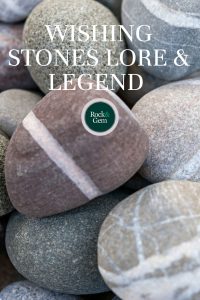 Although we live in California, my wife has a family homestead on the northern coast of Maine, which we visit often. One autumn, on a particularly overcast, cold and windy morning that hinted of winter, we walked along the steely gray North Atlantic with eyes glued to the pebble-strewn beach.
A local greeted us and asked what we were doing. "Beachcombing for pretty rocks," we replied. She then asked, "Then why are you leaving behind all these Wishing Stones?" "Wishing Stones?" we asked. She bent and picked out a drab gray rock with a belt of white quartz. "Wishing Stones," she repeated.
Wishing Stones Legend
Legend has it that if you find a rock with a white or pink line all around it, you have found a Wishing Stone. The stripe is usually quartz or calcite. If you trace your finger around the line while closing your eyes and making a wish, then throw the stone into the sea as far as you can or give it to another person, your wish will come true. Make a wish on behalf of a person other than yourself; then ALL your wishes come true. The very best Wishing Stone has a single continuous line wrapping around it, a line unbroken and uninterrupted by other lines or streaks.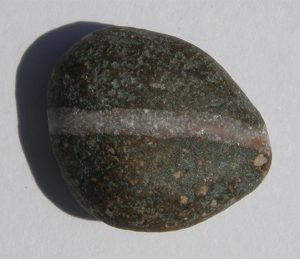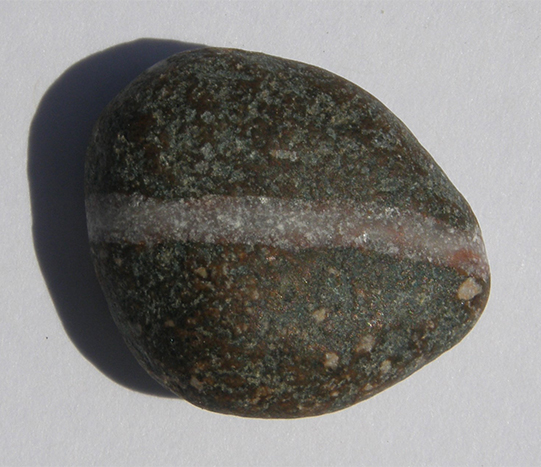 Ever since that chance encounter, whenever we go beach combing—whether in northern Maine, southern California, or the shores of Scotland—we look not only for rocks with pretty colors but for those drab but magical Wishing Stones.
Do they work? Well, I can't say, but Nancy and I have been traveling this Earth for over 60 years. We have two wonderful kids and a healthy new grandson in far-off Scotland and a wise old cat and energetic Australian shepherd to keep us company. What more could you wish for?
This story about wishing stones previously appeared in Rock & Gem magazine. Click here to subscribe! Story by Jim Brace-Thompson.