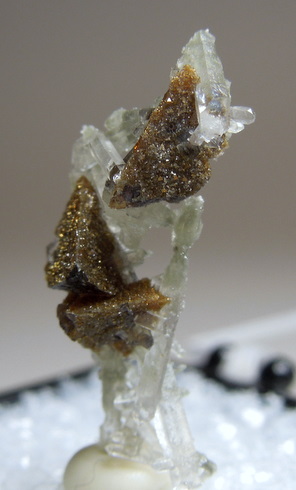 By Antoinette Rahn
Sometimes I come across a mineral whose name stops me in my tracks and is the initial reason for my interest. Genthelvite is one such silicate mineral, but there is more to this mineral (often the case) than a cool name.
For one, the word unusual is often used to describe this mineral. It is a member of the helvine group of minerals, which includes danalite, helvine, and tugtupite. According to a report by the Department of Mineral Sciences at the Smithsonian Institution and published in Mineralogical Magazine, of the helvin group, genthelvite (Zn4Be3(SiO4)3S) is the group's rarest and newest member.
This rarely found mineral, genthelvite appears most often in granite pegmatites and syenite pegmatites, such as its initial Colorado locality. The type locality is discussed and described by the man for whom it is named, Frederick August Genth.
Original Discovery
Genth, a professor of mineralogy at the University of Pennsylvania in the late 19th century, described the mineral of the week extensively upon discovering examples in West Cheyenne Canon, Cheyenne Mining District, El Paso Co., Colorado, in 1892, according to information at Mindat.org. Other localities includes sites in Rhode Island, New Hampshire, and Canada. Additionally, specimens are recorded from South Africa, United Kingdom, China, Uzbekistan, and Greenland.
Although Genth spoke about and described the mineral, including in an article in the American Journal of Science in 1892, he did not formally give it a name. That's where Jewel Jeannette Glass, Richard Henry Jahns, and Rollin Elbert Stevens come in.
In 1944, the group of scientists studied Genth's work and specimens, and in doing so determined "as it has zinc as the predominant cation they considered it deserved species status and named it in honour of Frederick A. Genth," as reported by the Mineralogical Magazine in June 1976.
Genthelvite is known to appear colorless, as well as white, yellow, green, light red, and even light to dark brown, depending on weathering. In terms of crystals, genthelvite often appears as tetrahedral and tristetrahedra shape.
The next time you come across a unique word or name in your mineralogical, geological, and paleontological excursions, get ready for the opportunity to experience something extraordinary.
All photos courtesy of Luciana Barbosa and are available at www.mineral-auctions.com. The multiple photos are of a single specimen found in the Huanggang Mine, Inner Mongolia, China. This specimen boasts three brilliant genthelvite towering atop a group of skinny quartz crystals.
---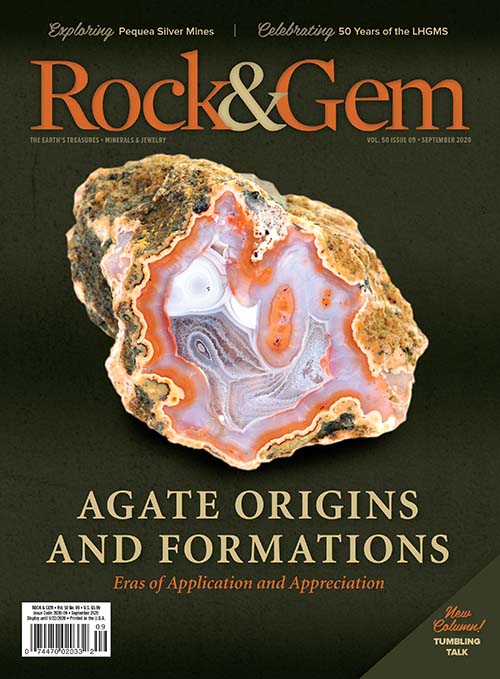 If you enjoyed what you've read here we invite you to consider signing up for the FREE Rock & Gem weekly newsletter. Learn more>>>
In addition, we invite you to consider subscribing to Rock & Gem magazine. The cost for a one-year U.S. subscription (12 issues) is $29.95. Learn more >>>
---