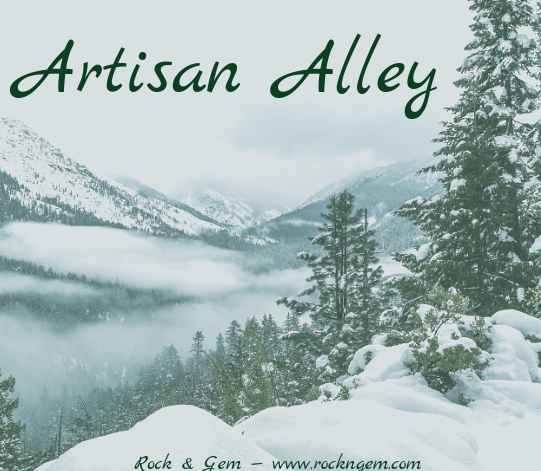 By Antoinette Rahn and Erin Dana Balzrette
'"Works of art are made of concept, material... and feeling."
It's been said, ad nauseam according to some, that diamonds are a girl's best friend. I must politely disagree. Any amount of time in the presence of lapidary artists and silversmiths will demonstrate just how many potential 'best friends' exist within the rocks, gems, and minerals of the world.
However, the fact that a specimen, diamond or otherwise, can evoke sentiments of great appreciation, adoration, and admiration, among other emotions is very real. It's one of the things that is most exciting about owning a handcrafted piece of jewelry or lapidary art. I view it as each piece 'carries' some emotions/sentiments of the people involved in its creation, as well as the person who owns the piece, and if applicable the person(s) who gave it as a gift. That is a lot of emotion and sentiment in a single object and something uniquely special to handcrafted items.
In this installment of Artisan Alley, a few of the artists' speak of the emotions they felt regarding the stones and metal they used to create the pieces featured. The brilliant pieces showcased in the Artisan Alley blog/column are the genius of silversmiths and lapidary artists who are members of the Stone and Silver Facebook group. Each artist shares a bit about the inspiration behind their work in these collaborations.
Azurite/Malachite and Bronze Octopus Pendant
Silversmiths: Ellen Jean Cole
Lapidary Artist: Marc Widner
As we learn from both Ellen Jean Cole and Marc Widner, sometimes the shape of a stone speaks volumes about what a piece will become and what it may represent.
"When I saw this stone polished so nicely and the shape so 'Octopus ready' I bought it right away from Marc A. Widner," Cole said. "He does such a beautiful finish on his work. I love making sea creatures, and the octopus is so popular."
As Widner explains, it's also about how the artist interprets the raw material.
"I make a lot of basic geometric shapes, rounds, squares, rectangles, etc. Drops fit in with these very well in my opinion," he said. "They are easy to make and popular with customers. I refuse to call them "teardrops," because tears can be associated with sadness. I prefer "drops" or "raindrops", as they are much more happy to me."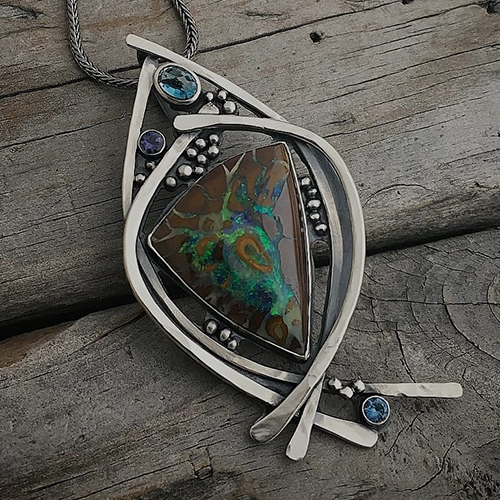 Koroit Boulder Opal Pendant
Silversmith: Joy Kruse
Lapidary Artist: Julez Buell
Another factor in the formation of sentiments is time. Sometimes the connection and the creative inspiration is immediate, and other times, it's an evolution.
"That piece of Koroit boulder opal rough had been sitting near my computer for years so we could stare at each other," explains Julez Buell. "And one day it finally told me it was ready to become marvelous!
"Once it was done, I knew I wanted one of the best large piece jewelry artists I knew to create a one of a kind piece."
Enter Joy Kruse. Echoing Julez sentiments, the stones in this piece had a sense about them that led the approach Kruse took.
"This piece was inspired by two things. Number one being the amazing stones! Usually, when a person sends me stones in the mail to make a custom order, I feel kind of indifferent about it. (Because I did not select them by hand), but not this time," according to Kruse. "These stones had a life of their own and needed to be together.
"The second inspiration was the owner of the stones. She was good with a large design and that, of course, makes the Pandora's box of ideas open wide, no constraints! It makes it so fun. This piece really is fun, colorful, light-hearted and elegant all at the same time. I hope that emulates its owner."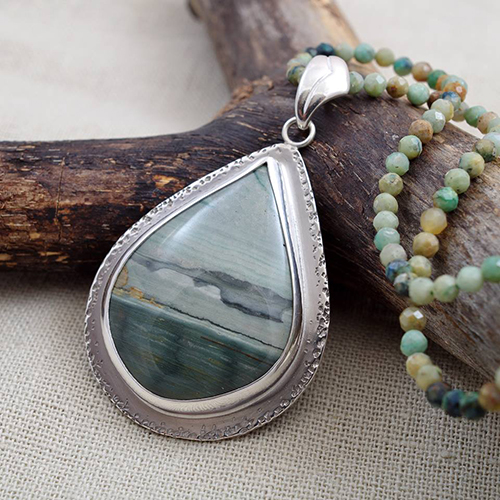 Gary Green Jasper and Silver Necklace
Silversmith: Weronika Woniczka
Lapidary Artist: Cyndi Wolke
Another connection that is established when a piece is coming together is that between the artist and silversmith. Sometimes it's a shared vision, sometimes it's an admiration for one another's work, and sometimes it's simply a shared appreciation for collaboration and the beauty of nature.
For Weronika Woniczka it was a little bit of everything.
"This necklace was inspired by the stone - Gary Green - that I received from the very talented Cyndi Wolke," she said. "When I saw it for the first time, I immediately saw a glacier, and I didn't know that it was an inspiration for Cyndi also. I love stones that look like little paintings.
"That's why I wanted to create a setting that would make this beautiful cabochon the star of the necklace. Highly polished silver is a perfect background for the delicate hue of Gary Green stone, and the little faceted chrysocolla beads add even more color to this piece."
Echoing the sentiments of her collaborator, Cyndi Wolke's approach to this piece was also about possibilities. 
"My inspiration for the Gary Green cab was the picture that I saw in the slab. We had recently been to Alaska and it looked like the glaciers that we saw from the ocean," Wolke explained. "But later when I looked at the finished cab, I also saw a landscape with a cloudy sky."
She went on to say, "I am really intrigued by the pictures that we discover in a stone that can have multiple interpretations depending on the eyes seeing it. It is the wonderful nature of lapidary that we can bring this art found in a rock for others to enjoy. And I am really blown away by how the beautiful silver work by Weronika really captures and enhances the cab."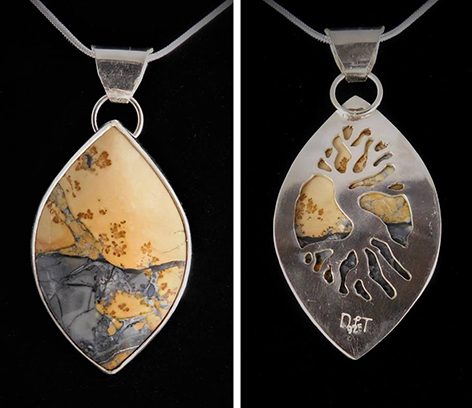 "Cherry Blossoms" Maligano Jasper Pendant
Silversmith: Lloyd Braunberger
Lapidary Artist: Jason Brousseau
The sentiments carried by an item of handcrafted art can be transformative, both for the artists and the person who ultimately serves as the fortunate custodian of the piece.
"Upon receiving this cabochon, I knew instantly that it reminded me of an oriental scene. Twisted and gnarled tree limbs with blossoms gently falling to earth. Hence the name "Cherry Blossoms," Braunberger explained. "The back side of this cabochon still clearly showed the "ground" detail, so I knew it needed a piercing added to it. I tried to center it so that the "root" section of the tree remained in the ground coloration of the cab."
Another element that influences sentiment is color, as explained here by Jason Brousseau.
"The primary colors in the slabs were orange, gray and yellow. Some of the slabs had real nice dark dendrite plumes in them," he added. "In this cabochon, I tried to capture a picture scene utilizing the darker color as the ground, the yellow color as the horizon with a large tree trunk on the left side and the dendritic areas being the leaves."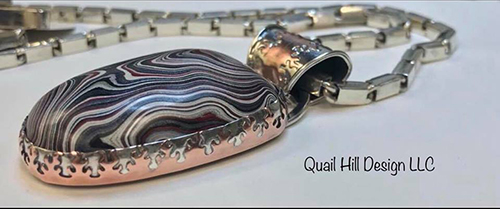 Fordite Pendant
Silversmith and Lapidary Artist: Lisa Glavish
"As both silversmith and lapidary artist my inspiration was twofold; I am fascinated by the story of Detroit Agate a.k.a Fordite a.k.a. Motor Agate," Glavish explained. "It makes me think of the big classic hot rods and the cruise nights from ago. I wanted to recreate the flamed paint jobs and big loud engines that were the cool of cool during those hot summer nights."
In conclusion, I believe it's safe to say understanding the vision behind a piece of lapidary art, or any art for that matter isn't something that's always achievable. In fact, sometimes, nee, often, understanding the path to expression isn't necessary for appreciating the sentiment and creativity behind the art.
However, we are thankful and inspired when artists, like those featured in the Artisan Alley showcase, share the emotions and sentiments behind their collaborative creations of lapidary art jewelry excellence.