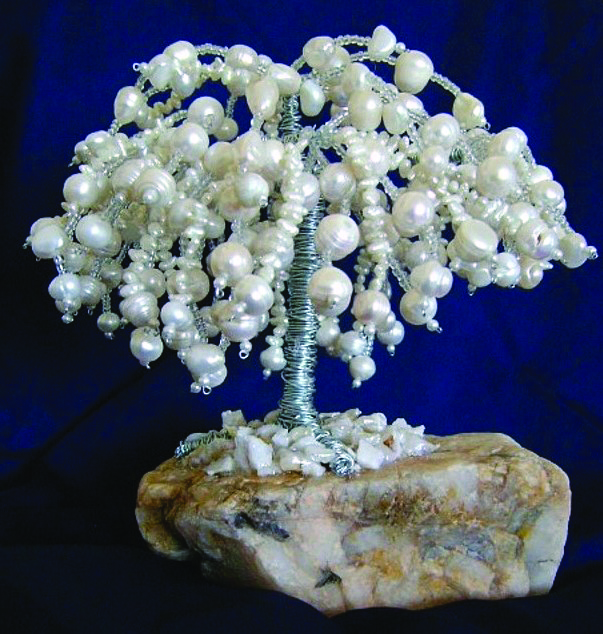 Knowing how to make wire gem trees can add a beautiful form of gemstone décor to your home. Wire gem trees use small pieces of gemstone and wire woven together.
Beginner Wire Gem Tree Designs
Gem trees are all handmade, fashioned one gemstone at a time, creating the enchanting illusion of a tree with leaves and flowers, often to stimulate a zen atmosphere in the home.
Gem trees are frequently an introductory form into the lapidary arts. Simple designs can be executed in a short amount of time with striking results to satisfy a beginner and build their confidence to continue exploring the medium. All that is needed are inexpensive gem materials, pliers, wire, and of course some patience, as with all lapidary work.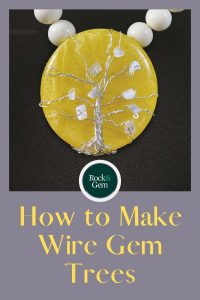 Wire Gem Tree Materials
Gem trees are generally created with small, tumble-polished gemstones or beads. Drilled gemstone chips (freeform beads) are inexpensive and commonly used, but rounded and other shapes are also utilized.
Some gem trees are built with one gem variety creating a monochromatic vision, while others incorporate multiple colors and gemstone varieties, creating fanciful objects. Quartz is mainly used, including the favorite amethyst, carnelian, citrine, rose quartz, tiger eye, agate, and jasper. Sodalite, peridot, coral, tourmaline, and amazonite are also used.
Adding Wire Gem Tree Beads and Branches
The beads are threaded onto the wire, while the undrilled stones are glued on the wire branches, usually with #527 Craft glue or epoxy. The wire branches with the gemstones are built one by one and then attached to the trunk. Wire metals include silver, gold-filled, copper, steel, or color-coated steel. Preferably 24-gauge wire or 26-gauge wire is used. Charms may also add character and symbolism.
The larger the gem tree, with more branches and colors, the bigger statement it makes. Choosing the base is also important, typically with a flat bottom. Drusy amethyst geodes, or quartz crystals, are often chosen.
Then the trunk is built up as if it is growing out of the base. The trees' shape also varies, imitating bonsai trees, which are the Japanese version of miniature ornamental trees in the shape of real-life trees. Wisteria trees with hanging blooming branches, willow, and spruce pine are some of the preferred tree design styles.
Wire Gem Trees on the Market
Commercially, gem trees are offered in sizes from five inches tall to twenty-five inches tall. Many are made and imported from Brazil.
The number of gemstones on those trees ranges from thirty-five for the small ones up to over 700 gemstones for the large ones. Although prices for small trees may start under fifty dollars each, prices for the large ones may reach hundreds of dollars.
Online tutorials offer a place to get started. Gem tree making is a class favorite for beginners at local gem shows and local workshop club facilities.
Karen Bennett's Gem Trees
Karen Bennett (kbrockn@yahoo.com) is a wonderful jewelry and gem tree artist located in Green Valley, Arizona. She creates beautiful gem trees, which sell out immediately. Karen and her husband had a store in the historic and artistic town of Tubac, Arizona selling rocks, minerals, and her own jewelry.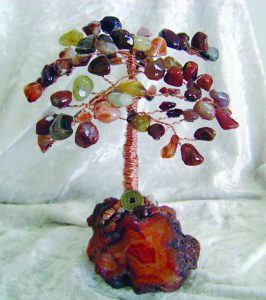 Karen started making gem trees while trying to find a way to use some of their large inventory of rough peridot, Oregon sunstone, and garnet. Since they were already tumbling stones for the store, it was easy for her to tumble the stones for the gem trees.
"Making the gem trees is very relaxing, and I am always excited to see the finished product," says Bennett
Karen's early gem trees were all made with tumbled stones, but as time went by, she decided to use chip beads as well. Karen and her husband also cut and polish the slabs she uses for the bases, in addition to shimmering quartz crystals. Turquoise beads and a slab of petrified wood are another beautiful combination.
The Tree of Life
The Tree of Life is a popular gem tree design in everything from visual arts, graphic designs, embroidery, rugs, home décor, and of course, in jewelry. The Tree of Life is made into pendants and earrings in a variety of styles and materials. Some are cast commercially in silver and other metals, while others are one-of-a-kind designs with gemstones.
While gem trees spread out in space, the Tree of Life's design in jewelry – root and branches - is usually constrained within a circle or other boundary. In both cases, the sprawling branches are designed based on balance and symmetry.
The symbolism of the Tree of Life is embedded in several cultures around the world, each one reflecting its own ideals, meanings, and traditions. Yet, they all have numerous commonalities, one being the sacred life and rebirth connection.
Linda Boronczyk's Tree of Life Designs
Linda Boronczyk (lindaboronczyk@me.com) is a talented gem and jewelry artist from upstate New York. Linda creates unique jewelry pieces and participates at the Syracuse Gem & Mineral Society show and at other local craft venues. Linda grew up in the country, in New York State, and always appreciated the beauty and peacefulness of trees.
"I admire the strength of two large maple trees and two weeping willow trees in my yard that whisper in the breeze." Linda continued, "I love the fall when the leaves turn into vibrant colors and look for the one surviving leaf on the tree branches," said Linda.
It took Linda several days to complete her first Tree of Life. She used emerald, fluorite, and labradorite chip beads. It is designed within an antique frame that measures 7 ¾ inches tall. The piece can be hung on a window like a Native American dream catcher or on the wall.
"As I created my Tree of Life, I thought of the dark green leaves at the base of the branches as the rebirth of life. Starting the new cycle with the changing seasons, I added color to express its beauty and strength," she said.
Among Linda's other Tree of Life jewelry creations is a copper-wired gem tree inside a round locket, with smoky quartz and garnet beads, and a tiny Mexican drusy quartz for the root base. She also created a beautiful necklace by redesigning a vintage acrylic necklace and adding a delicate sterling silver Tree of Life around the focal pendant.
Honey Opal Gem Tree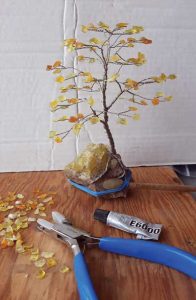 Yellow and fire opals are part of a wide range of lapidary materials classified as opals that do not display the optical phenomenon of play of color. They are known as exotic common opals and come from several locations around the world.
One highly translucent variety of honey opal comes from the Yellow Gem Mine, in Valley County, Idaho. The opal occurs in the host rhyolite rock, through seams and gaps left in an old volcanic neck.
It is often fractured to some degree within the boulders or weathered out. Opal shards are found all over the hill and shine in the sun. The opal breaks off, or splinters easily, thus extreme care is required to chisel out specimens large enough for faceting.
For this beautiful gem tree, they used honey opal chips, which Ellie first screened and grouped by color, and a natural rhyolite and honey opal rock specimen for the base.
The Yellow Gem Mine
Carrie Ellie, or Ellie as she is best known, and her husband Ed own the Yellow Gem Mine (yellowgemmine@gmail.com) together with their partner and mountain neighbor, Scott, a budding lapidary.
They bring out opal specimens a few at a time because the daily trek from their base camp to the mine is about a 700-foot climb. From their camp, the trail back to their vehicle is a ten-mile hike. Ellie noted that bringing out rhyolite with opal rock specimens is hard, as they add a lot of weight to their backpacks.
"Getting to the mine is miserable, often painful, but being there energizes my soul. Finding beautiful honey opal and holding it up to the sun - now that's something special," says Carrie.
Occasionally while digging, facet-grade pieces roll whole out of the muck. Some pieces have beautiful black manganese oxide dendrites, shaped like snowflakes or water plants. This interesting opal is found in a striking palette of yellow shades, ranging from lemon to deep yellow, golden, amber, root beer, and a rare few red or striped.
This story about how to make wire gem trees previously appeared in Rock & Gem magazine. Click here to subscribe. Story by Russ Helen Serras-Herman.