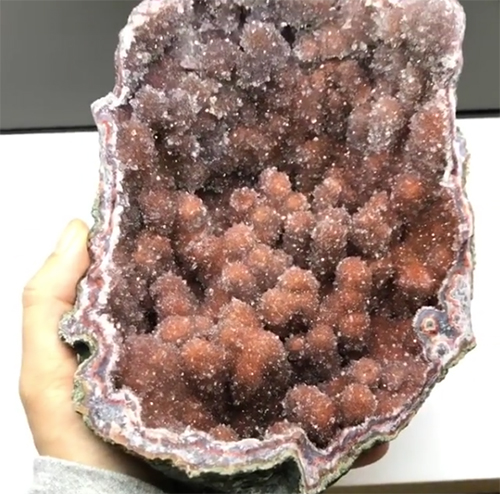 By Antoinette Rahn
The past few days I've come across a number of reports about minerals mined in locales throughout Morocco. This brought to mind a class project from my grade school years at St. Aloysius School.
As I've mentioned a few times lately, it never ceases to amaze me how memories involving experiences of youth relate to events later in life. However, that's not to say my high school mathematics teacher Ms. Walz was correct when she told us we would most definitely use Algebra regularly in adulthood.
Minerals, Morocco and Memories
But Algebra has nothing to do with my memories of Morocco and minerals. I wish I could say the memories are of visiting Morocco and locating stunning minerals like the one featured in the video below, which was posted by Spirifer Minerals recently. Alas, it does not. Instead, the memory that flooded my mind upon seeing this glorious quartz specimen today, was of being in fourth grade and doing a presentation about Morocco. During that assignment, I spoke about the geography and culture of the country. I also did a cooking demonstration (Moroccan chicken) and conducted a 'show-n-tell' of various minerals mined in Morocco.
The minerals were part of the collection of Father John, one of the priests who served the parish. He was born and raised in Dublin, Ireland, who spent five years serving as a missionary, including a year in the North African country of Morocco. He shared stories of joining university students on digs and how it helped him gain a deeper appreciation for the country.
Appreciating Meaning Surrounding Specimens
I didn't realize it at the time, but I believe part of the reason I remember that experience so clearly is that Father John's fondness for the time he spent in Morocco was obvious in the stories he told and the way he handled the various minerals and rocks.
Even though I'm fortunate to have a strong memory, it's the sentiments related to experiences and events, be it my own or someone else's, that make many memories so robust.
The video below, created and posted by Spirifer Minerals, showcases a piece of quartz that measures 17 cm and was mined in Sidi Rahal, Morocco. Sidi Rahal is located about an hour south of Casablanca, on the Northwestern coast of the country.
Quartz from Sidi Rahal (Morocco) size: 17 cm, SOLD. To see more of our minerals visit www.SpiriferMinerals.#spiriferminerals #spirifer #mineralcollecting #mineralspecimen #mineralcollection #rockhounding #rockhound #minerals #mineral #rocks #rock #fineminerals #quartz #quartzgeode #sidirahal #moroccanminerals #mineralsforsale #mineralogy #geology #nature

Posted by Spirifer Minerals on Saturday, August 25, 2018