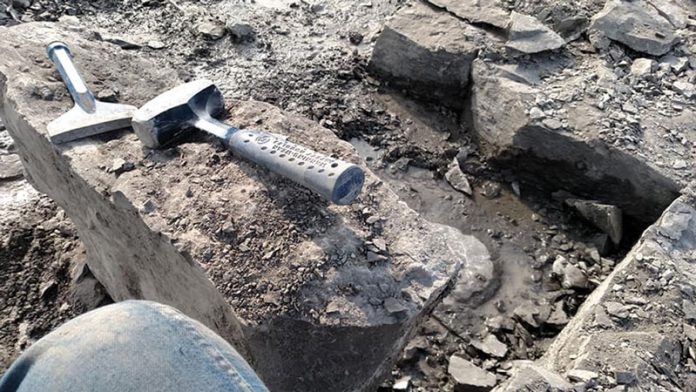 Fossil hunting tool kit basics are needed for a successful fossil hunt whether you're a beginner or a pro.
First things first, planning is critical. This applies to rock, mineral and fossil collecting. Know what you are looking for and research the sediments before you dig. There are lots of ways to do this whether through a local rock club, online research or through a pay-to-dig site.
Dig Site Etiquette
When you go out to dig, be sure to follow the proper etiquette and state regulations. If a site is closed and/or marked with No Trespassing signs, then you'll need to gain permission to visit. Remember, if permission is denied, don't get mad. Thank the property owner and move on.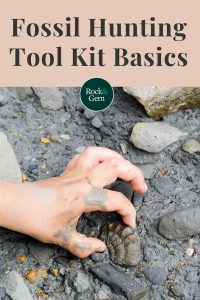 It's important to be a good steward of nature. Pack it in and pack it out. Leave the site better than you found it. Pick up your trash. Also, it may seem silly, but attempt to minimize the hole damage made while digging. This goes a long way to making it easier to gain access in the future for yourself and others.
If you are on private property, it's a good idea to give the landowner something you have found. It may be a small token, but it also goes a long way in fostering goodwill and paving the way for future accessibility. You might be surprised at the friendship that results from a few moments of your time.
Safety First!
Safety is number one! A safety vest, steel-toed boots, gloves and safety glasses are a must. Have plenty of water on hand plus some snacks. Be sure to have a first aid kit and that you have or take all the medications you need. It's a good idea to check with your physician to make sure you're healthy enough for the physical labor of digging.
Fossil Hunting Tool Kit Requirements
The list of fossil hunting tools can get long. If you're a beginner, you'll quickly learn what tools you'll need for different situations.
First on the list is a backpack to hold the tools and items you need. Buckets and boxes are also great to carry fossils out.
Collapsible wagons work great for most excursions. High-end models have drink holders and compartments that offer convenience and function.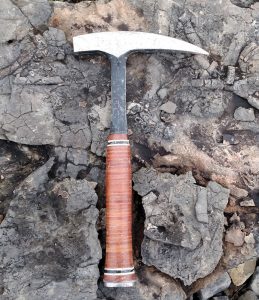 Common items to take in are rock hammers, hand sledgehammers and chisels. The best hammers are pick end. Chisel end hammers are helpful. Chisels designed with a handguard are also advantageous. These can also be obtained from hardware stores.
When digging in softer sediments, simple paintbrushes are great starting with a two-inch brush. In clay deposit environments, dental picks, ice picks and even old screwdrivers are helpful.
A tent or canopy will prove useful to keep the sun off you while you dig, plus it will keep you dry in inclement weather.
Fossil Hunting Tool Kit for the Serious Collector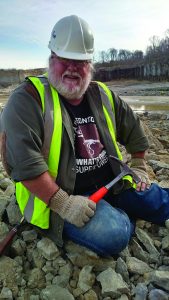 A few more items for the serious collector are recommended. Along with the cardboard "pop can shells" to carry and secure your treasures, you may want to bring paper towels, tin foil and plastic wrap to protect delicate fossil finds.
In the case of fossils in damp or wet rock, wrapping in plastic wrap will keep them moist until they can be returned home and properly protected. As wet fossils dry, sometimes they spall away pieces of the fossil. Wrapping in tin foil will also further protect them from damage. And even small film containers or plastic tubs can protect some of the smaller fossils.
Digging Tips
It is important to dig slowly and deliberately. Examine every piece of rock that breaks away. As the rock breaks or cleaves, pieces of the fossil may remain in the piece that breaks away. Keep these broken counterparts and pack them up and bring them home too. Valuable parts of the fossil can be prepared and retrieved for reassembly to the main fossil after preparation. Inspect the area adjacent to the fossil for any pieces that might have broken away.
Do as little prep and cleaning in the field as possible. It is always tempting to keep digging at a fossil removing the matrix – the rock surrounding the fossil – as much as possible to see the treasure. Avoid this temptation because you may break pieces off in the field and not find them in the rubble. It is best to save that for when you return home and have more control over the workspace.
A Quick Fossil Hunting Tool Kit Checklist
Backpack
Safety Glasses
Duct Tape
Compass
Geological Hammer
Chisels
Knee Pads
Notebook
Small Shovel
Boxes
5-Gallon Bucket
Hiking Boots
Ziplock Bags
GPS Device
Tinfoil
Newspaper
Glues
Suntan Lotion
2-Inch Paint Brush
Camera
Insect Repellent
Magnifying Glass or Loup
Water
Hard Hat
Pencil
Walking
Stick Gloves
Happy Digging!
This story about the role of rocks and minerals in plant growth previously appeared in Rock & Gem magazine. Click here to subscribe! Story by Joseph "Paleojoe" Kchodl