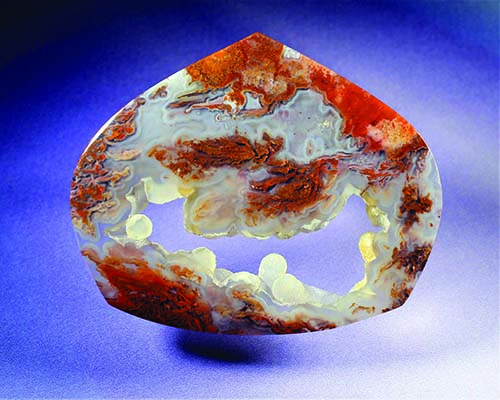 Jack-o-lanterns are fun for Halloween, and really, any time of year. Here's how I turned a special feature within a plume agate slab into a cabochon for the holidays or anytime.
QUICK TIP: When a slab has a uniquely shaped opening caused by the method of infilling in the rough, it's got to try to incorporate it into the cabochon, especially when it will enhance the piece.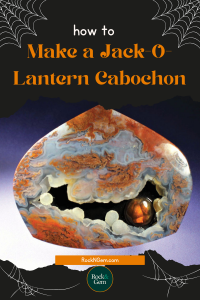 Utilizing an Interesting Feature
The plume agate pictured had a very interesting vug with a botryoidal inner surface. Finding these features when you are slabbing a particular rock is often an accidental occurrence, but it is a plus. I designed the cab so that the vug was positioned horizontally near the bottom, and it ended up well suited for my cab.
Obviously, wearing this cab as a pendant would not be the best choice because the background, whatever it is, would detract from the cab. Also, the cab's translucency detracts from its potential beauty, so I decided to install a backing on the cab. My preferred backing is basanite, a black basalt. It is quite durable and takes a great polish.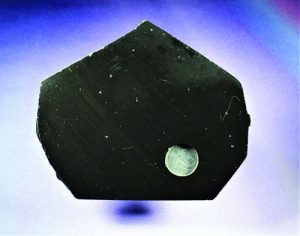 Filling a Void
Even after selecting and polishing the basanite, there was still a void in the piece's lower right side. I decided to embed a small round stone to fill the void. I struggled a bit in selecting the material to use, as I wanted something to enhance the cab. Then I remembered I had a few small fire agate pieces that might do the trick, but many of the pieces are very directional in their color pattern. I needed a piece that would exhibit its best color when it was hanging as a pendant. This necessity narrowed the choice of available pieces to just one. As I was grinding and polishing the piece, I rotated it under the light to make sure it would show well in all orientations. It did have some slight issues regarding orientation, but I made sure to mount it in the ideal position.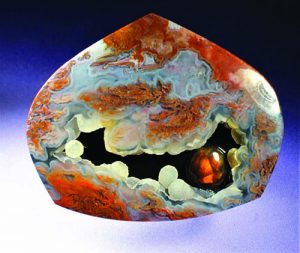 I used diamond wheels to recess the basanite area, where I intended to mount the fire agate. The basanite layer on the back of the cab is 3mm thick, so I recessed the stone 1-1/2mm. I wanted this recess to ensure the durability of the adhesion on the fire agate cab.
Jack-O-Lantern Appeal
As I was applying the epoxy 330 adhesive, I had to be careful to keep it out of the "window" area of the cab so it wouldn't detract from the beauty of the stone. I think the final appearance has a Halloween jack-o-lantern look to it.
This story about how to make a jack-o-lantern cabochon appeared in Rock & Gem magazine. Click here to subscribe. Story by Bob Rush.