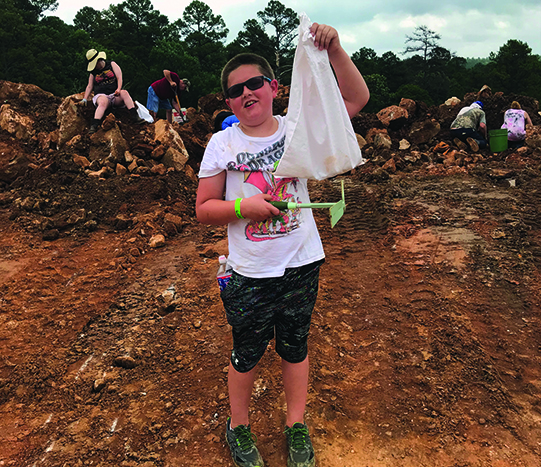 Story and photos by Bill Reynolds
Being part of a rock and mineral club is the best way to evolve a casual interest into an exciting hobby. These organizations offer opportunities to learn about many different aspects of mineralogy and lapidary. The whole family can participate in enjoyable activities and make new friends with common interests. The knowledge of its members is often shared joyfully with one another and the community at large. Furthermore, shows, field trips, and lapidary classes sponsored by clubs are also lots of fun.
I have had the privilege of serving as president of two gem and mineral societies where I live, and I am often asked by other rockhound organization leaders, "How can we build our club?" The people who also ask often state that their club is losing membership, as members are growing older. Club leaders want to attract younger folks to pass on their knowledge and interest in the hobby. The discussion about growing clubs is an important one. There are well over 400 rock and mineral clubs across the United States, and growth is essential to keep the clubs viable. From my experience, the key to growth is realizing that people come to organized activities to learn, but most importantly, to enjoy themselves.
One way to facilitate growth is through well-planned and accessible field trips. Our club, the Northwest Arkansas Gem and Mineral Society, regularly schedules field trips, and herein I'll share some of the planning and preparation that went into one of the field trips we took in 2019, as well a report of our experience during the dig.
Editor's Note: The state of self-quarantine, lock-down, and gradual reopening in response to the COVID-19 pandemic, may make it challenging to determine and set the date of a field trip, but there are preparations and plans, as Mr. Reynolds explains, to do now. In addition to more time to prepare for a field trip, sharing with members that club leaders are working on such plans would perhaps provide people with something special to look forward to in the future.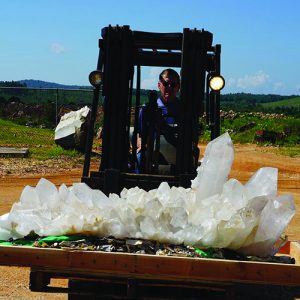 We had planned the field trip well in advance and advertised it in our newsletter, at club meetings, and on our Facebook page. Speaking of, Facebook has become one of the most effective methods we've found to connect with people. Our club's page currently has more than 6,500 followers. We require that anyone planning on participating in the field trip sign a form, which contains the rules and provides general information about each participant to the trip leader. Additionally, we offered a check-list of what each person would need for the field trip; a change of clothing, tools, water, gloves, sunscreen, a hat, and safety glasses.
Eyeing Arkansas Quartz
As you may or may not know, Arkansas is world-renowned for some of the finest quality and most substantial quantity of quartz crystals in the world, rivaled only by Brazil and Madagascar. The mining of quartz has been and continues to be economically important to the region. Fortunately for rockhounds, many of the operating mines allow mine tours and places for the public to collect fine specimens. Our club chose the Ron Coleman Mining site, in Jessieville, Arkansas, as our destination. The mine is just north of Hot Springs Village.
The mine is the largest producer of quartz crystals in North America. It is also the source of amazing natural finds showcased in museums, universities, and rock shows. To get to the mine from Hot Springs Village head north on Highway 7, approximately 5.8 miles and turn left at the Coleman Rock Shop. The mine is on the right, about 1. 8 miles, and the address is 211 Crystal Ridge Lane. We chose the Ron Coleman mine for the quality and quantity of quartz available, as well as the experience we knew is the hallmark of this operation. Participants from our club ranged in age from children to seniors, and if a club wants to attract new members, field trips should be inclusive. This mine was ideally suited for the various members of our group.
On the site, there is a rock shop, a gallery showroom, a wholesale room, an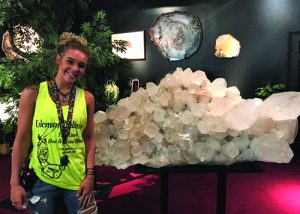 accessible area for mining, and even a zip line. My grandson thoroughly enjoyed the opportunity to experience the zip line, having made nine trips down the line. Plus, when we had called ahead to confirm our field trip, we were given a group rate and offered the use of a pavilion.
The quartz crystal deposits of western Arkansas are part of an immense belt in the Ouachita Mountains. These deposits were first mapped by Hugh Miser and found to be 30 to 40 miles wide, extending about 150 miles southwest from Little Rock, Arkansas, to Broken Bow, Oklahoma. Most of the high-grade quartz comes from deposits in the Ordovician Age Blakely and Crystal Mountain sandstones, but quartz crystal deposits occur throughout the Paleozoic shale, sandstones, and chert. Another fascinating aspect about this area, these strata consists of folded ridges that run east to west as opposed to the more common north-to-south orientation of North American mountain ranges. A collision of the South American and North American continental crust folded and uplifted the region to form the Ouachita Mountains Scientists once recorded the mountains' height at 10,000 feet. Yet, during the ensuing ages, the mountains have weathered to the current height of 800 feet to the highest ridge of 2,950 feet, at Rich Mountain in Oklahoma and near the Arkansas line.
Quartz' Economic Appeal
Some limited mining began in 1906 at the Ron Coleman Mine, but the miners were discouraged by a massive white quartz cap rock. Primary production did not start until 1943 during World War II when crews penetrated the blocking rock. The mine was on property owned by Dierks Lumber and Coal Company and was designated the Dierks No. 4 mine (Blocker lead).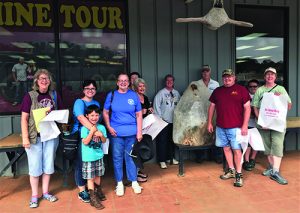 Optical clear quartz was vital to the war effort for electronic applications and, of course, optical devices.Quartz for oscillator plates must be mostly free from most imperfections, including twinning. During the war effort, the mine was a leading source of quartz in the region. Mining crews brought up to 60,000 pounds to the surface each month, and regularly it contained the most significant percentage of ocular grade quartz of any mine in the region. During the 1980s, Japanese and German interests oversaw mining operations, and just before the start of a new decade, Ron Coleman purchased the mine. Today Ron's son, Kevin, and his wife Kathy are at the helm.
This legendary mine continues to yield incredible specimens of high-grade crystals with some of the most massive blocks of high-grade crystal clusters ever mined. The gallery room on the site is home to many fine examples of these exceptional specimens. The crystals occur in veins, called leads, within the sandstone, with the best finds occurring in pockets. The individual veins range in width from a knife-edge to 10 feet, and vein groups can measure as much as 75 feet wide. Pockets of much greater importance appear along the large veins. Large vein swellings (pockets) are elongated in or near the horizontal, generally where there are bends. Red clay from weathered shale fills the cavities and pads the crystals from damage. Dump trucks filled with the material depart from the pit, at which point visitors can dig in the clay in search of crystals. Large blocks of sandstone with crystals still attached are scattered across the dig area.
The crystals found at the Ron Coleman deposit are relatively uniform. All six faces of the unit prism are present, and while most are single, some present as double-terminated quartz. Also, the points often appear stained by iron oxide. However, by using oxalic acid, the staining can easily be removed, and it is much safer than hydrochloric acid. Use 16 ounces of acid powder per two or more gallons of water, and neutralize with baking soda.
Additionally, oxalic acid is available for purchase in various locations, including the gift shop at the Ron Coleman mine. Geologists speculate that the crystals in this area grew from hydrothermal water that was rich in silica, in a solution that percolated through the fissure and veins in the host rock. Evidence of current hydrothermal activity in the region is visible throughout Hot Springs National Park. Just maybe new crystals are being developed today.
Making Field Trip Memories
During our field trip at Ron Coleman mine, our group included 17 club members and friends. As it was summertime when we visited the mine, the weather was hot, which might be an understatement. Morning temperatures were in the seventies, and afternoon temperatures rose into the nineties. Given those conditions, it paid for us to arrive as early as possible, after the mine's 8 a.m. opening. We were there by 10 a.m. After a short ordination, the group headed to the collection area. It did not take long for us to start finding crystals. Smaller points are present across the property, so if you make the trip and you are looking for jewelry points, they can be had without any digging at all.
Finding larger crystals required some elbow grease, but the more effort put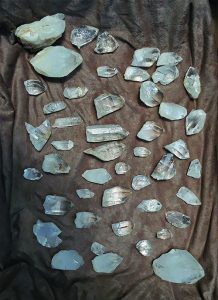 forth, the better the crystals. Most of our group was satisfied using hand tools and digging a few inches deep, and the crystals our group dug were well worth the price to dig. Plus, as explained on the Coleman Mine website (www.colemanquartz.com), the owners guarantee that you will find your digging fees worth of beautiful quality crystals, or you will receive your pick of treasures from the back porch area equivalent to your mining fee. One item to note, rock hammers are not allowed for safety reasons, so don't expect to hammer out crystals. But if you find a large piece, you are welcome to haul it home. I would recommend bringing at least hand tools and a shovel. In addition, tools may be purchased at the rock shop.
During our dig, my grandson found what he wanted to find in about an hour, which left plenty of time for him to enjoy the zip line. The line spans the open pit, about one-quarter mile across, and for the brave, part of the reward is it a panoramic view of the mine. My grandson more than found his money's worth of beautiful crystals (really Papaw's money), and he had a fun-filled adventure. Isn't that what it is all about?
If you do not find, during your dig, a spectacular specimen for your collection, don't worry, stunning crystals are available for purchase at the gift shop and wholesale gallery. Minerals from across the world are also for sale in the gift shop. Plus, you can enjoy a tour of the mine viewed aboard the back of a military troop transport vehicle.
The field trip was a great success, and a new family even joined us for the journey. I can honestly say, our field trips are helping grow our club. Be creative, and they will come. There are several other quartz crystal mines in the area that offer the opportunity to dig crystals. Ron Coleman Mine has an RV park on the property with running water, electricity, and almost half the sites have sewage hook up. Also, the Crater of Diamonds State Park is just over an hour's drive from Hot Springs.
For more information, visit www.colemanquartz.com or call 501-984-5396.