By Jim Brace-Thompson
Editor's Note: This RG Kids profile is a wonderful example of how developing an appreciation for fossils and rocks as a youth can bloom into a life-long passion and remarkable career.
Steve Brusatte is a respected professional paleontologist with an appointment at the prestigious University of Edinburgh in Scotland. He travels the world seeking dinosaurs, has published articles in major scientific and popular journals, has assisted with documentaries about dinosaurs, has authored books including the leading textbook Dinosaur Paleobiology, and just last year published yet another book that you can find in your local bookstore, The Rise & Fall of the Dinosaurs. All this by age 35!
But once, Steve was an ordinary teenager with a passion for movies, music, and baseball. If anything, while writing sports articles for his local Ottawa Daily Times newspaper in small-town Illinois, he dreamed of becoming a professional journalist. Yet by 2002, at age 18, he had written over 100 articles and papers not on baseball but fossils, with many published in magazines for amateur enthusiasts. He had even published a book, Stately Fossils.
Discovering a Passion for Paleontology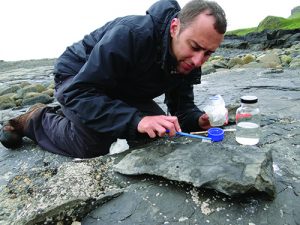 He credits his younger brother Chris for igniting this explosion of activity. Chris was 10 years old and wanted to write a book on famous paleontologists. He called on brother Steve, 14, to help. From then on, there was no looking back! Steve acquired books and wrote and wrote and wrote.
Along the way, he struck up an online friendship with adult fossil enthusiast Allen Debus, who connected him with Lynne Clos. Lynne published a monthly magazine, Fossil News: Journal of Avocational Paleontology. Allen and Lynn encouraged Steve, at the age of 15, to write monthly articles, first for a "Kids Corner" section, then for a series to describe the official state fossil of each state in the U.S. He soon had quite the portfolio of publications.
During family vacations, Steve cajoled parents Jim and Roxanne to haul brothers Chris and Mike and him to any museums along the way, and it was at a museum where, at age 15, Steve met his youthful hero, Paul Sereno. A professor at the University of Chicago, Paul had become something of a rock star in the world of dinosaur paleontology, and Steve thrust a manila envelope of his articles into Paul's hands. Paul suggested they stay in touch. A mere three years later, they were not only in touch, Steve was Paul's student and soon became Paul's coauthor on professional papers.
Study, Research, Search
Since then, with the generous assistance and kind encouragement of many other heroes, Steve has enjoyed a whirlwind career that has taken him to further academic studies at the University of Bristol, Columbia University, the American Museum of Natural History, and elsewhere. He collaborates with major figures in the world of dinosaur paleontology, travels the globe, and digs up new dinosaur species.
He recently became a father, with the arrival of his son Anthony, and thus has a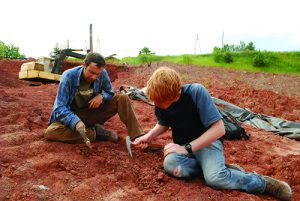 whole new generation to inspire and encourage, just as so many inspired him.
I've enjoyed two wonderful opportunities to meet Steve while visiting my own daughter's family in Edinburgh, Scotland, and here are Steve's words of advice to the new generation:
"Never stop exploring the world around you. If you're passionate about something, go for it. Find a way to keep your interests and dreams. Maybe you can make a career of it, maybe not. But the important thing is to be enthused and engaged. Who knows where it will take you!"