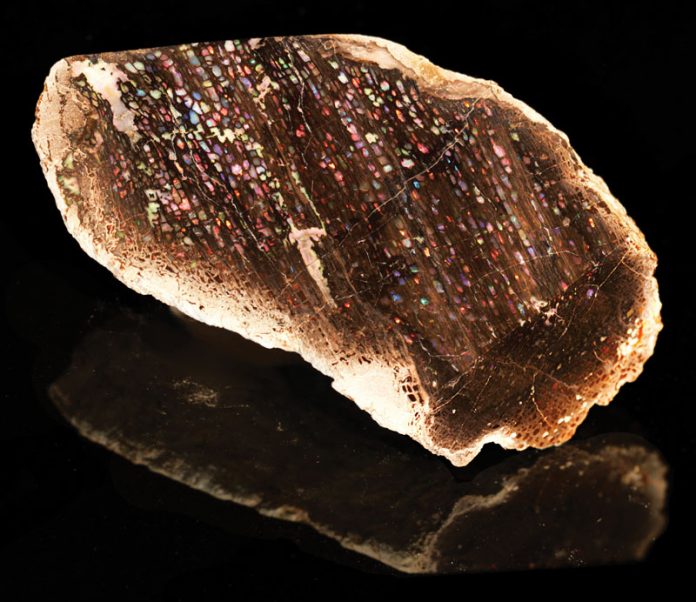 Royal Peacock Opal Mine got its start over a century ago. Back then, the cowboys and sheepherders in the Virgin Valley of northwest Nevada didn't realize they had a treasure at their feet. They just knew the "sparkling gems" — what we now know as precious opals in black and every color in between — were desired by collectors. According to local history, these collectors traveled to the bars during the cowboys' days off in Cedarville and other Surprise Valley communities to swap the shimmering, glittering gemstones for shots of whiskey.
Putting the Pieces Together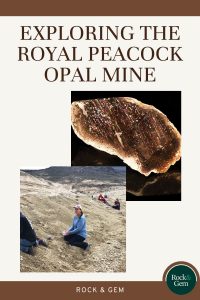 One of those early buckaroos was Harry L. Wilson, who was born and raised in the Surprise Valley community of Fort Bidwell, and later worked cattle for an enormous, multi-state ranching operation before partnering with a couple of friends in 1925. "They bought homesteads that eventually became consolidated as the Virgin Valley Ranch," says Julie Wilson, granddaughter and third generation to operate the Royal Peacock Mine.
The appeal of these pretty gems wasn't the reason Harry L. Wilson purchased the nearby opal mine, which they later named the Royal Peacock, in 1944. It was all because of his wife, Mabel. He was all about the cattle and the horses, but she liked the "sparkle and bling."
Beyond the beauty of the opals, this entire region is a world of its own. "The Virgin Valley is remote, but it was genuinely nestled in the boondocks in the 1950s. My grandfather lived on the ranch before Highway 140 connected Virgin Valley with Lakeview, about 100 miles to the west," says Julie. "It was a time when Modoc County's Surprise Valley towns of Cedarville, Fort Bidwell and Lake City were the nearest watering holes. There was no electricity until 1968 or telephone service until 1970. For years, my grandparents operated a cattle ranch and raised horses. It became surrounded by the Sheldon National Wildlife Refuge, which was created in 1931."
Changing Times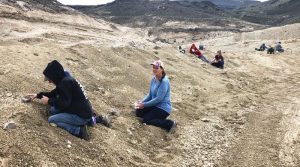 When the refuge eventually expanded, cattle were no longer permitted on the land. This required the Wilsons to sell 1,600 acres of the ranch, which was the largest inholding in the area, to the Nature Conservancy. But they still had the mine and the remainder of the ranch.
Born in 1932, Julie's father, Harry W. Wilson, naturally fit into the rhythm of this stunning landscape. He met his future wife, Joy Wimer, during their high school years in Cedarville. Julie comments that after they were married in 1953, her mother's initial impression was, "I thought he brought me to the end of the world.'"
In the first few decades, there was some early small-scale commercial leasing and public fee digging. It wasn't until 1973 that Julie's parents shifted the focus of the mine, introducing more people to these beautiful gems. The couple is even responsible for petitioning the Nevada State Legislature to recognize the black opals from the Virgin Valley as the Nevada State Precious Gemstone. There is now an exhibit at the capitol building in Carson City.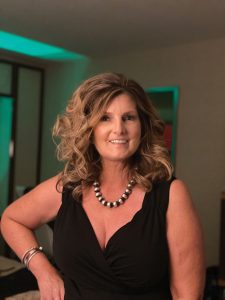 "Over the years, millions of dollars of opals have been extracted from the family mine in Virgin Valley, which has more than 200 private claims," Julie notes. To this day, the mine remains family-run with a keen focus on welcoming other families to this beautiful locale with the opportunity to find their own opals.
Growing Up at Royal Peacock
"All you find is yours to keep," says Jake Anderson, Julie's son who started working at the Royal Peacock in 2010 and has been a key figure in the mine's operation since Julie's father passed suddenly in 2016. Jake also runs their 500-acre alfalfa farm located a couple of hours from the mine.
"As a young boy growing up (Jake) would go stay with his grandparents, Harry and Joy, playing in the dirt at the mine with his brothers," says Julie.
Spending so much of his childhood at the mine, Jake was privileged to be mentored by his grandfather who taught him how to read the layers of the hill, along with the "ins and outs" of operating a mine. "This allowed Jake to gain the knowledge of the past and the best ways to help people be successful in digging," Julie notes One of Jake's earliest significant discoveries was finding his first black opal when he was 14 years old. "I used to think fossilized wood was worth a million bucks," he says, but one day when he and his brother were messing around, he broke a limb cast that was loaded with fire. Being immersed in the mine throughout his life, and understanding the satisfaction of finding these gemstones, allows Jake to help others experience the same thrill of discovering something truly special.
Through the tutelage of his grandfather, Jakes says he learned, "You'll find (a treasure) when you least expect it."
Continuing a Legacy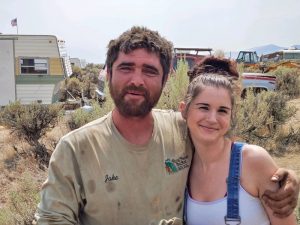 These words of wisdom turned out to be especially true for Jake when it came to meeting his wife, Cassie. In August 2020, Jake took a trip to the Spectrum Sunstone Mine in Plush, Oregon, and happened to meet a family from Washington. He immediately hit it off with Cassie as the couple worked together looking for sunstones, but ultimately, Jake and Cassie found a treasure in each other. Before Cassie's family left for their next mining adventure, Jake gifted her with an opal from his family's mine.
"The Royal Peacock was my family's second stop," says Cassie. She and her family traveled to the mine, leaving Jake to continue his effort looking for sunstones, but were pleasantly surprised when they woke up the next morning with Jake parked outside of their lodging. The running joke in the family is that Jake claims, even to this day, that his phone broke, but others think it was a plausible excuse.
Regardless of the phone functionality, Jake discovered his ideal mate. Cassie has gemstones in her blood.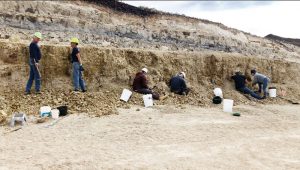 "My parents got me started when I was seven," she says when they visited Crystal Park in Montana looking for amethysts and crystals. "It's incredible what the earth can create. I'm so blessed to have been able to become part of this family." She's equally smitten with the terrain in this remote country. "It's an oasis out there, that's for sure. It's absolutely beautiful."
Continuing a Legacy
From this serendipitous meeting, the two married and continued the family legacy with the birth of their son, Sterling HB Anderson, the fifth generation of the Royal Peacock Opal Mine. "It just means the world to me.
I am still in shock," says Jake.
Julie admits she was wondering whether Jake would ever meet anyone and continue the legacy of the family mining business.
"When he met Cassie, it changed our lives forever," she says.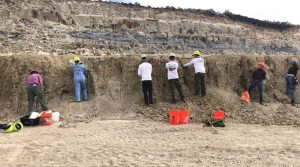 With a focus on the future, the entire family strives to make the mine viable for generations to come. Julie always has an eye on annual improvements to the mine and the campgrounds.
"Every time she says, 'Here's what I was thinking" (almost daily) to the crew, we all know we are in for a new project," jokes Cassie. As Julie looks to the future, her intent is to hand over the torch to Jake and Cassie, allowing her to make time for things she has always wanted to do, but never had the time.
A Place for Nature
Besides a premiere opal mine, their family's legacy is a place of beauty and serenity. Jake says if folks like wide open spaces and the ability to see for miles upon miles, this is the place to be. There are also exceptional bird watching opportunities, trails for ATV adventures and hiking routes throughout the area which are favorites for those searching for a time to unwind. However, it is important to note that there are many active mining claims, which make it important to not trespass.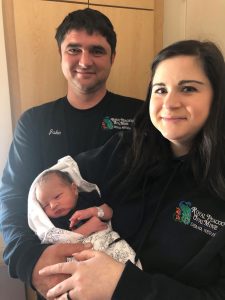 Julie also notes that they are blessed with rare dark skies for those who wish to experience the stars as few can anymore. With less than 80 percent of Americans able to see the Milky Way at their homes, looking up at the stars without light pollution is something few people forget. This is just another special aspect of this place they call home.
With their roots sunk deeply in the opal-rich earth, Julie, Jake and Cassie, along with their hardworking crew, look forward to the future. They are proof that treasures come in many forms, and for this family, what is most precious is being together in the place they were meant to be.
This sponsored story about the Royal Peacock Opal Mine previously appeared in Rock & Gem magazine. Click here to subscribe. Story by Amy Grisak.