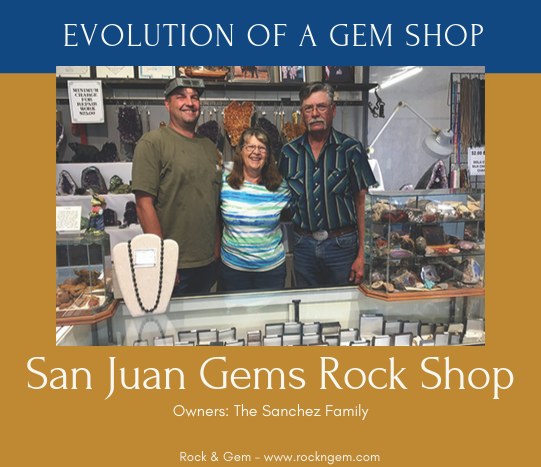 By Antoinette Rahn
For the past 50 years, San Juan Gems Rock Shop has been a staple in the community of Cortez, Colorado. However, the story of this multi-generation-operated business began 65 years ago with founder J.B. Sanchez, a lifelong rockhound.
"J.B. had a love of rocks, cutting and polishing, and people," explained his daughter-in-law, Sharon Sanchez. "What inspired us was a love of rocks, fossils, and people. Also, it's meeting all of the interesting people involved in the trade and hobby at major shows and in our store."
Carrying On A Tradition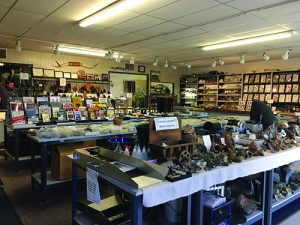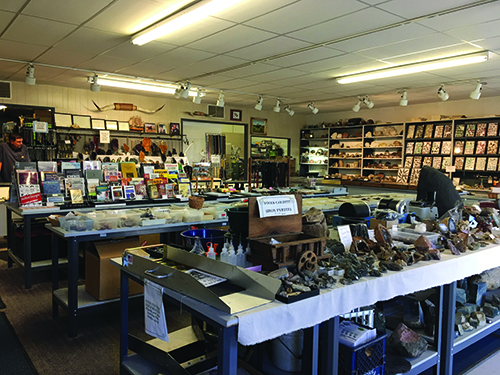 The late J.B.'s affinity for rock hunting turned into a business that he operated for many years out of a small garage in Dove Creek, Colorado. As good things often do, the business grew and in time the operation required a larger space. The business wasn't the only thing experiencing growth at that time. J.B.'s 12-year-old son, Larry, was also growing through an apprenticeship with a German master silversmith
"Larry has always been involved in the family business, except between the ages of 18 and 21. He grew up rock hunting the canyons with his dad," said Sharon, who operates San Juan Gems with Larry, her husband, and their son, Shane.
Larry, whose love of silversmithing continues to this day through creations of custom silver and gold jewelry, has spent time teaching and inspiring others to find joy in silversmithing. Within a few years of the Sanchez family moving their business to Cortez, Colorado, in 1969, Larry began teaching silversmithing to people living on the Navajo reservation as a program through the Bureau of Indian Affairs, Sharon explained. The desire to continually acquire knowledge and expand his skills to better serve customers drove Larry to earn the rank of graduate gemologist through the Gemological Institute of America (GIA) and become a master gold and silversmith, and skilled lapidarist.
As the Sanchez family grew, so too did the direction of the business. Shane Sanchez was introduced to rockhounding and the business through his parents and his grandparents, J.B. and his wife, Gerri.
Several Paths To A Single Destination
At the age of six, Shane cut his first stone, reports proud mother, Sharon. After finishing high school, he went on to the U.S. Air Force Academy, and after graduating served 11 years active duty. In 2007, he became the third generation of the Sanchez family to participate in the operation of San Juan Gems.
Today the Sanchez family carries on the traditions set forth by J.B., who died in 1998, and Gerri, now since retired. One of the traditions is offering a wide variety of rough rock, slabbed rock, specimens, and cabochons, as well as the store's specialty material, dinosaur bone, which San Juan Gems has offered since its inception, according to Sharon. In addition, part of the Sanchez family's efforts to grow include building on the foundation of what they know: slabbing, cabbing, and silver and goldsmithing.
"We are excited about custom gold/silversmithing, and the cutting and polishing of great dinosaur bone," said Sharon, about the work her husband and son do so well. "We also enjoy searching for and purchasing new and exciting items for the store, but one of the great joys of the business is introducing new people to the hobby and seeing the excitement as they progress."
Progress In Sharing A Passion
As is also often the way it is with business and things in life in general, the operation of this family business has changed quite a bit in the past 15 years, Sharon explained.
"Our customer base has changed to include a large diversification of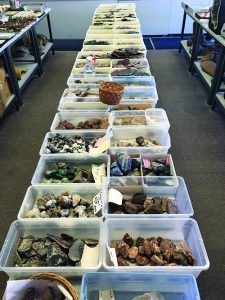 interests, from crystal healing, specific collectors, hobbyists, lapidaries, metalsmiths and people that just love rocks. There are not as many cutters/silversmiths, also known as hands-on people, as there used to be, but still a lot of interest in the rockhounding hobby."
People from across the U.S. as well as several foreign countries visit San Juan Gems Rock Shop each year. And some of the most excited and inspiring visitors are children.
"We have a lot of children come into our store  and they are so excited about rocks and their beauty," Sharon added.
Always Enjoying A Show
Members of the Sanchez family continue to attend and sell at a number of major gem and mineral shows around U.S. each year, but one thing they do miss is having time to hunt for rocks.
"The internet has also changed the business … there is not as much personal interaction, and as most rockhounds know it is very tough to buy material without laying hands-on and seeing for oneself," Sharon added.
It's been a true adventure for this family since J.B. put energy, planning, and passion behind an idea to take his love of rocks, cutting, polishing and interacting with people and transformed it into a business.
A family business that is steeped in joy and pride.
For more information about San Juan Gems Rock Shop, visit www.sanjuangems.com or call 970-565-9854.