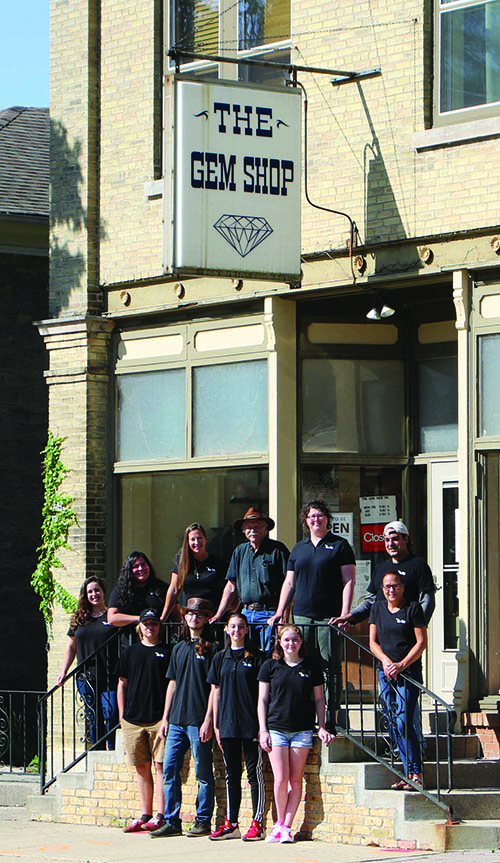 By Antoinette Rahn
Fifty years in business is a serious accomplishment.
Doing business using the same steadfast code of ethics, commitment to collaboration, and willingness and desire to diversify is how The Gem Shop, Inc., does business. With 50 years under its proverbial "business belt," it has shown to be a recipe for success and happiness.
Being part of this multi-generational family-run business is like "filling big shoes," explained Veronica Woods, co-owner and daughter of The Gem Shop founder, Gene Mueller.
"My father is a very honest man, and he used his code of ethics – which was part of what we were raised as a family by – to run the business," she said. "He is incredibly fair. I think that, in turn, has built a great reputation for The Gem Shop."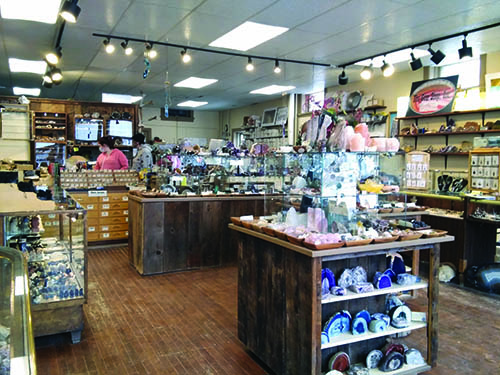 Woods, who joined the family business 21 years ago with the intent of working there "for a while," went on to say, "The reputation of the business is stronger itself than anything any one of us does."
That commitment to ethical business, protecting and respecting the business' reputation, and always cultivating a culture of learning are among the many foundational aspects of this small-town-business with a global presence.
The business itself may have begun in 1971 as an in-home operation in the home of Gene and Verla Mueller, but the passion for stone, rockhounding, lapidary work, learning, and collaboration is something that dates back to Gene's youth. His passion for rocks, agates, and jaspers, most notably, began while visiting his grandfather and grandmother in Minnesota, where time was spent hunting for agates, among other stones, and visiting the local rock shop.
"It was during these visits that I became googly-eyed about rocks," Mueller said with a sincere smile and a twinkle in his eye.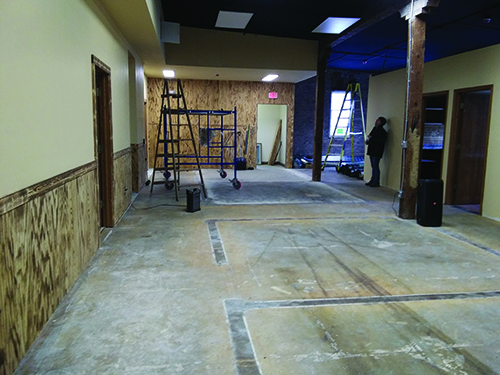 With interest piqued, Mueller's father, Gordon, saw the love of stone and the committed sense of wonder develop in his son, and he sought to encourage it. So much so that more than a few family vacations were planned with rockhounding in mind, explained Woods, recalling some family stories told to her about summer-time travels to destinations where young Gene could collect specific rocks. These trips may not have always been the dream vacations of Gene's two sisters, Cindy and Marcia, but as time would tell, they'd take more away from these adventures than they realized at the time.
Early on in the history of The Gem Shop, Inc., both Cindy and Marcia worked with Gene, clocking more than 25 years. In fact, after learning the techniques and processes for cutting stone, Marcia would go on to become the company's primary stone cutter for more than 20 years, explained Woods. Today, the multi-generational operation includes Woods' son, Avery, who is training and preparing to do more with the e-commerce element of the business, she said.
The evolution of this multi-generational, family-run business isn't only evident in the various family members who have and presently give their skills, knowledge, and commitment to the cause of sharing the joy of rocks, gems, minerals, and lapidary with others; it's also evident in the physical and mindful evolution of the business.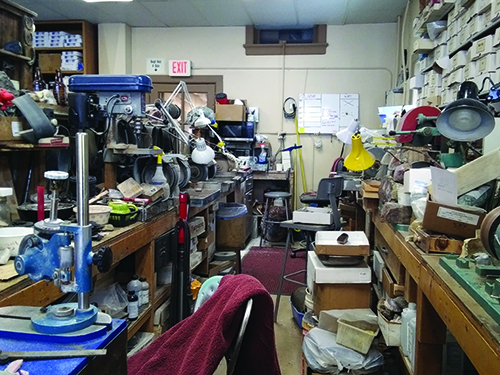 Growth of the business during the past 50 years has included, and will undoubtedly not be limited to:
• Mining operations — Ownership of the Beverly Marie TGS claim and Blue Mustang claim in southeastern Oregon for more than 30 years; co-ownership with a Mexican-based firm to hold claims and legally import rocks from Mexico, where it sources its popular Agua Nueva Agate.
• Retail sales and lapidary work, including custom creations and jewelry.
• Importation relationships built over the course of decades with individuals and companies in Australia, India, Madagascar, Brazil, Turkey, Uruguay, Russia, Indonesia, Peru, and South Africa, among others. The company receives about 10 importations each year, often in preparation for its participation during the Tucson show season. "As a second generation business owner, now I'm dealing with the daughters and sons of the people my dad developed contacts with in the 1970s and 1980s," Woods said. "It's amazing to be part of a business relationship that is older than me."
• Ownership of the Tucson Showplace — having owned the show for nearly 20 years after being a tenant of the show for 20 or so years prior. The Tucson Showplace show is home to nine tenants, operating out of a 130,000 square foot showroom during the Tucson show season.
• Wholesale business
• New! Distributor for Hausen Rock Treasures. A partnership developed in 2020, wherein The Gem Shop team manages the U.S. e-commerce operation for Hausen Rock Treasures, an Austrian firm. The Gem Shop receives inventory from Hausen Rock Treasures, and the team picks, packs, and ships to U.S. buyers.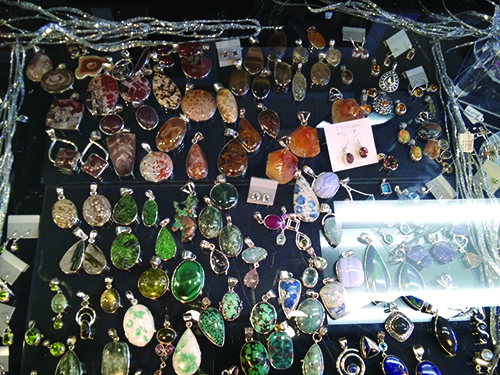 The above "arms of the business" are the avenues and partnerships beyond the day-to-day inventory and activity growth at The Gem Shop, Inc. retail business. The retail growth includes ongoing development of new product lines and expansion of popular product lines, including a children's series of rockhounding, mineralogy, and lapidary products, that includes more than 10 items and helped to inspire the shop's annual Fossil Hunt Contest, which takes place in the spring and summer each year. Look for more information about the contest in a future issue of Rock & Gem!
One of the most significant recent developments for The Gem Shop, Inc., is the physical expansion of the Cedarburg, Wisconsin, operation. In one very special way, the family-run operation is returning to its roots. The expansion is taking place in the community's former cannery facility, which at one point also housed Carlson Tool Company, which was initially a four-person partnership, with one of the partners being Gordon Mueller, Wood's grandfather.
"To bring it back here and to have The Gem Shop here is incredibly special," Woods said.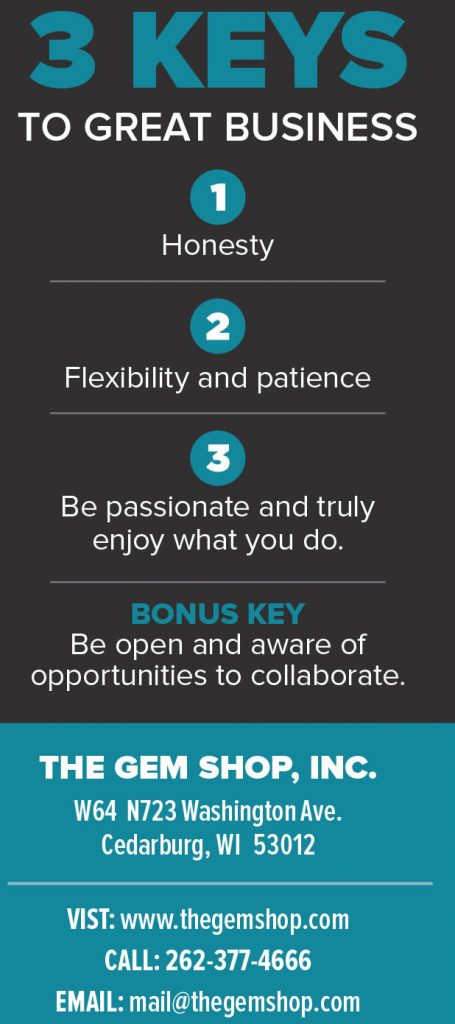 Before the current renovation project, The Gem Shop's space in the historic building served as its wholesale showroom, warehouse, and shipping and receiving location. Now, the space The Gem Shop occupies, which it recently had renovated from roof to floor, will serve as the headquarters for the business, its e-commerce operation, social media event production area, and will continue to serve as the wholesale operation. The Gem Shop, Inc., retail shop will continue to operate in its Washington Avenue location.
From humble beginnings in the basement of the Mueller family home, to space in a multi-business cooperative in the family's hometown of Cedarburg, to the long-time location on Washington Avenue, within Cedarburg's Historic District, to the expansion of the business in a familiar and deeply historic locale, the journey of The Gem Shop, Inc., has been nothing short of a lesson in the value of collaboration, tenacity, faith, and appreciation for community on a familial and a global level.
Editor's Note: Be sure to reserve your copy of the Rock & Gem 50th Anniversary Commemorative issue (available in mid-July) to enjoy a more in-depth exploration of Gene Mueller's accomplishments and contributions to the rockhounding and lapidary community.
---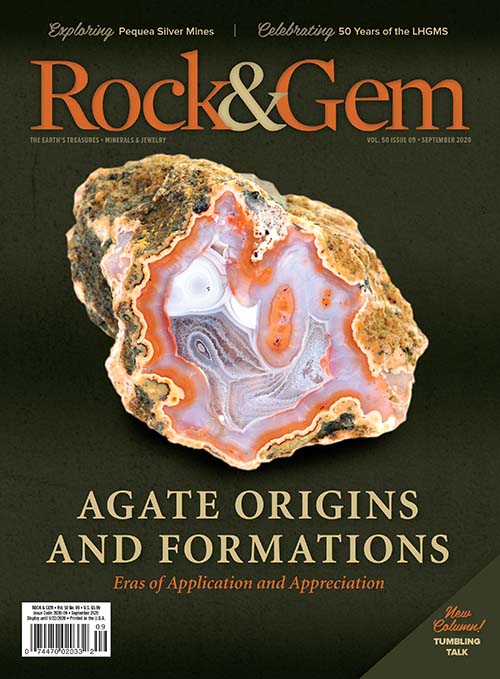 If you enjoyed what you've read here we invite you to consider signing up for the FREE Rock & Gem weekly newsletter. Learn more>>>
In addition, we invite you to consider subscribing to Rock & Gem magazine. The cost for a one-year U.S. subscription (12 issues) is $29.95. Learn more >>>
---