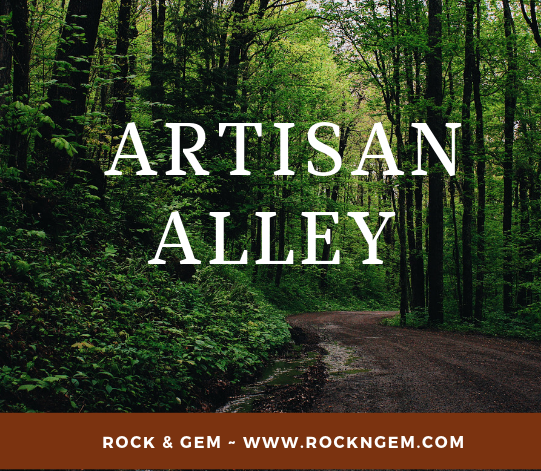 By Antoinette Rahn and Erin Dana Balzrette
"Inspiration is the key to our evolution."

— Eddie Peña
There is a lot to draw inspiration from within the world around us. However, sometimes, some of us keep a schedule that doesn't allow us to really see the inspiration, or imagine what unique creation could emerge when we use our talents and skills to incorporate natural beauty like rocks, minerals, gems, and fossils in artistic endeavors.
The evolution of an artistic work, whatever it is made from, often appears to prompt a transformation on some level, for the artist responsible for the creation as well. It's a gift given and received and shared, time and again.
The brilliant pieces showcased in the Artisan Alley blog/column are the genius of silversmiths and lapidary artists, many of whom are members of the Stone and Silver Facebook group. Below is a compilation of the artists' answer to the question: How did creating this work, and using this stone inspire your creation? Enjoy!

Indonesian Opal Wood
Silversmith and Lapidary Artist: Allison Herfindahl
Appreciating the innate beauty of natural stone showcased in lapidary art and jewelry is certainly a benefit, and so too are the emotions and memories that may come to mind upon viewing these beautiful pieces.
For lapidary artists, the emotions and memories a piece of art or jewelry bring to mind can help shape the vision they may have for a piece. Such was the case for Allison Herfindahl when she used her lapidary and silversmithing skills and talents to create this item of lapidary art.
"I cabbed this piece of Indonesian Opal Wood to frame the floating feather/leaf above the landscape scene because it reminded me so much of where I stay in Oregon, surrounded by trees and beauty," said Herfindahl.  "The fine silver frame that I fabricated to hold it was in need of one single feather/leaf to accent the stone and complete my vision."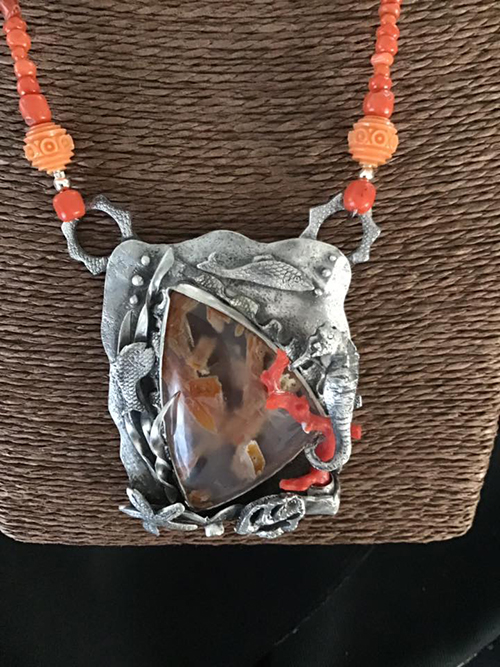 Stick Agate and Mediterranean and Turquoise Bead Necklace

Silversmith and Lapidary Artist: Sonny Cole
Even with all that is known about nature, there are plenty of mysteries. That is part of what inspired silversmith and lapidary artist Sonny Cole when she created this enchanting necklace she's titled "Under the Sea."
The initial source of inspiration was the stick agate showcased at the center, Cole explained. "To me, it had the mystery of the coral reefs and the sea creatures that take shelter there."
To build on that vision she added seahorse, fish, shells, starfish, barnacles, and bubble imagery, as well as a red Mediterranean coral branch. To add to the theme, she featured antique beads, red coral and turquoise beads to accent the seafaring feelings.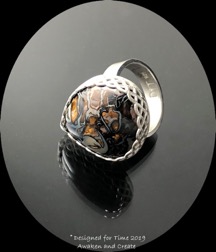 Koroit Opal and Silver Ring
Silversmith: Lloyd Braunberger
Lapidary Artist: Juvy Andres
Sometimes the inspiration is all about the person who will be the recipient of the artwork, as in the case of this ring, as explained by silversmith Lloyd Braunberger.
"In mid-April of 2019, it was my great pleasure to host a meeting with Dini Alves and her two granddaughters. We spent the afternoon going through cabochons from various lapidary artists and designing rings for her and her granddaughters," Braunberger explained.
The ring shown was created by the collaborative efforts of Juvy Andres and Braunberger, and designed specifically for one of the granddaughters of Dini Alves. The bezel, Braunberger said, is a special sterling silver material he orders from Israel. With its open design, it really lends itself to a great total viewing of this cabochon.
After the initial meeting with the clients, Braunberger worked the piece and held one final meeting to make certain the fit was perfect for the recipient before he completed the final soldering of the bezel and backplate to the band.
"While I have always enjoyed working with my customers (friends) closely to design and create exactly what they wanted, this time was special for me," Braunberer said. "I not only had the opportunity to meet new and charming friends but the opportunity to work with them on a much more personal level."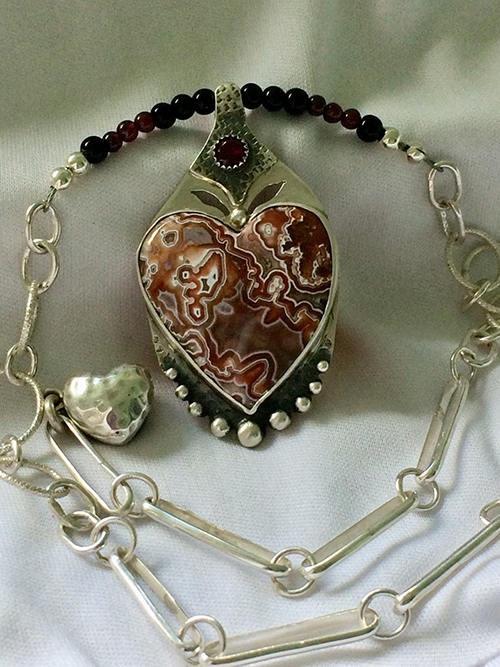 Crazy Lace Agate with Ingrained Botryoidal Quartz Pendant Necklace
Silversmith: Pamela Gonzalez
Lapidary Artist: Jay Spence
While each artist brings their talents, experience, and vision to each piece they create when collaborating with another artist the shared space for innovation is almost magical.
Pamela Gonzalez conferred with lapidary artist Jay Spence a few times in the course of creating this necklace. Her vision called on her to cut .999 silver wire in increments in order to form various sized silver balls to use as accents. After discussing that design element, the two agreed that the choice of a pyrope garnet for the bail would help pull in the colors present in the heart.
"I textured around the silver balls and the bail to patina in order to bring out the colors of the heart and garnet. I added onyx and garnet beads to the hand-made sterling link chain, and found a puffy heart clasp in my inventory that added an extra accent," Gonzalez said.
Even, as Gonzalez explained, challenging moments can be inspiring. The process of sweat soldering the bail to the plate, became more involved when the end she was going to use melted, so she had to cut and slightly flatten a silver tube to solder to the back of the bail, in order for the chain to pass through.
"Lots of time on clean up of sweat solder and chain links, but all a labor of love," she said.