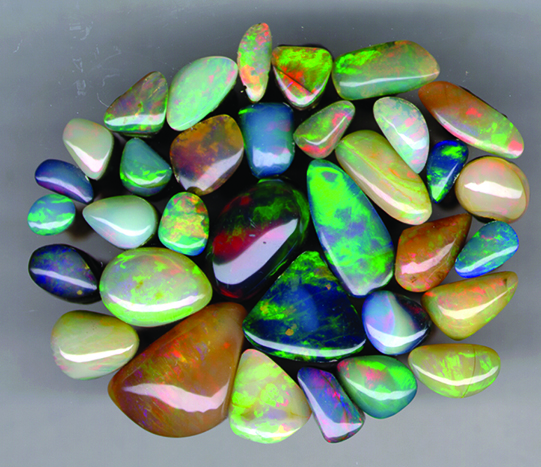 Opal Resources Canada, Inc. is a sponsor of

By Antoinette Rahn
Pioneer, innovator, groundbreaker, trailblazer, and vanguard are some of the words that describe someone who introduces something new or makes an inspiring change. Robert Yorke-Hardy, his late wife, Alana, and three sons, Chris, Mike and Matt, embodies these words, with their history-making opal operation in British Columbia, Canada.
Yes, that's right, Canada. While it may not be one of the most prominent opal locales, it is undoubtedly a nation rich in mineral resources, most specifically its renowned diamond mines. However, the perspective of Canada's mineralogical diversity is evolving, as "Canada is once again proving to be a land of hidden riches and infinite opportunity," explained Robert Yorke-Hardy.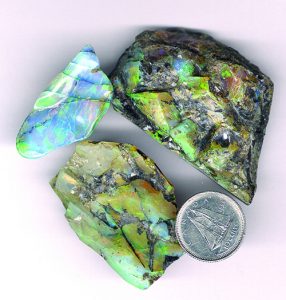 Doing business as Opal Resources Canada Inc. (ORCI) formally since 1997, and previously as part of a collaboration, the focus of ORCI's efforts has been to introduce the world to Canada's precious opal gemstones and get the material into the hands of as many people as possible. Not only has the company been successful in these endeavors over the past 20-plus years, but ORCI remains a trailblazer. Yorke-Hardy explained that the company was the first in Canada to commercially produce precious opal gemstones and precious opal jewelry created from opal mined in the firm's British Columbia, Canada locale. Plus, ORCI was the first to commercially market British Columbia precious opal jewelry through a company owned and operated retail shop and develop the domestic and international distribution of the precious opal gemstones and jewelry produced in Canada.
It's not all about hockey and maple syrup in Canada, and those in the mineral and gemstone market are benefitting.
As one might suspect, it was the presence of play-of-color in clear opal rough that prompted those involved in the Klinker claims' initial prospecting, in the early 1990s, to start thinking about precious opal. According to Yorke-Hardy, more claims were staked and explored, with the original company he was involved in, Okanagan Opal Inc., researching the viability and economic potential. In 2008, the property and operation were acquired solely by Opal Resources Canada Inc., and opal mining, jewelry creation, and fee digging opportunities formed the day-to-day operation at ORCI.
Facing Challenges and Opportunities With Patience and Innovation
As is the case with any business or personal endeavor, there have been challenges, losses, and times when Yorke-Hardy and his family have had to pivot and tap into their innovative minds to persevere. Today, Chris oversees jewelry production, while Mike manages online sales, and Matt and Robert continue to explore and maintain mineral operations.
Over the years, opal digging trips to the Klinker deposit and sale of columnar basalt from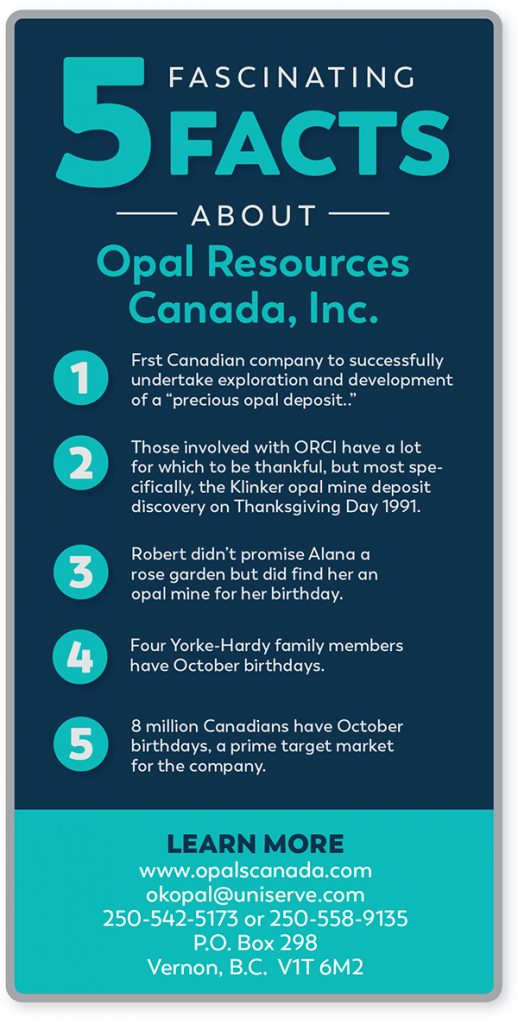 the company's large claim block to the landscaping industry have been significant revenue streams for ORCI, Yorke-Hardy explained. In light of stay-at-home orders, closures, and travel restrictions during 2020, ORCI saw saw fewer basalt sales and dig trip participants in early summer, but picked up in mid-summer and extended into early October. Still, with opal taking center stage during October and the holiday season rapidly approaching, Yorke-Hardy and the team are optimistic and grateful for the time of reflection they've had during the uncommon and unexpected twists and turns of 2020.
"(For me) it's been back to the basics of focusing on family and organizing thoughts and actions to increase production," Yorke-Hardy said. "Also, Chris has had a chance to reflect on what his main goals in life are."
Despite the common challenges that accompany mining and operating a business, the same level of innovation and passion, which fueled the Yorke-Hardy family's first steps toward an opal operation all those years ago, remains a significant part of their foundation moving into the future.
"ORCI is a vital part of British Columbia's potentially promising opal Industry. Given the right opportunities, (we) feel history will prove this burgeoning British Columbia industry to be world-class," said Yorke-Hardy.
For More Information
Visit: www.opalscanada.com
Email: okopal@uniserve.com
Call: 250-542-5173 or 250-558-9135
Mail a Letter: PO Box 298, Vernon, B.C. V1T 6M2