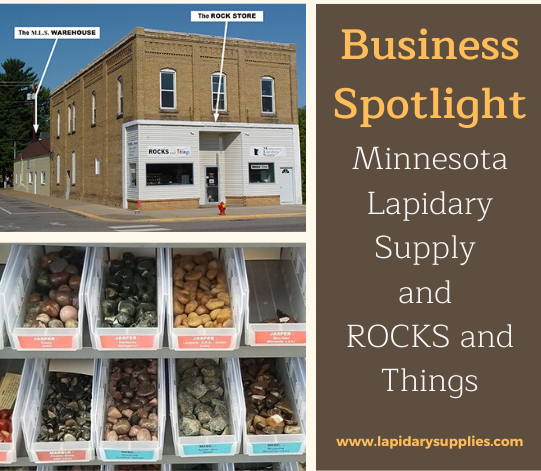 By Antoinette Rahn
From the Editor: We are connecting with our regular advertisers during this time of self-quarantine in response to the COVID-19 pandemic, to learn how they are spending this time, discover more about them and their business.
Minnesota Lapidary Supply (M.L.S) has a 50-plus year history and a familiar name within the rockhounding and lapidary community. For the past 16 years, Val B. Carver, known widely as "The Rock Man," has owned and operated what he calls a "lapidary general store," mail order, and online operation. M.L.S is paired with Carver's walk-in rock shop, ROCKS and Things, which has been in operation for 21 years.
Carver's tandem business shares the building at the corner of 2nd St. North and the memorable Rum River Dr. North, in Princeton, Minnesota. A native of Tennessee, Carver ventured into the profession of rock, mineral, lapidary and related equipment sales 25 years ago, as a second life career, if you will. Prior to his entrepreneurial venture, he made his living as a chemist and chemical engineer. As stated above, now this formally educated chemist is known in Minnesota and beyond, as "The Rock Man."
Chemist to Rock Man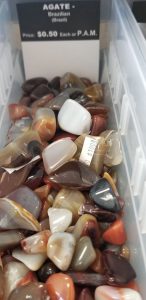 During this time of quarantine and lockdown in response to the COVID-19 pandemic, Carver, like some other mineral and lapidary business owners, is grateful to have a retail walk-in business and a mail-order/manufacturing business. Although ROCKS and Things is closed during this time of quarantine, the mail order business remains fully operational, Carver said.
"We still have income coming in from the mail-order/manufacturing side of the business. In fact, I have seen this (type) of weird event three times before, concerning our business. When the economy hits the skids, we do well."
With the current lockdown marking the fourth time he's seen this type of activity during a time of uncertainty and the like, Carver said: "I think I understand it, and the best part of the business is digging rocks for it!"
Turning a Life-Long Passion Into a Rewarding Profession
We asked Carver a few additional questions to learn more about his business, personality, and overall commitment to supporting the rockhounding and lapidary community.
Rock & Gem: Who or what is one of the greatest sources of inspiration for you, and why?
Val B. Carver: I guess the source of my loving rocks goes back to my father. When I was a kid, in the 1960s, he dug Indian artifacts, and I joined him on many digs. We were digging things made of rocks. The lesson I learned during these digs was, what magnificent craftsmen the people (of the time) were.
RG: What is the best piece of advice you've ever received?
VC: It wasn't so much a single piece of advice, but from my studies of chemistry and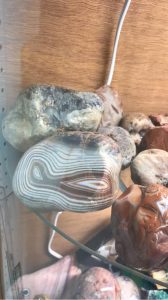 engineering, (I learned) the logic and basic structure of nature and the universe — call it the scientific method. Then there is the old adage, "you don't get something for nothing, good things come to those that work hard." Like DIGGING ROCKS.
RG: What is one thing for which you are most grateful?
VC: I am most grateful for my wife (married 43 years), two children in good health, and having a business I love.
RG: Think back to when you were a child, what was one of your favorite things to do, and what made it special?
VC: When I was a child, I was crazy about collecting rocks. I still remember, now at age 65, that as a child of four in Tennessee, I'd be dragging rocks home and asking my parents what they were. Questions like: Why was this rock blue, and this one green, etc. I still have a few of the rocks (I collected then) still in my collection.
---
Get In Touch With Minnesota Lapidary Supply 
Online: lapidarysupplies.com
Phone: 763-631-0405
Email: sales@lapidarysupplies.com
ROCKS and Things: https://www.rocksandthings.com
---