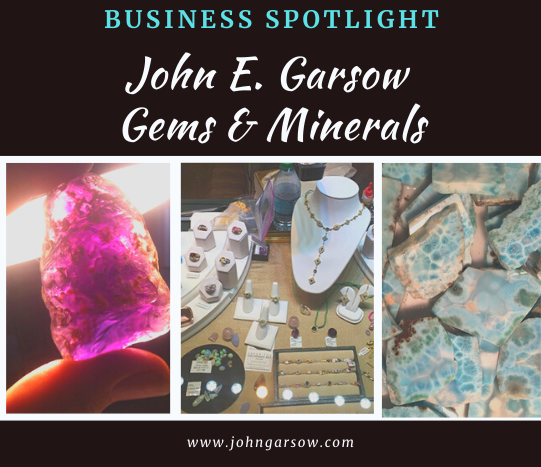 By Antoinette Rahn
From the Editor: We are connecting with our regular advertisers during this time of self-quarantine in response to the COVID-19 pandemic, to learn how they are spending this time, discover more about them and their business.
With more than 30 years' professional experience in the gem and mineral industry, and 17 years doing business as John E. Garsow Gems & Minerals, this Southern California-based company is well-known within the gem and mineral show circuit. It serves the rockhounding and lapidary community through its online store and selling a variety of inventory (in non-quarantine times) at more than 30 shows each year. 
The business was initially formed as a vehicle to supply the best facet rough possible, owner John E. Garsow explained. Then came high-quality gem mineral specimens, faceted gems, cabbing materials, and ultimately rocks, gems, and minerals of all sorts, varieties, and price ranges. 
"As our inventory grew, we decided we needed to reach more clientele and expanded into the gem and mineral show circuit," Garsow said. "We really weren't expecting the response we received. Within a very short time we were selling up to 30 shows a year coast-to-coast. To say it kept us busy would be an understatement. Exhausted is more like it."
Keeping Virtually Connected is Priority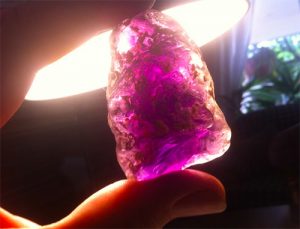 That changed when self-quarantining and lockdown measures took effect in response to the COVID-19 pandemic. During this time, Garsow and company have made it a priority to regularly keep in touch with the clients they meet with at shows. The outreach gives them the chance to check on people who are not only customers but have become friends. In some instances, Garsow said, it's also resulted in his company being able to provide supplies for people using their mail order and website order and shipment process to fulfill needs. Also, visitors to the website (www.johngarsow.com) will see sale prices on the entire inventory.
"Yes, it's slower, yet it's uncertain," Garsow said. "But so far, sheltering in place has had its upsides, too."
Among the upsides, Garsow added, is more time with family, time to read, a much slower day-to-day pace, a reduction in expenses, and the opportunity to relax. "Oh, and the air quality is the best that it's been here in So Cal since the invention of the horseless carriage," he said.
Viewing Every Day as An Opportunity and a Gift
We asked Garsow a few additional questions to learn more about his business, sources of inspiration, and overall commitment to supporting the rockhounding and lapidary community.
Rock & Gem: Who or what is one of the greatest sources of inspiration for you, and why?
John E. Garsow: My grandfather was my inspiration to get involved in the rock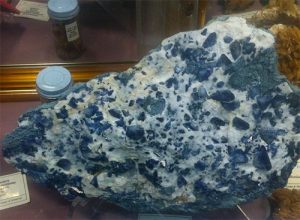 and gem world back in 1957. He had a small rock shop in Saginaw, Minnesota, and used to take us kids out agate picking along the roads and in the gravel pits during summer vacations. He would send us home with baby food jars of tumbled Lake Superior agates and thomsonites.
RG: What is the best piece of advice you've ever received?
JG: As for the best piece of advice I have ever received, it's hard to say, but the best piece of advice I can give is "Failure is a great teacher." if you don't get it right the first time, get back up, dust yourself off and get back on the horse.
RG: What is one thing for which you are most grateful?
JG: I am most grateful for family and friends.
RG: Think back to when you were a child, what was one of your favorite things to do, and what made it special?
JG: Go rock collecting…what else?
---
Get In Touch With John E. Garsow Gems & Minerals 
Online: www.johngarsow.com
Phone: 804-642-2011
Email: johngarsow@sysmatrix.net
---