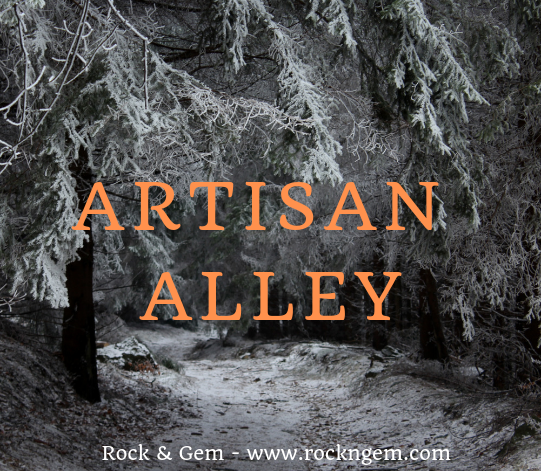 By Antoinette Rahn and Erin Dana Balzrette
The whole culture is telling you to hurry, while the art tells you to take your time.  Always listen to the art.
-Junot Diaz
This quote sums up nicely what we continue to see and hear from lapidary artists and silversmiths featured in Artisan Alley. Many share stories about respecting the creative process, whatever the time frame. Often that involves having presence of mind to receive inspiration when it strikes, and then acting accordingly. It also involves spending time with the material and being open to it's revelations. In addition, when working with others the process involves drawing on the creativity of collaborators and appreciating the vision they set forth.
Overall, it's largely about respecting and celebrating the journey.
The brilliant pieces showcased in the Artisan Alley blog/column are the genius of silversmiths and lapidary artists who are members of the Stone and Silver Facebook group. Below is a compilation of the artists' answer to the question: What did creating this piece teach you? Enjoy!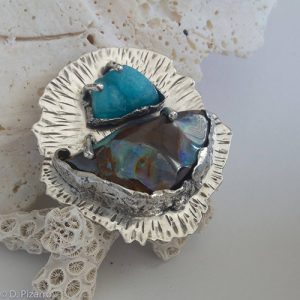 Druzy Chrysocolla, Boulder Opal and Hemimorphite Art Jewelry
Silversmith: Denny Machette Pizarro
Lapidary Artist: Joe Jelks
There's a statement I see pop up on social media from time to time that always prompts me to pause and consider. It is "Not everyone will understand your journey. That's fine. It's not their journey to make sense of. It's yours." This is what came to mind when I read Denny Machette Pizarro's response about what he learned through creating this piece. Well, actually, it's more about what he's learned from a lifetime of following the pursuit that appeals to him most.
"The appreciation of rocks is, I believe, innate in me. I have spent my lifetime looking down and filling my pockets with rocks that catch my eye," Machette Pizarro said. "My window sills and bookcases were lined with my treasures and periodically, my collection was purged by an irate parent who didn't appreciate my love of stones. Later, it was my spouse who lacked tolerance. All these years later, I have learned that I was right!"
He went on to explain how stones never disappoint and truly inspire.
"Now when I go to my stash of stones in search of inspiration, I am never disappointed. My collection is not vast, but it is populated with some stunning specimens from some amazing lapidaries. I can get lost just looking at the collection I have amassed, but nothing draws me in like an opal.
"Joe's opal was the very first opal I bought and I struggled with releasing it from my collection and placing it in jewelry. Lord knows I love it."
For lapidary artist Joe Jelks, the experience of cutting stone has revealed the limitations of nature and being appreciative of what is available now.
"I have cut stones full time for 33 years as a living. Cutting these particular stones have taught me that everything in nature is finite," Jelks said. "These materials especially are subject to availability and not always abundant."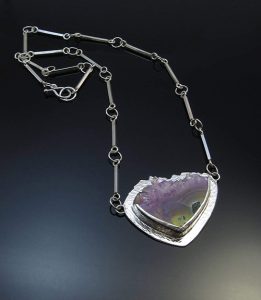 Agate Amethyst and Silver Necklace
Silversmith: Valerie Perez-Prosick
Lapidary Artist: José Pitarch
A common philosophy among the lapidary artists and silversmiths we feature in Artisan Alley is the belief that stones and accompanying materials have the ability to inspire, direct, and educate.
Silversmith Valerie Perez-Prosick speaks to this in her response to the question about what she learned while working on the featured piece.
"What this taught me was respect for the stone. I am very thoughtful about creating pieces that enhance the beauty in each stone. I treat the stone like a person: each has its own unique beauty (like we all do)," she said. "I try my best to design jewelry that is wearable, yet the stone (is) the focal point."
Perez-Prosick's collaborator in this piece, lapidary artist José Pitarch, discusses the tremendous value that comes from discovering the identity of each rock, mineral, and gem with which one works.
"Each amethyst crystal has its own identity, and each cut and each polishing reflects an individual character that only the artisan can identify," Pitarch said. "It's a magical material, of which each piece is unrepeatable.
"That extraordinary magic captivates me as a self-taught lapidary and motivates me to continue creating unique pieces for fellow wonderful metal artists."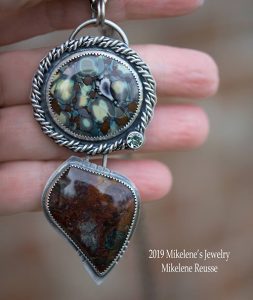 "Cocoa" Praisiolite Gemstone and Marston Ranch Jasper Pendant
Silversmith: Mikelene Reusse
Lapidary Artists: Mattie and Phil Gadd
No matter how many years or how many lapidary pieces one may create, each project presents an opportunity to learn, refine skills, and discover time and again how much joy comes from collaborative creativity.
"I loved the free-formed shape of Mattie & Phil's (Gaddabout Rock Creations) cab and knew that I wanted to build an asymmetric piece with it, " explained silversmith Mikelene Reusse. "Asymmetric jewelry can be a challenge in design, fabrication, and balance as well as being accepted and appreciated by the customer. Symmetry seems to rest easier on the eye, for some, but I've never been one to color within the lines anyway and I always love the challenge in fabricating unique jewelry. "
For Mikelene being able to work with others who share her deep appreciation for nature's treasures is a dream come true.
"I was thrilled with how this piece turned out. Mattie & Phil's cab and my own handmade glass cab worked perfectly together, the Prasiolite gemstone tied them together with the bits of sage green found in both focal cabs," she said. "I've loved and collected "rocks" since I was 10 years old, being able to do this work and create my line of jewelry incorporating them is both a passion and a joy."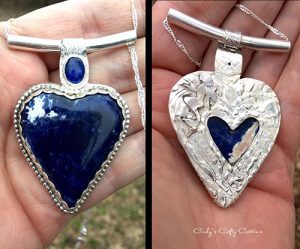 Sodalite and Blue Opal Sterling and Fine Silver Pendant
Silversmith: Cindy Lewis Croft
Lapidary Artist: Rick Evans
An integral element of the beauty surrounding lapidary art and jewelry is the joy it brings to both the creators and the eventual owner of the piece.
"I'm always excited to start a new piece. Every time, I try to challenge my self, to do the lapidary artist justice on their beauty, they created," Lewis Croft said. "My challenge also is to create unique one of a kind gift, someone can wear proudly."
From lapidary artist Rick Evan's perspective the entire creative process is one joyful moment after another.
"I've been working with stone for years. It's a source of relaxation for me. The variety of stone to work seems endless and getting the new and fun stone in the shop is always the highlight of my day," he said. "I send most off to those who wrap, silversmith, and weave. Seeing what they do with my modest creations is truly a blessing. "
This piece isn't the first collaborative effort for Cindy and Rick, but it is among Rick's favorite.
"(We've) worked on many pieces together and this sodalite is certainly one of my favorites! The stone and wire, when put together by the talented Cindy Croft, really brought this piece full circle. "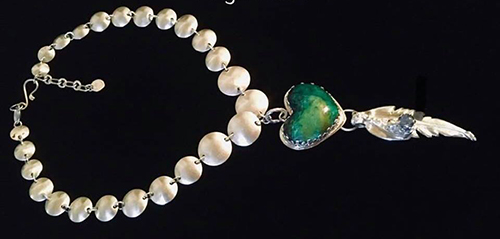 Argentium, Sterling and Fine Silver Necklace with a Chrysocolla/Azurite Heart Pendant
Silversmith: Shari Blackswan Windsor
Lapidary Artist: Michael Fomenko
Another valuable lesson that is applicable not only to lapidary and silversmithing but also life, is to be open-minded, explains both Shari Blackswan Windsor and Michael Fomenko.
"Making this piece taught me to just go with the flow sometimes, ya know," said Blackswan Windsor. "Things don't have to be perfect and art is art, just be creative, and open to the spirit. That's what I did here. I connected with my Native Cherokee Ancestors."
In addition, the stone created by Fomenko held great inspiration, she added. "It's absolute magic."
Being open to wherever the creative process leads and not placing a limitation on the materials or the lapidary techniques ushers in opportunity for wonder.
"Working with this material reinforced the lesson to never judge anything at face value," Fomenko said. "At first, it looked like nothing more than a black stone, but as I began to work through the surface I discovered the true beauty of the material. As with most things in life the true beauty was inside just waiting for someone to come along and reveal it for the world to see."