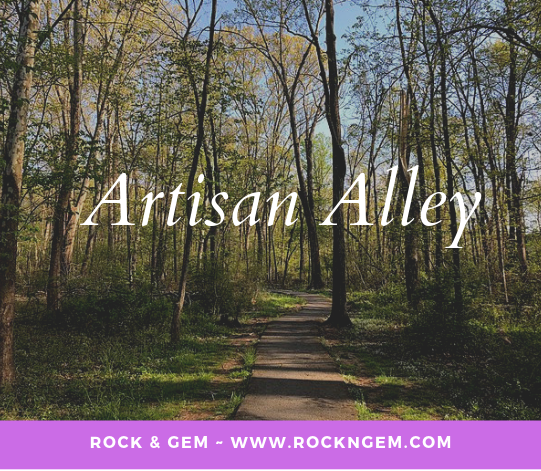 By Antoinette Rahn and Erin Dana Balzrette
"The beauty of the unexpected lies within the surprise of the momentum, not only at its tipping point but also within all the moments waiting."
— Akilnathan Logeswaran
For some people, the arrival of the unexpected can be incredibly unnerving. For others, the very idea of the unexpected is the expectation. Regardless of our viewpoint on the subject of unexpectedness, it's certain to occur in one form or another, again and again. Many a philosophical and psychological expert has said how the unexpected impacts us depends largely on our attitude.
When it comes to the collaboration of lapidary and silversmithing much of it is unexpected, and for many artist and smiths that is part of the thrill of creating. There is excitement in the not knowing, excitement in the moments of revelation, and excitement in having a hand in transforming the unexpected.
Perhaps approaching unexpected moments and developments with the spirit of a lapidary artist and silversmith is a key to living life to the fullest. By embracing the unexpected and being open to what it reveals to us and about us may be the ticket.
The brilliant pieces showcased in the Artisan Alley blog/column are the genius of silversmiths and lapidary artists who are members of the Stone and Silver Facebook group. Below is a compilation of the artists' answer to the question: What did creating this piece teach you? Enjoy!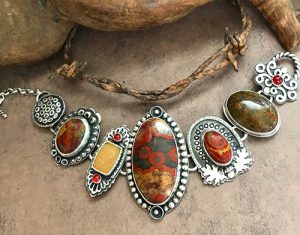 Morgan Hill Poppy Jasper, Dinosaur Fossil, and Silver Bracelet
Silversmith: Julie Crawford
Lapidary Artists: Cyndi Wolke and Phil Gadd
In her initial description of this collaborative piece of wearable art, Julie Crawford thanked Cyndi and Phil for 'making my job as a designer easy!'
One of the best aspects of collaborations is the evolving vision that takes shape during the creative process.
"Morgan Hill Poppy jasper is a beautiful stone whose colors truly make me happy," said Crawford. "As I was choosing accent stones for this center cab, I felt they needed a certain kinship or 'sisterhood' to make the design a success."
It helps, Crawford explained, that earlier in her silversmith experience she learned the importance of not forcing stones together. "For me, it's allowing the focal stone to choose her friends. This is the most important step I take to ensure harmony and bring honor to my designs."
Similar to the many layers often present in stones, the interconnectedness of each artist in a collaborative creative process is evident, but even for the artists, there is a level of unexpectedness that comes once a piece is completed. Lapidary artist Cyndi Wolke discusses how the interconnectedness plays a prominent part.
"Julie had purchased a Morgan Hill Poppy jasper heart from me and asked if I would be able to cut an oval for her from a similarly patterned slab," said Wolke, who in turn contacted rockhound Martin Kramer of Philosophers Stone to see if he had any slabs of Poppy jasper that presented similar to that of the heart. Kramer did indeed and he was able to cut an oval from that slab to fulfill Crawford's request.
"For me, the great part of the story and learning aspect is how we are all interconnected in this wonderful art form," Wolke added. "From the rockhound/miner who gathers the rough, to the lapidary who cuts the cabs, and finally the jeweler who creates wearable art with their unique vision. I feel like it is an incredible privilege to be a part of this amazing community."
Often times the unexpected contains valuable insights that collaborators carry with them as they move on to new creations.
"We are amazed how Julie combined these cabs of so many types and colors to create such a stunning piece of art," said collaborator Phil Gadd. "I always thought things had to "match" to be beautiful, but this goes beyond that. It's an honor to have one of our cabs used in this."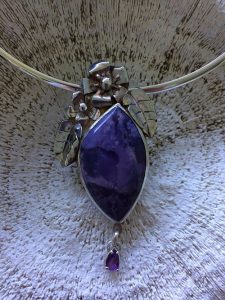 Tiffany, Amethyst and Silver Pendant
Silversmith: Pamela Gonzalez
Lapidary Artist: Bill Wolf
You've surely heard about the '4 Cs of diamonds'. While it's not a household idea (not yet, and maybe not ever), but while reviewing the comments by Pamela Gonzalez and Bill Wolf the '4 Cs of Artisan Alley' came to mind: Cabochons, Creativity, Collaboration and Challenge.
"When first viewing the beautiful Tiffany cabochon Bill Wolf created I could see flowers in the stone, which inspired me to hand forge some similar flowers to surround it," said Gonzalez. "My goal was to design something to make the stone the true focal point of the piece of jewelry.
"Creating art is rewarding and challenges us to take a chance on things we are constantly learning from. I learned how important it is to be a part of a community of people with a like-minded interest can be very interesting and fun."
Lapidary artist Bill Wolf spoke about the unexpected revelation of a cabochon as it emerges during the cabbing process.
"I think the lesson I learned while making his cabochon is that patience pays off," he said. "This Tiffany stone was overall soft, and each shade of purple had a slightly different hardness
"It took a light touch and a lot of time to sand and polish, but in the end, I was happy with the result. Sometimes there is no substitute for time and patience."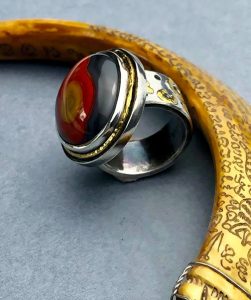 Kentucky Agate, Gold, and Sterling Silver Ring
Silversmith: Gina Sue Cotton
Lapidary Artists: Brian Booth
Rockhound: Roland McIntosh
Sometimes the unexpectedness within a piece of lapidary jewelry is the lessons it shares with the artists.
"Creating this ring taught me that I work best when I let the stone dictate the piece," said Gina Sue Cotton.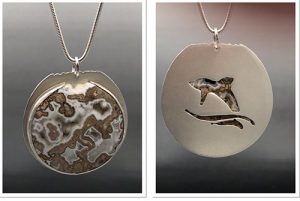 Wyoming Blizzard Stone and Fine and Sterling Silver Pendant
"Ebb and Flow"
Silversmith: Carolyn Hartmann-Morris
Lapidary Artist: Larry Odom
One of the most enjoyable celebrations of unexpectedness in lapidary art appreciation comes when you ask someone 'what they see in the stone.'
From the moment she cast her eyes on the cabochon in this piece, with its druzy top and various druzy pockets, the vision was clear.
"This stone reminded me of sitting on the beach, and the ebb and flow of the waves foaming in the sand, and the pebbles running in and out with the surf," said Hartmann-Morris. "If you are lucky, you will see cresting dolphins, sea turtles, or even whales. This piece taught me to let the stone speak. Let the stone influence production.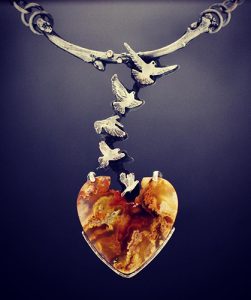 Graveyard Point Plum Agate and Silver Pendant Necklace
Silversmith: Ling Ling M
Lapidary Artist: Adam Reid
It's often discussed that the colors of a stone largely contribute to the direction a piece may take during the collaborative creation process, but that's not the only influential aspect, as Ling Lin M explained.
"I made this piece because of how the stone was cut. The colors of the stone look like mountains, instead of a traditional setting," she said. "I thought a more contemporary approach would be better to show off the stone."
Her creative process involved sawing the tiny silver birds and soldering them by raising them with different heights and making them look like they were flying out of the stone, she explained. One of the many critical components of her silversmithing process in this piece was heat control, she added. Managing the applied heat during soldering determined whether she produced silver birds in flight or pools of liquid silver.
The primary lesson this piece taught Adam Reid was more of a critical reminder.
"Contributing to this beautiful piece teaches a lesson that keeps repeating itself — collaborating with other artists is wonderful," Reid said. "It allows all parties a chance to showcase their art, and give community members the opportunity to get to know one another."
Visit the Stone and Silver group on Facebook to enjoy more examples of inspiring collaborations and a celebration of the unexpected.