By Erin Dana Balzrette
A rockhound, amazing lapidary artist, and a woman with a sense of humor that keeps people in stitches, Deb Morgan's work is fun, light-hearted and beautiful. Enjoy this "Just Off The Wheels" profile featuring Deb Morgan.
Erin Dana Balzrette: Where did you get the material for this cab, and what drew you to it? 
Deb Morgan: The material for this cab is from the Cady Mountains in California. I actually 'rockhounded' the material (highly silicated rhyolite) myself. I noticed it was different than anything else I'd found that day. I almost left it, then changed my mind!
EDB: How long have you been a rockhound and lapidary artist, and what attracted you to cabbing?
DM: I've been a rockhound since I was a child when my dad took me to a secret spot near Bullhead City for geodes. I've loved rocks ever since. I only started doing lapidary a few years ago after my friend let me borrow her machine. I cabbed so much I got a neck ache! I work with my hands, so cabbing came fairly natural to me.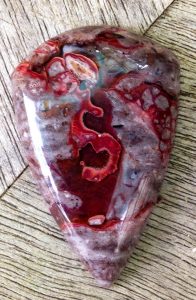 EDB: What process do you use when creating cabs? Is there any special technique used when creating the featured cab?
DM: I don't have a special process when I create cabs. Sometimes they just make themselves. This featured cab only showed up after the rock was cut into slabs. Sometimes you just 'see' what's in the material, and the cab takes shape. I even went through a phase where I would drop the slab if it had a few cracks just to see what would show up.
EDB: What is a new cabbing approach that is bringing you great excitement?
DM: As far as a new cabbing approach, it's fun to make unusual shapes and cab material that has a natural surface on top. It's good to experiment with materials...sometimes it works, sometimes it doesn't. I enjoy the experimenting and I enjoy seeing other artists push the envelope. For a while it seemed there was a trend of natural stone only. I do like seeing man-made/recycled materials cabbed too.
EDB: What advice you would like to give new lapidary artists?
DM: Advice I would give to new lapidary artists or anyone interested in cabbing is to just do it! I never joined a club, since I borrowed my friend's machine, but it would be best to join a club. That way you can use the equipment, gain knowledge from other members, and see if you like it before you make the investment. Don't be afraid to try new things too, it's art and expression of creativity.
EDB: What is your motivation to create, and your favorite part of the process?
DM: My motivation to create comes in many forms. First, it starts with what I call 'Adult Easter Egg Hunt.' Finding materials by rockhounding. It's great exercise, you're in nature, there's beauty everywhere and you find treasures. Second, I call it 'Christmas presents' when you start cutting your rocks and find wonderful surprises in them like this featured cab. Third, is the process of shaping and highlighting the best features of a cab. I love all the steps of creating cabs, but the hunt may be my favorite part. Finding a treasure that's been sitting or buried for thousands or millions of years and here is the opportunity to give it a new life.
---
WHERE TO FIND DEB
Facebook Groups: Cabs and Slabs and Turquoise Emporium
---
Author: Erin Dana Balzrette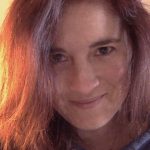 Owner of Tree Climbers Stones, co-founder of Facebook's 'Stone and Silver' group, and weekly host of the 'Ladies Day/Night' Auction on Facebook's 'Cabs and Slabs' group.
She is a long-time rockhound and a GIA AJP. To view more of her work, visit www.tcstones.com.