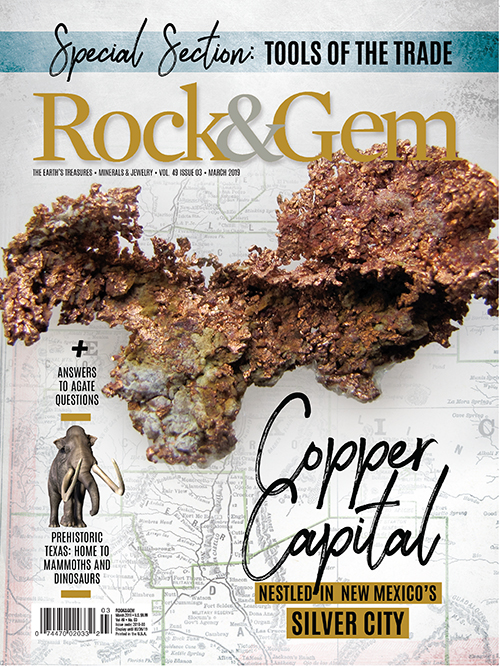 Below is a snapshot of some of the topics and interests you can expect to see in the pages of the March 2019 issue of Rock & Gem. Plus, we've included a couple of sample pages for you to enjoy.
• The Story of Vanadinite: Named For a Goddess. By Bob Jones
• Prehistoric Texas: Exploring the Place Where Mammoths and Dinosaurs Roamed. By Helen Serras-Herman
• Evolution of the Fluorescent Mineral Hobby: Changing From a Hobby to a Serious Science (Part I). By Bob Jones
• Mines and Minerals of Silver City: New Mexico's Copper Capital. By Steve Voynick
• SPECIAL SECTION: Tools of the Trade
• Sharing a Passion for Rockhounding: Becoming Inspired and Getting Started (Part I). By John Speck
• Agate Genesis: Close Inspection Suggests Answers to Major Questions. By Joe Dehmer
In addition, you'll find the following regular R&G columns: Bench Tips with Bob Rush, Rock Science with Steve Voynick, What to Cut with Russ Kaniuth, On the Rocks with Bob Jones, Just Off the Wheels with Erin Dana Balzrette, Dynamic Dig Discovery by Antoinette Rahn, Picks & Pans, as well as an extensive Show Dates section, and the Parting Shot.