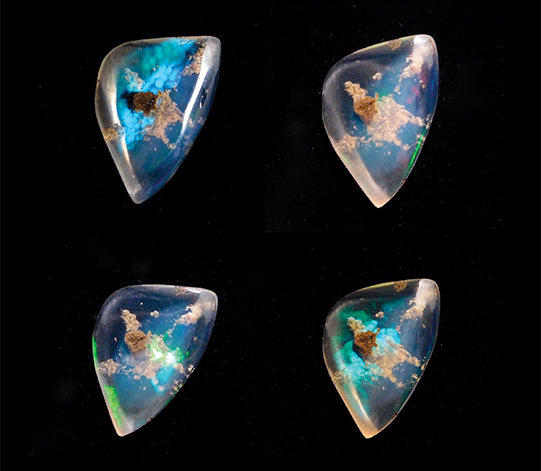 Editor's Note: Every issue of Rock & Gem concludes the same way, with the Parting Shot. Page 82 boasts a beautiful rock, gem, mineral, fossil specimen, and on occasion a cabochon. Pictured here is the Parting Shot for the February 2019 issue of Rock & Gem.
This parting shot, actually four photos in one — different views — of a Welo Opal cabochon lapped by R&G contributor and winner of the 2018 Parting Shot of the Year, Erin Dana Balzrette. Here is what Erin had to say about this cabochon.
"With the naked eye, this cabochon showed beautiful flashes of color, and with the camera, a wonderful and mysterious world of color and image came to life. I was amazed, delighted, and surprised by what the camera captured."
Erin Dana Balzrette is a lapidary artist, photographer, and owner of Tree Climbers Stones.
We accept submissions for the Parting Shot spot. When submitting a photo for consideration please be sure:
• The photo is 300dpi and measures at least 10 inches high and 5 inches wide.
• To include identifying information about the specimen.
Please send submissions to editor@rockngem.com.