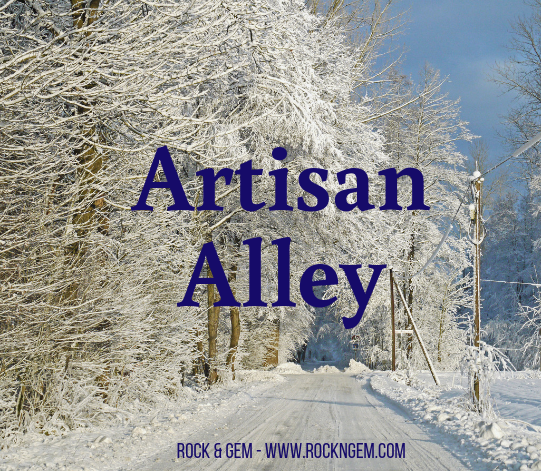 By Antoinette Rahn and Erin Dana Balzrette
"You can't use up creativity.  The more you use, the more you have."
–Maya Angelou
The late Ms. Maya Angelou spoke such tremendous truth in this quote. As she demonstrated in her writing and lectures, Ms. Angelou was also a proponent of listening and looking for inspiration in every day, and living inspired. I believe many lapidary artists and silversmiths subscribe to the same approach.
As they tell us in their own words, the artists and silversmiths featured in this installment of Artisan Alley, draw and welcome inspiration from a myriad of sources. Sometimes it's sought after and sometimes it arrives unexpectedly, but if we trust the words of Ms. Angelou (and why on Earth would anyone not?), the more inspiration is welcomed, the more creativity occurs, and the more there is to create.
The brilliant pieces showcased in the Artisan Alley blog/column are the genius of silversmiths and lapidary artists who are members of the Stone and Silver Facebook group. Each artist shares a bit about the inspiration behind their work in these collaborations.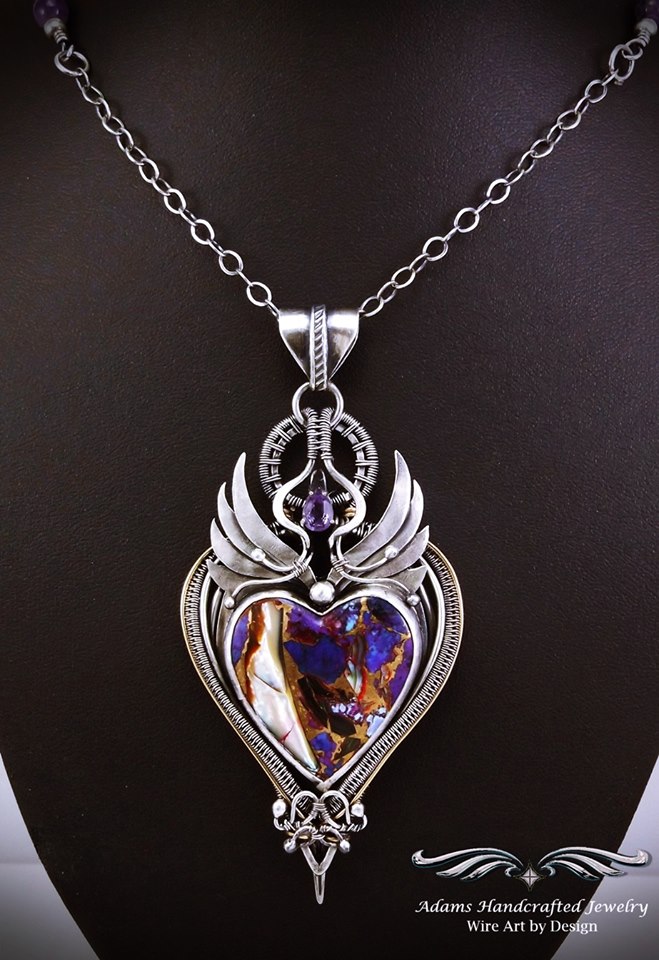 Purple Mohave Turquoise & Abalone in Bronze Heart Cabochon and Silver Necklace
Silversmiths: Daryl Adams
Lapidary Artist: Russ Kaniuth
It's true, a picture is often worth a thousand or more words, but a piece of lapidary art jewelry can speak volumes in words and sentiment as well.
Sometimes a piece 'speaks' of where its parts and pieces have been before 'coming together', while other times a piece of jewelry may speak of days gone by and customs of the past, and still further, many a piece carries with it the ability to bring forth memories long forgotten.
That's a bit of the inspiration and 'universal language' this collaborative piece of lapidary jewelry speaks, according to the artists.
"My inspiration for this piece comes from the Art Nouveau era of the 1890s to 1910s with a little twist of Steampunk to accentuate the beautiful purple and pearl colors in this outstanding focal heart cabochon," describes silversmith Daryl Adams.
In turn, lapidary artist and Rock & Gem columnist Russ Kaniuth discusses the universal recognition that comes from viewing a heart.
"Hearts make people smile, and the purple is a fan favorite. I personally love the abalone since it reminds me of home, growing up in the San Francisco Bay area just minutes from the beach," says Kaniuth.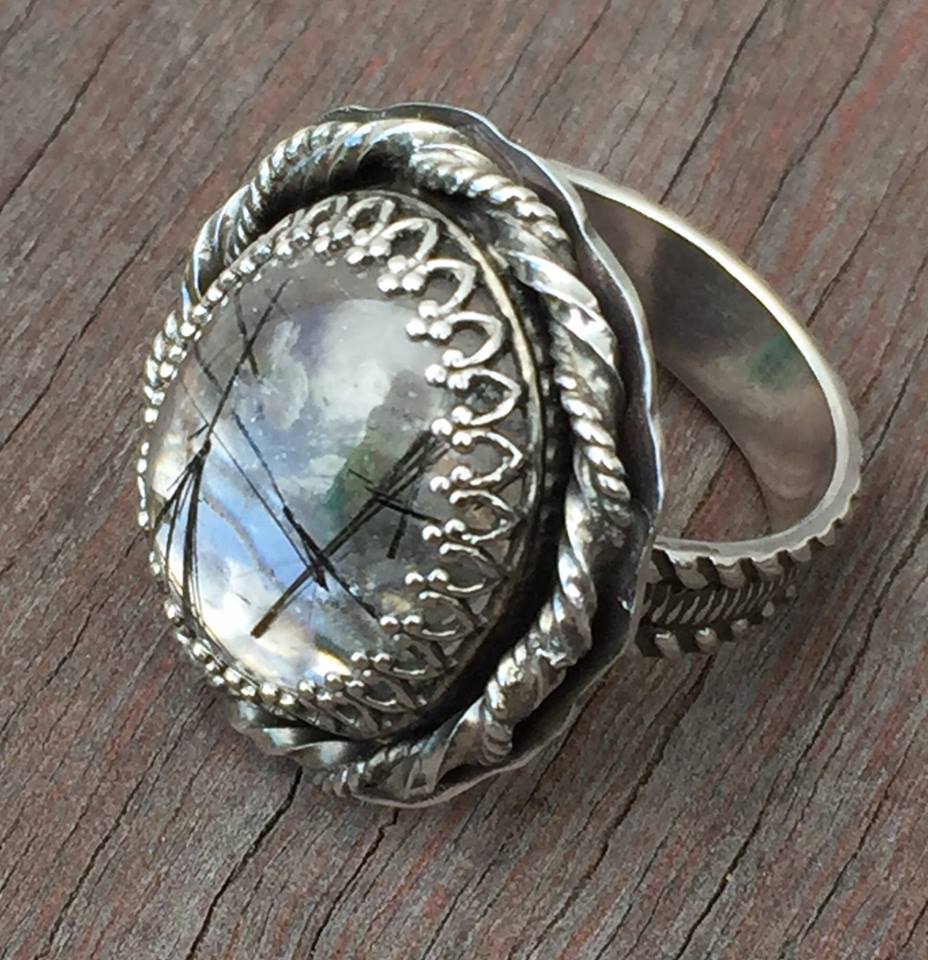 Tourmalated (Tourmalinated) Quartz Cabochon and Silver Ring
Silversmith: Wendy Bergamin
Lapidary Artist: Unknown
One of the more common sources of inspiration among the lapidary artists and silversmiths featured in the Artisan Alley showcase is the materials themselves.
That's was certainly the case for Wendy Bergamin who drew on the presentation of the tourmalated quartz to inspire her approach to the silver work she incorporated into the design of this ring.
"I saw the cabochon on the table of a woman opposite me at an Australian lapidary club show. I like tourmalated quartz very much and with this particular cab the quartz was very clear and sparkly," Bergamin reports. "I wanted to enhance that in the setting so I polished the backing to a mirror finish. The cross pattern of the tourmaline is meant to be reflected in the various twists and turns in the silver wire and gallery wire of the bezel."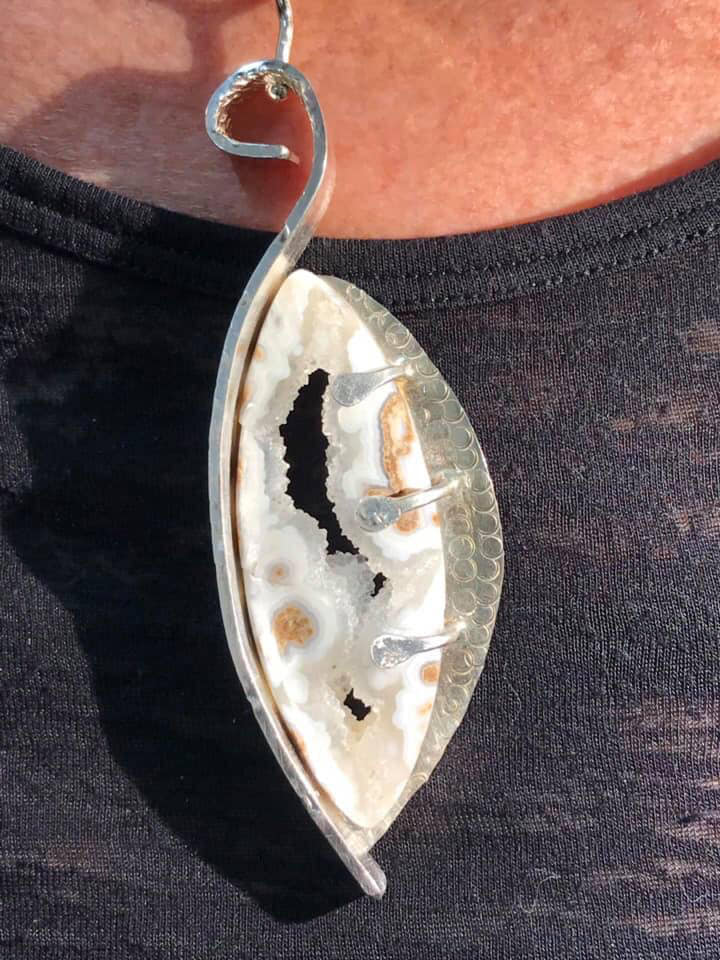 Wyoming Blizzard Stone and Silver Necklace
Silversmith: Connie Borho
Lapidary Artist: Larry Odom
A fascinating aspect of creative collaboration is that it allows people the opportunity to work with fellow artisans whose work they admire. It's a bit like being able to get on stage and 'jam' with your favorite musician or sit beside a favorite author to discuss story development.
That's a bit like how this collaboration between Connie Borho and Larry Odom appears.
"I absolutely love these stones and how (Larry Odom) makes each one a work of art (I own five more and am hoarding them until I can come up with designs that honor them)," said Borho. "This stone reminded me of the froth of a wave on the beach with the light, airy druzy center almost like sea spray and the brown accents within like the sand the wave crashes onto."
She goes on to discuss how the setting and related silver work complemented and enhanced the scene set by the stone. "I wanted the stone to be the star with a minimalist setting of only prongs pressing the stone against a thick side that accents the curve of the stone. The stamping on the back plate is meant to be like bubbles and to play off the two brown circles within the stone."
Erin Dana Balzrette offered this lovely sentiment of the revered lapidary artist, Mr. Larry Odom.
"Not only a gifted artist, but he is also an avid rockhound. This material is one of his discoveries," she said. "I was unable to reach Larry for a quote regarding his inspiration for this project. I sincerely hope it is because he is out hounding!"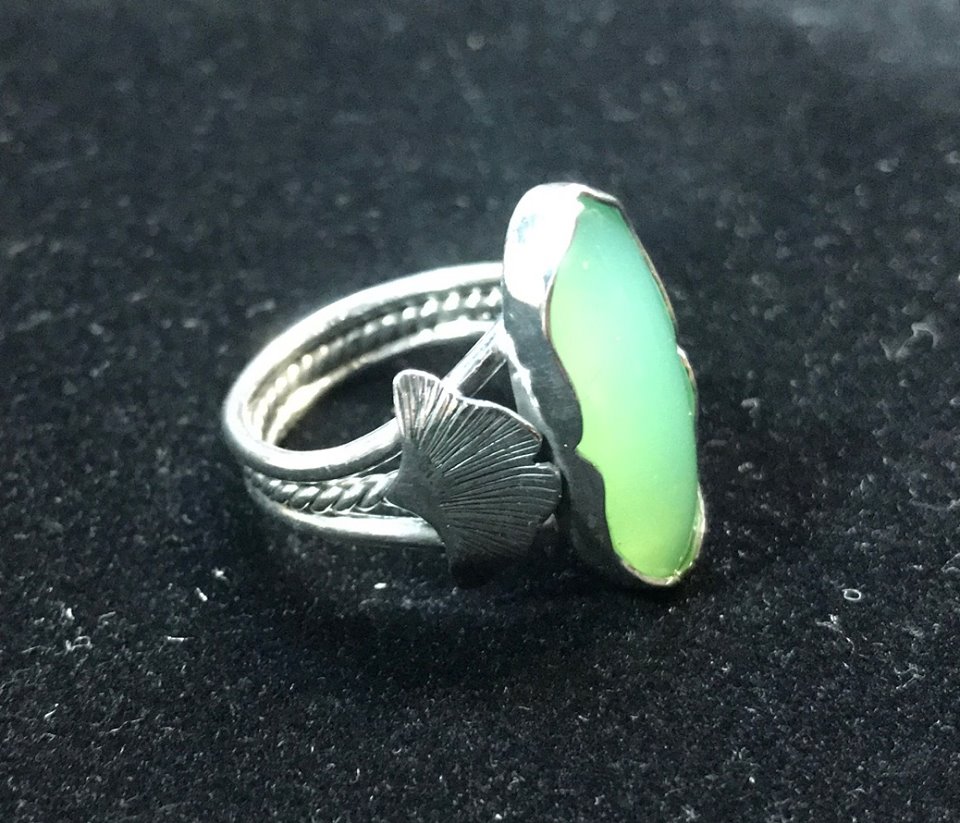 Chrysoprase Cab and Silver Ring
Silversmith and Lapidary Artist: Larry Ross
Sometimes healthy competition is a perfect foundation for creativity to thrive.
"My inspiration for this ring and stone was a little green for the holidays and a Facebook contest to make a split shank ring with twisted wire and leaves. The only rules required all work had to be fabricated by the maker," Ross said.
"It was time for some fun, so I cut this Chrysoprase cabochon and set it in a triple shank sterling silver with a twisted wire center ring and ginkgo leaf accents that also accents the bezel. Fun times!"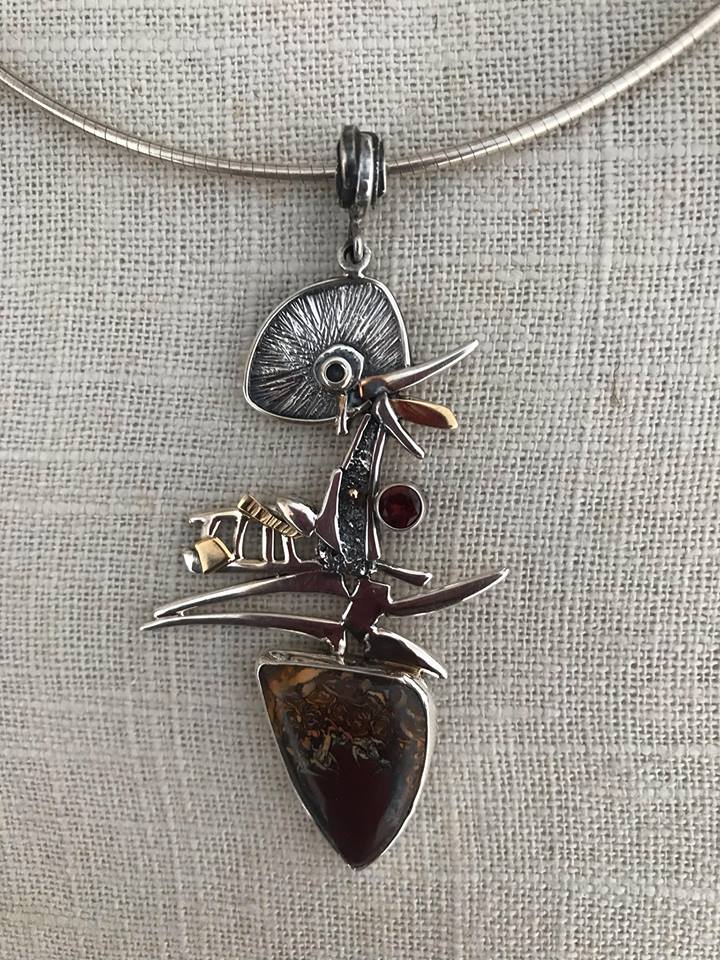 Australian Boulder Opal and Silver Pendant
Silversmith: Barry Perez
Lapidary Artist: Erin Dana Balzrette
I hope I'm not speaking out of turn here, but upon reading Barry Perez' comments about the inspiration behind his part in this stunning creation, a thought came to mind that comes often when I read or hear from many people in the rock, gem, mineral, fossil, and lapidary community.
The thought I have does not only do lapidaries and silversmiths feel 'called' to do what they do, but the materials often 'speak' about what they should be, and 'call' to the artists when it's their time to take center stage. Perhaps, I'll just let Mr. Perez speak for himself...
"After working on production pieces for months, I found inspiration in this stone and others that I collected. I found myself staying up later and later at night, working on the designs and having fun with the more sculptural work that I've made my career from," he explained. "This stone, an Australian Boulder Opal, inspired me with its iridescent brilliance peaking out through the handsome matrix, tempting me to return to the studio with new ideas."
In a similar fashion my cohort in the Artisan Alley column, Erin Dana Balzrette - the lapidary artist in this collaboration, found inspiration in the stone itself.
"Working with Boulder Opal always makes me think of chasing fire. It is a mystery, and a hopeful search, watching the beautiful streaks of color that flash appears," Balzrette said. "It is an honor to see this cab finished in the amazing and gifted Barry Perez' artistic sculpture as a pendant."