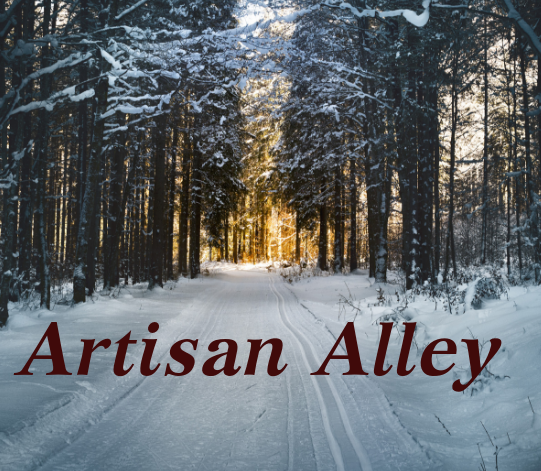 By Antoinette Rahn and Erin Dana Balzrette
"Art is born of the observation and investigation of nature."

—Marcus Tullius Cicero
As we've seen in a number of Artisan Alley features, including this installment, observation and investigation are always part of the creative process of both silversmiths and lapidary artists.
What we find intriguing and to be honest, quite inspiring, is that the investigation and observation that takes place during these collaborations are not restricted to the physical act of examining and working with the materials. Quite often introspection is equally present in the creation of these pieces, and furthermore, in their wearing and display.
It's a fascinating example of the connection between nature and humans, and one human to another. The brilliant pieces showcased in the Artisan Alley blog/column are the genius of silversmiths and lapidary artists who are members of the Stone and Silver Facebook group. Below is a compilation of the artists' answer to a question regarding the inspiration behind their work in these collaborations. Enjoy!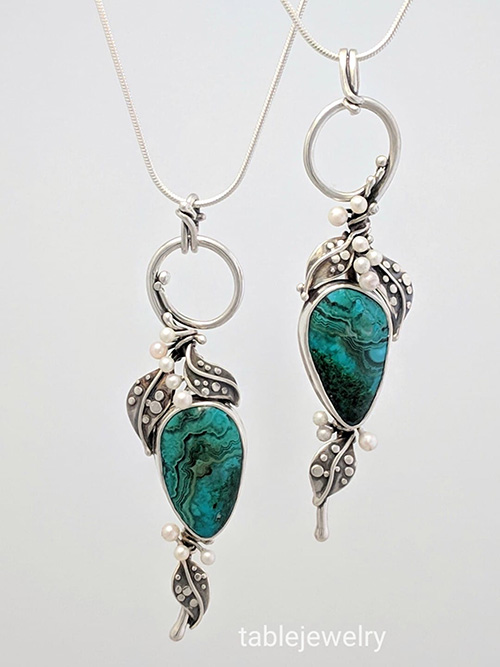 Inspiration Mine Gem Silica with Malachite Silver Pendants
Silversmith: Elaine Venditti
Lapidary Artist: Cyndi Wolke
Within this pair of pendants is a shared story of the beauty of nature, friendship, and family explains collaborators Cyndi Wolke and Elaine Venditti.
"Amy, my daughter, wanted to have Elaine make mother and daughter pendants for us," Wolke states. "She chose the material, Inspiration Mine Gem Silica with Malachite. I cut the cabs and asked Elaine if she would make the pendants.
"Elaine graciously accepted the challenge and these beautiful pendants she created were our Christmas gifts. They are gifts we will always treasure."
The opportunity to be part of creating something with such deep meaning was also a gift for the silversmith, as Elaine Venditti explains.
"When Cyndi asked me to make these pendants (the women's) relationship was forefront in my mind. Their love, admiration, and deep friendship were so obvious to me so I wanted to create two pendants that reflected each other — the same but different, two hearts that beat as one."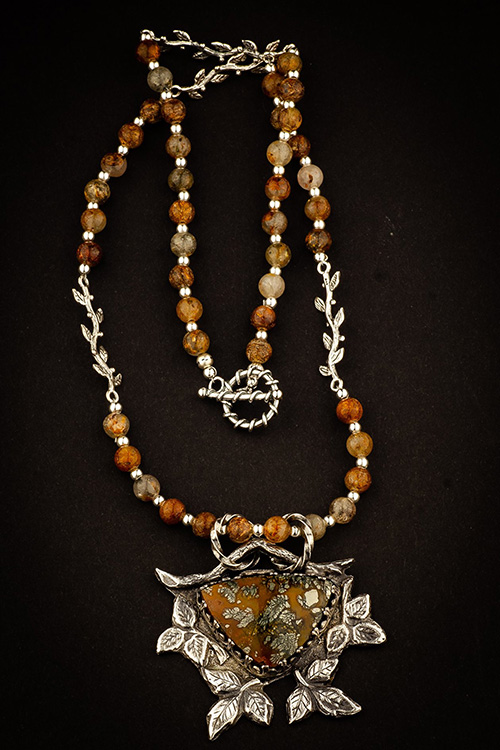 "Fall Leaves"Plume Marcasite Pendant Necklace
Silversmith: Dodi Butcher Jorgensen
Lapidary Artist: Keith Dull
Observation and investigation pay off in so many ways. Sometimes the fruits of careful inspection are present immediately, and other times it takes a bit longer to be the right time, place, and opportunity. Lapidary artist Keith Dull explains how this necklace was the result of interest he developed decades ago.
"Metallic inclusion in agate has fascinated me since I realized I wanted to cut cabochons 45 years ago," he explains. "Until recently, Nipomo Marcasite was the only similar material to this Indonesian Marcasite. So, I was overjoyed to see this new material come to market.
"This was one of the first cabochons I finished of this material. It reminded me of silver leaves. I am always interested in life like patterns in rocks."
For silversmith Dodi Butcher Jorgensen the observation and investigation that inspired her vision for Dull's cabochon were immediate.
"Sometimes when I see a stone I immediately have a design in my mind for a pendant. This gorgeous stone from Keith was one of those," states Butcher Jorgensen. "With its deep rich red color and the appearance of falling leaves I immediately had a name ("Fall Leaves") for my pendant even before I designed it. I have cool leaf impression dies that I use in my hydraulic press and the rest just designed itself."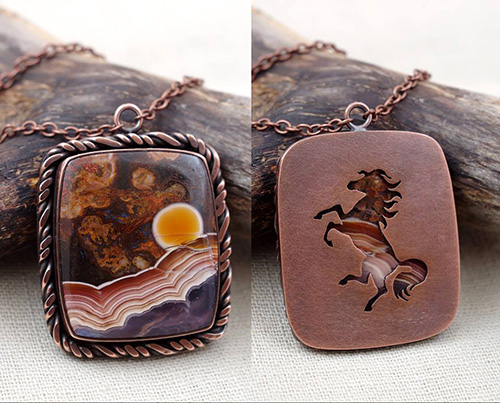 Laguna Agate Pendant and Copper Necklace
Silversmith: Weronika Wozniczka
Lapidary Artist: Frank Manders
The beauty of observation is that each inspection can often reveal an additional angle or color or element not seen initially. That's how the Laguna agate revealed itself to lapidary artist Frank Manders.
"When I slabbed a big, but fractured Laguna agate my eye caught on the horizontal colorful lines and a nice circle like shape near it. Then I spotted the cloud like shapes and found the possibility for a landscape," reports Manders. "So, the material was the inspiration for this specific design."
The slab's strong lines, circles, and dark undefined structures kept him busy, envisioning all the ways the piece was unfolding, says Manders. However, it was about the artist coming to the place the stone already resided.
"This piece wanted to become what it is now," he says. "And Weronica framed it. Her work lifts this cab up (appear as though it's) a late 1800s painting."
The stone's warm colors and its overall appearance of a painting were the first observations made by silversmith Weronika Wozniczka, and that set the tone for the design of the pendant and necklace.
"The second I saw this stone I knew it had to be mine. The setting idea just appeared in my mind. Usually, my first concept is evolving during the process, but this time I changed only the metal choice," she states. "In the beginning, I wanted to set it in silver or mixed metals, but when I received the stone it was clear that it needs to be set just in copper. It beautifully enhances the warm colors of the stone."
The use of double-twisted wire was to convey a frame that looks like the rays of sunshine, Wozniczka says. The choice to incorporate a cutout silhouette of a horse was inspired by a photo, she adds.
" It was a beautiful horse at sunset and the colors were almost exactly the same as the colors of this agate."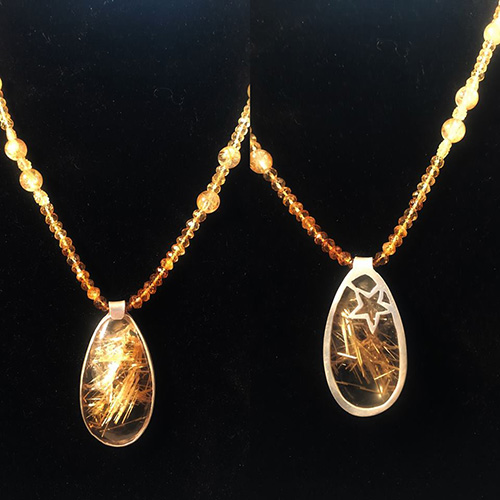 "Aim for the Stars"Rutilated Quartz and Hessonite Garnet Pendant Necklace
Silversmith: Chris Deschene Goyette
Lapidary Artist: Amber Rice-Manella
While the act of observation and investigation is commonly centered on physical objects, sometimes these actions are about mindfulness. Silversmith Chris Deschene Goyette approached her work on this pendant necklace in such a way.
"When I first saw this cab, I thought of shooting stars. It only seemed right to make it exactly that," Chris states. "This was a New Year challenge, and the combination of rutilated quartz and hessonite worked so well to define the "Aim for the Stars" manifestation for a New Year."
Appreciation for the material and the character it presents is also an outcome of observation and investigation, Amber Rice-Manella explains.
"I love rutiles in quartz," she says. "This was a great example of the material that really exemplifies its flashy golden rutiles."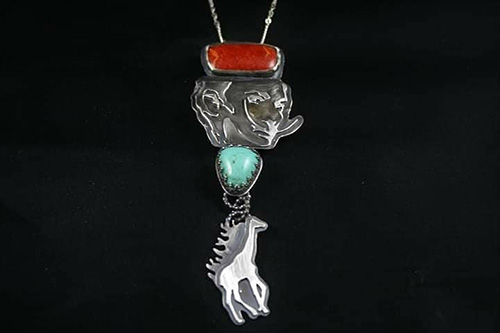 "Salvador Dali and His Burning Giraffe" Red Coral, Turquoise and Silver Pendant Necklace
Silversmith: Sara Hape
Lapidary Artist: Lee Coplea
Timing is another factor that influences the outcome of observation and investigation. Silversmith Sara Hape recalls how timing set the stage for creating this beautiful pendant and necklace.
"This piece is one of my favorites that I have done. The Red Coral and Turquoise came from Lee," she states. "He gifted them to me but asked that they would be used in one piece, together. So they sat on my bench together for over a month.
"I had tried different ideas and it just wasn't working for me. But recently I had the idea of attempting some Dali inspired work. Of course the melting clock is what I expected to do,  but when I sat down at the bench, with my Dali face template in front of me, I started playing with Lees stones and the template and it all just started to come together!"
For Sara's collaborator, lapidary artist Lee Coplea the only observation he did was to see what glorious creation Sara came up with.
"I like Sara's unique vision and have had her make a piece for me," Lee states. "I wanted to see what she would come up with if I sent her a couple of stones and this Dali piece was her answer and I LOVE it!"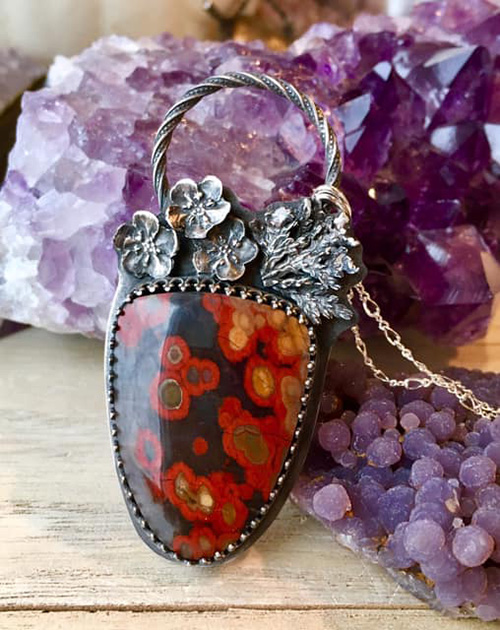 Morgan Hill Poppy Jasper With Lost Wax Cast Cedar and Forever Me Nots Necklace
Silversmith: Tina Murphy
Lapidary Artist: Jim Murphy
Upon seeing the work her husband, Jim, did in cutting the Morgan Hill Poppy jasper, Tina Murphy felt a special setting was in order. So she paused the project until she felt her silversmithing skills were to a point she could create the setting she envisioned.
"It is very rare that I plan a piece before actually holding the stone in my hand. The stone dictates the design. When I picked up this gorgeous Morgan Hill Poppy Jasper my husband cut I knew right away it needed a special setting," Murphy explains. "The lovely Poppy pattern in this stone obviously dictated that a fun floral design element was necessary.
"I don't like to overwhelm the stone with too much silver. I like the stone to be the main focus. Most of my designs have an organic feel to them I love nature, and in nature there are not many straight lines. Except for crystals of course!
In conclusion, Murphy speaks about an observation she's made and enjoys greatly.
"The best part about this hobby/business is that my husband and I enjoy it together! It's such a fun and wholesome family activity! Plus we can finance our habit by selling my work."