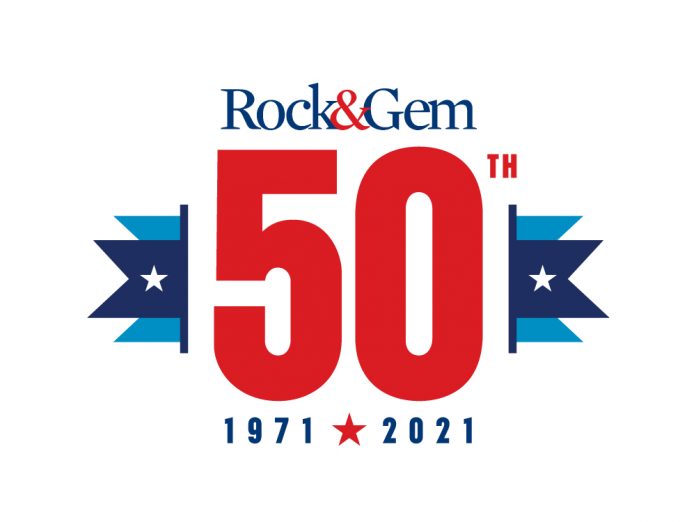 Editor's Note: As part of our year-long 50th Anniversary celebration we will feature Q&A's with regular Rock & Gem contributors and others in the community. This month we're showcasing Rock & Gem contributor and The Road Report columnist Helen Serras-Herman, a member of the Rock & Gem team since 2009.
Rock & Gem: Art creation and jewelry design appear to be at the center of your interest in rocks and gems. Please tell us how you've come to enjoy a career/hobby centered on creating lapidary art and jewelry?
Helen Serras-Herman: I was born in New York City to Greek immigrant parents. They returned to Greece when I was five years old, and I grew up in Athens. After I studied sculpture in West Berlin, Germany (1976 – 1983), I returned to Athens, and while creating my large sculpture work, I studied gem carving (glyptography) and gemology (FGA) at the school created by the late English glyptic arts master Nik Kielty Lambrinides. After moving to Maryland in 1988, I established my studio, the Gem Art Center. From that point on, I completely devoted my work to the art and science of carving gems and jewelry.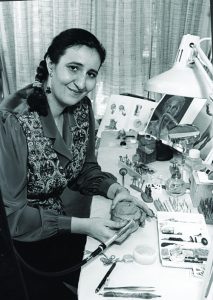 RG: What inspired your appreciation for minerals, rocks, and gems, and how long have you held this fascination?
HSH: I have been fascinated with gems for 38 years. Besides my studies, I immediately joined the Gem, Lapidary & Mineral Society of Washington, D.C. (GLMS-DC), which was my first connection to the gem world in this country.
RG: Who are three of your most significant mentors in life, and why?
HSH: Many people played a significant role in my artistic life, from my parents and my sister, to my sculpture professor in Berlin who gave me my sculptural style foundation, to many old-time club members who taught me the value of sharing the knowledge. I am forever grateful to my teacher Nik, to renowned jewelry historian and appraiser Anna Miller, and to my husband Andy, whose love, support and encouragement helped me grow and flourish as a gem artist and writer.
RG: Travel seems to be another essential activity in your life. How many continents have you visited, and where is one place you'd visit time and again, and why?
HSH: In my early days, I traveled around Europe and visited Singapore and Hawaii. With Andy, we have traveled for pleasure and business to most of the Western U.S., England, Mexico, Honduras, Guatemala, and several times to Greece. I love the Mesoamerican cultures and would love to return to see and learn more, but I would happily go anywhere in the world.
RG: Do you have a type of rock, mineral, or gem that is among your favorites, and what makes it so?
HSH: I love carving transparent crystals of quartz, aquamarine, and topaz, but also colorful gem materials, including larimar, ocean jasper, sapphires, and opals, all of which are like a jewelry canvas to me. I am fascinated with rare and uncommon gem materials that exhibit cool patterns and design elements, have interesting inclusions – needles, crystals, and vugs-, and have a history or mining story behind them. I love sharing those stories in my articles with Rock & Gem readers.
RG: What are two of the most important tips you can share about working with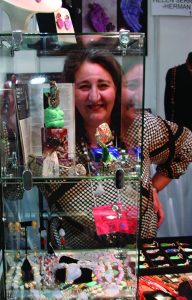 rocks and gemstones in lapidary projects?
HSH: Take classes on various aspects of lapidary work. Having a teacher to show you the proper techniques is invaluable. Enrich yourself with knowledge of history, history of art, history of mining, drawing, and gemology. Also, don't be afraid to start carving and experimenting in different lapidary forms. Go slow, be patient.
RG: What is your hope for the future of the rockhounding, mineralogy, and lapidary hobby and industry?
HSH: I hope the rockhounding areas remain accessible to those who want to prospect, and they, in turn, respect the land and boundaries. I also hope the local gem and mineral societies grow their memberships with youth and adults. These clubs are cradles of knowledge, with so many members offering their expertise for free, or available classes at very low cost.