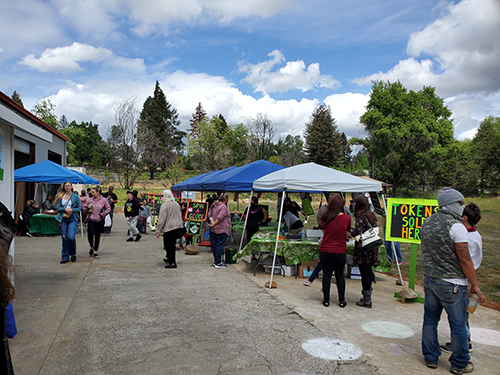 By Antoinette Rahn
Resilient, passionate, giving, and camaraderie describe the spirit of the Paradise Gem & Mineral Club member.
Resiliency is a significant factor in the past and present of this California-based club, which formed in 1950. As history reports reveal, it came to be when several people made their way from the San Francisco Bay area to Paradise. It was among the transplants that like-minded rockhounds, who enjoyed scouring the area and taking trips to other areas of the state in search of rock and minerals, came together to form the club.
Fast forward to 2018 and the devastating fires that swept through and destroyed thousands of acres and homes throughout California. A number of Paradise club members lost everything in the fires, including collections and lapidary equipment. As people had to rebuild their homes and lives, the club membership drastically declined.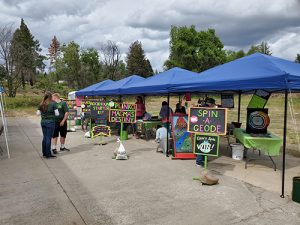 During this particular moment in time, a silver lining was the generosity of a partnership with the Gold Nugget Museum. The museum, which also suffered a complete loss of its building and collections during the fires, invited the club to partner and share space in its new museum locality. Thanks to this generosity, the club has a home and a place to meet.
Flash ahead to 2020 and the COVID-19 pandemic, and just like most other clubs, the group had to cancel its popular annual show, which would have marked the 70th anniversary of the club. Instead of 2020, the resiliency of the club members resulted in a wildly popular show in April of 2021.
The theme of the show: Out of the Fire We Rise! Celebrating 70 Years!, brought a tremendous response from the community. The indoor/outdoor event saw nearly 3,000 youth and adults attend the show during the three days, and as organizers report, it was a rousing success for vendors.
The response to the show only serves to inspire this club to keep moving forward and keep aiming to serve the community with education, experiences, and inspiring all to enjoy the hunt, collection, and creativity that involves rocks, minerals, and gems.
For more information, visit https://www.facebook.com/paradisegemandmineralclub.