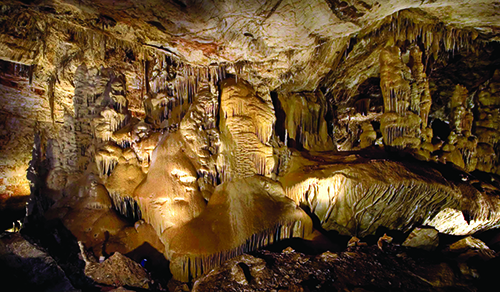 Story and Photos by Bob Jones
It was a balmy day just 45 years ago in November, when two doughty spelunkers investigated a limestone sinkhole in the foothills of Arizona's Whetstone Mountains. As mountains go, the Whetstones are not spectacular. They host limestone formations overlain with later rock formations that form Apache Peak and other high vistas.
Located about fifty miles southeast of Tucson the foothills are part of a ranch owned by the Kartchner family. Little did they know that two dedicated spelunkers would change their ranch and family life. The spelunkers, Randy Tufts, and Gary Tenen were already aware of a limestone sinkhole in the Whetstone foothills, so they decided to check it out. Sinkholes are not uncommon in limestone formations.
History-Making Spelunking Excursion
Through eons of time, groundwater invades cracks in the limestone and dissolves the calcium carbonate, which sometimes causes sinkholes to develop. Sinkholes serve cave hunters as important clues as to what might lie below ground. What Gary and Randy discovered that November day was beyond their fondest hopes. Once in the sinkhole, they noticed a small opening in the wall of the depression.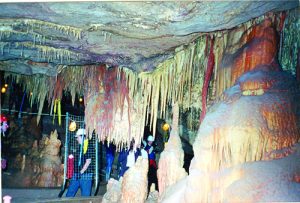 The air was slowly issuing from a hole, which they knew was a blowhole because of the air gently issuing forth. The ground was not only breathing, but the blowhole had bad breath because they could smell the odor of bat guano, a sure sign there was more to find. The next obvious step was to enlarge the blowhole so they could see more and maybe even crawl inside, which they ultimately did.

The path they opened and entered was barely wide enough for them. Years later, when they tried to take an Arizona State official in to see what they had discovered, the fellow got stuck in the narrow vent. The crawl through that natural but very narrow opening must have been scary, as they had to lie on their stomachs with one arm extended and push with their feet to move forward. I'm not sure I would have tried it. But, move forward they did and reached a place where the narrow opening eventually opened into what can only be called a fairyland of limestone cave formations. It took months and months of careful and very deliberate exploration, but they had discovered Arizona's most beautiful and now famous limestone cavern, which is a series of caverns the two quietly and secretly explored for months.

This is where the true integrity of these two men is revealed. Being diligent but dedicated cave explorers, they understood how fragile such a cave environment was, so they proceeded with the greatest care and caution. Though they explored the caverns extensively they were always careful to step in the same footprints each trip, never soil anything, never remove anything, and otherwise keep the caverns in the same pristine condition as before they entered.
Deposit Discovery Becomes State Park
What followed was a time during which Randy and Gary anguished over how to preserve the caverns, keep their find secret to protect it, and yet reveal it to the public. Since the caverns were on Kartchner ranch land, the family had to be informed. Eventually, in 1978 the men met with the Kartchner family and told them about their discovery, swearing them to secrecy.
Later I learned that James Kartchner while riding horseback in the area, had made the unusual comment that the mountain sounded hollow. Little did he know!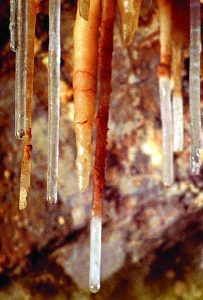 Once the Kartchner family had been escorted into the caverns and sworn to secrecy, the decision was finally made, in 1984, to approach the State of Arizona Parks Department to develop the caverns into a State Park. This is when a member of the State Parks Department was taken to the cavern area, secretly, for a visit. The official did not see the caverns, as he too got stuck in the crawl tunnel.
Once Arizona's Governor Bruce Babbitt was apprised of the caverns he wanted to visit them to give his support for an acquisition plan. That presented another problem. What if the governor got stuck going into the cave, or worse yet, what if he or anyone else got in and could not be rescued?
With these concerns, it was decided an access tunnel had to be dug. The tunnel had to be big enough for first responders with a stretcher to get in and out, in case of emergency. I learned about this while serving on the Kartchner Caverns Advisory Board, beginning in 1998. You can find the accounts of my early visit into these caverns in the December 1999 issue of Rock and Gem.
Once the state was involved plans were made to write and pass a bill that would provide monies to buy the land and develop Kartchner Caverns into a state park attraction. The legal maneuvers were extensive and involved. You can read more about this part of the process in Eatherley's excellent article, "History of Kartchner Caverns State Park."
Suffice to say, the bill to purchase the property was passed and signed by Governor Rose Mofford in 1988.
Serving To Help Expansion of Exploration
During this time, Ken Travous was appointed the executive director of the Parks Department. It was a year later (1998) that I was invited to join the cavern advisory board, an appointment made by Travous. This board was charged with helping create publicity about the caverns, and when the time was right, to develop funding for various projects.
Serving on the board gave me access to the caverns during the development and construction years, which was a most remarkable experience. Kartchner Caverns are still growing wet caves. There are two major caverns known as the Big Room and the Throne, or Lower Room, with several smaller cavern areas within.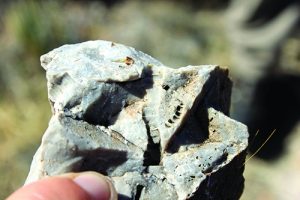 Not only is the cave system still developing, but it is also a living cave for well over a thousand insect-eating bats, species Myotis Velifer. They live in one of the caverns from mid-April to mid-October, flying in from Mexico to escape the heat and allow their young to learn to fly in the dark. This means one cavern is closed to the public while the bats are there. Studies found organic minerals developed as a result of the guano in the cavern, including a large deposit of brushite, a hydrous calcium phosphate.
During development and construction and even aafter opening in 1999, every effort has to be made to preserve the pristine condition first encountered by Tenen and Tufts. To make the caverns wheelchair accessible walkways had to be concrete, and if visitors were going to be able to walk through the caverns the walkways had to avoid damaging any formations or the environment. With that, all of the walkways, amphitheater seats, retaining walls, drains, ad infinitum required thousands of tons of concrete, which was mixed outside and hauled manually into the caverns by wheelbarrow. Metal handrails also needed to be installed, and any welding that was necessary within the caves was hooded so any fumes released during that process were not allowed to escape into the cave's atmosphere. The rules during construction were so strict that when one worker accidentally broke a stalagmite he was sent packing.
The caves are protected to prevent outside air from entering. This is done by installing two airlock entrance doors. The entrance has a sealed door leading into a vented orientation room where helmets are provided. The outer door is sealed and a second sealed door is opened for access into the caverns. This set up is rather like a hyperbaric chamber.
Turning a Natural Wonder Into a Tourist Education
To keep a scientific measure of the effects of public access to the caverns, operators have installed various instrumentation at strategic locations. These instruments monitor air pressure, humidity, temperatures, and even any ground movements, so scientists can keep abreast of any changes. In spite of all these efforts, conditions in the caverns will inevitably change but because of such major efforts, the changes are minimal so far.
My opportunity to serve on the Kartchner Caverns Advisory Board came
because of my long-time association with the Tuscon area mineral shows and my work with Rock & Gem. As part of this service, when the caverns opened to the public, I spoke about the caverns throughout Arizona and as well other states. I was just one person involved in that effort. This necessitated my being able to visit the caves several times with proper arrangements. My wife Carol would accompany me and I was allowed to take photographs in the caves for publicity use. All advisory board members could take pictures long before the caverns were open to the public.
Today, members of the public may choose to participate in a special photo tour of the caverns, for an additional expense. Taking pictures within the caverns became the focus of one of our advisory board fundraising efforts, which would help develop and distribute educational materials to Arizona schools. We were also charged with raising money to pay for the uniforms for the docents needed to manage and inform the crowds of visitors as they moved through the caverns. Board members developed a program which allowed visitors to take photographs for a fee, with the monies going to help pay for docent uniforms and educational materials.
While the caverns are the primary destination for most people visiting Kartchner Caverns State Park, the state recognizes the area is suited for other activities including camping, hiking, RV parking and lodging. The state even built cabins within the park, which are available for a fee.
KARTCHNER CAVERN VISIT TIPS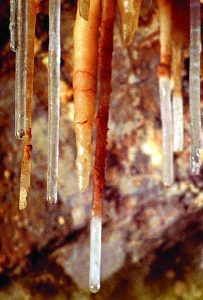 • Keep in mind that the caverns average a cool 50 degrees most of the time, suggesting a summer visit would do nicely when the surrounding
desert approaches 115 degrees.
• If you plan on visiting early in the year, reservations are particularly critical from late January through mid-February. This is the time of year when nearby Tucson hosts about 50 major gem and mineral shows, which attract an average 150,000 people each year.
While you must plan well ahead to visit one of world's top ten most beautiful and most colorful limestone caverns in the world, Arizona's Kartchner Caverns State Park, it is more than worth the time and effort.