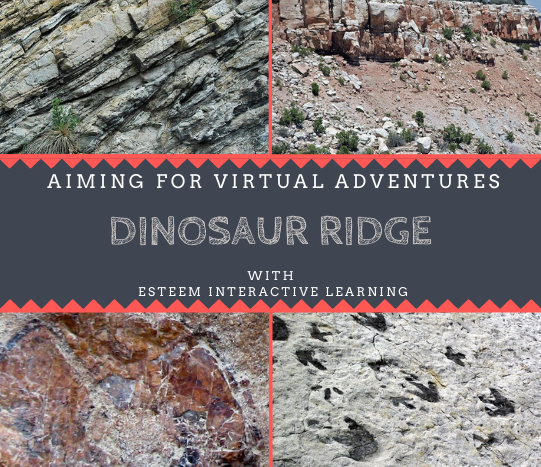 By Antoinette Rahn, Managing Editor
A little more than a year ago, we began a partnership with Esteem Interactive Learning (www.explorermultimedia.org), to share some of the short videos created by this incredibly talented, intelligent, and passionate team. This non-profit organization's mission involves creating awareness and interest in earth sciences, particularly geology, geophysics, meteorology, geography, archaeology, and related fields of study.
After a bit of a hiatus, we are getting back to sharing these fascinating videos, created by this extraordinary team.
The first time I heard about Dinosaur Ridge, near Morrison, Colorado, was in an article about dinosaur tracks, which was written by Rock & Gem prolific contributor and columnist Steve Voynick. In the featured video, geologist Devin Dennis, one of the founders of Esteem, explores sections of Dinosaur Ridge, discusses the geologic makeup of the formations in that region, and reveals some fascinating fossils and tracks. One of my favorite parts of this video is when Dennis focuses on a unique find, a dinosaur track wherein layers of stone had eroded or millennia, providing a view of the track from underneath, instead of above. It's incredibly cool!
Also, the views of the Dinosaur Ridge area featured in this video are breathtaking.
Word Wisdom
There are several interesting and helpful words used and described by Dennis in this video, and below is one to know.
Hogback: This is a ridge of land formed by the outcropping edges of tilted strata, as defined by Merriam-Webster Dictionary.
---
About ESTEEM: Esteem Interactive Learning is a non-profit 501 (c)(3) corporation formed for the purposes of earth science outreach through multimedia vehicles such as video, television and the internet. Founded by geologist Devin Dennie and filmmaker Todd Kent, EMI has produced educational content such as the TV series "North Texas Explorer" and the documentary films "RocksHounds: The Movie" and "Oklahoma Rocks!"
For more information about Esteem Interactive Learning, visit www.explorermultimedia.org.
---