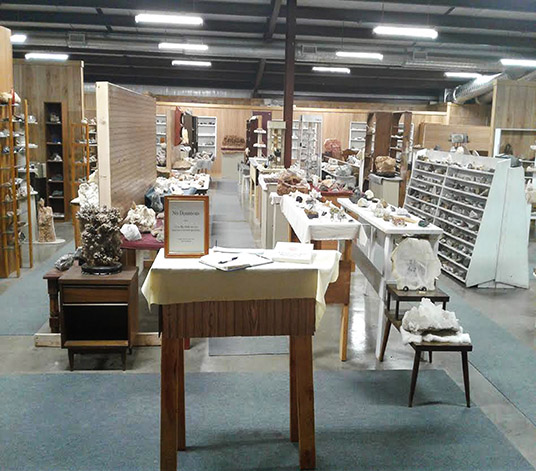 Story and Photos by Tim Miller
Lampasas, Texas, is like not unlike the hundreds of small rural towns scattered across that state.
With a population of about 7,000 people, Lampasas is, for the most part, still the ranching and farming community it has been since its inception in the early 1800s.
Situated at the crossroads of U.S. Highway 183 and U.S. Highway 190, near the center of the Lone Star state, Lampasas has only a couple of businesses—mostly small mom-and-pop-type stores—which employ more than 20 employees.
Life in Lampasas, Texas
With the city of Killeen, home to Fort Hood, just 30 minutes east, and the state capital of Austin an hour's drive south, Lampasas has, in recent years, become largely a bedroom community for families wishing to live and raise their children away from the large cities that they rely on for employment.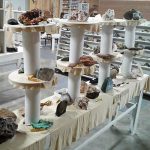 I've lived in the Lampasas area since the 1980s, working as a rancher and artist. I have collected rocks and minerals for most of my life, and use a lot of what I find to make one-of-a-kind jewelry. I raised my three children here in Lampasas, and though my ex-wife might say, if you asked her, that I'm kind of an unsociable, recluse-type person, I thought I was fairly familiar with the community and the people in it.
So it was quite a surprise to me when I heard of an older gentleman named Merritt Romans, who was building a museum to hold a lifetime collection of rocks and minerals in downtown Lampasas. On a vacant lot near the old post office, which has now been turned into a private residence, a couple streets away from the town square, I watched the building gradually take shape.
While it was being built, I spent some time away on rockhounding adventures to Colorado, Oregon, British Columbia, Montana and Wyoming. Then I was away on an extended trip chasing rocks across both big islands of New Zealand, followed by a trip out to West Texas for agate.
One can never have too many rocks!
Impromptu Museum Viewing
Between trips, I saw that the rather nondescript metal building had been completed, but it really didn't look like you might expect a museum to look—more like a warehouse with an apartment on one end. On my occasional bike rides down the street, I never saw anyone around; there were no signs that the "museum" was open to visitors.
Finally, a day after we returned from the agate fields of West Texas in May, Lea—my best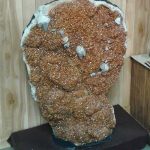 friend and rockhounding partner—and I drove past the building late in the afternoon and saw an older gentleman sitting on the small, shaded, east-facing porch. She immediately told me to turn in and talk with him. I was at first concerned with bothering the man or interrupting a nice afternoon siesta, but at her insistence, I turned into the driveway. I followed Lea up to the porch as the man came out of his chair and approached us.
We introduced ourselves to Merritt Romans, who stood ramrod straight despite his 90 years, and asked about the museum we had heard about and if it was open to the public. Merritt replied, with a little humor and friendly smile, "Well not really open to the public, but I do open it up to view, if it's convenient to me and convenient to you. Right now it's convenient to me. How about for you?"
Never ones to pass up on seeing a few rocks, we followed him around the side of the windowless building to a set of strong metal doors. I expected a small rock collection in a small room.
Nothing prepared us for the outstanding, world-class display that was revealed to us as we entered the immense, 4,200-square-foot room, stocked wall to wall with neatly arranged and labeled displays!
Inside Merritt's Museum
Speechless, we entered the room past crystal door sentinels: a tall citrine cathedral geode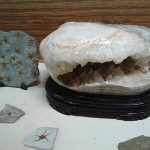 on one side and an amethyst cathedral on the other side. Well, not really speechless—that's not my style. I'm pretty sure I said something like "Wow!" as we stood there, scanning the expansive displays from left to right, not knowing which way to move first.
Thankfully, Merritt assumed the position of guide and began showing off his vast collection. At this point, we came to know a little about Merritt Romans.
Merritt was born in 1926, in nearby Lometa, Texas, the youngest of six children. His father died when he was just a few months old, so he was raised by his widowed mother and older siblings. Like most young boys who are raised in a rural environment in a time before cell phones, computers, and the internet were around, he developed an appreciation for the wonders of the outdoors at an early age.
His love for rocks began when he was a boy; his older brothers and sisters also enjoyed collecting and keeping rocks and minerals they found.
Merritt's mother moved the family to Lampasas when he was 5, and worked several jobs, as well as renting out a couple rooms in her house. Merritt took on small jobs like delivering groceries, mowing yards, and delivering newspapers. All six kids helped out and contributed toward the family's expenses.
Merritt's Life Milestones
Merritt was drafted into the Army in his senior year of high school. After spending two years in service to our country, he returned to finish school in 1946.
In 1948, he married the love of his life, Betty, and they both entered North Texas State University, where he would earn his masters degree. He taught school in Forsan, an oil town in West Texas, and eventually became the high school principal. He later taught biology in Taylor, and then ended his teaching career as an elementary school principle at Georgetown in 1982.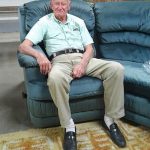 His love for rocks and minerals had grown over the years, as had his collection, but retirement really gave him the time to travel with Betty and expand his rockhounding activities and collection. He joined the Austin Gem & Mineral Society and became a life member.
He made annual trips to the mineral shows in Quartzite and Tucson, Arizona, established himself as a buyer and collector, and became well known to all the regulars there. He always brought back flats of minerals to be given away at the annual AGMC "Gem Capers" show in Austin, where he willingly shared his vast knowledge of minerals and collecting sites across the Southwest.
He expanded his knowledge into jewelry making with intensive classes at retreats in Georgia and Michigan, and has, up until recently, sold his custom jewelry in Lampasas shops. Unfortunately, his eyesight is not as good as it once was, but with the assistance of a loupe he still can identify specimens and their origins extremely well.
Museum Expansion
Years ago, Merritt had built a small mu­seum of about 1,500 square feet on his ranch outside of Lampasas to house his collection, which he willingly showed off to interested friends, as well as hosting field trips for local schools, church groups, and Boy Scouts. But last year, he made the decision to move off the ranch, leaving one of his daughter's three grandchildren to oversee it, and bought the property in town on which to build the new museum.
Seeing his collection today, it's easy to say that most of it would not have fit into the small museum, because it is now filling up 4,200 square feet, and he tells me it's not all relocated from the ranch yet!
We spent about an hour or so with Merritt that day as he guided us from table to table and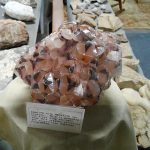 display stand to display stand, telling us stories about his collection, his years of rockhounding, and all the friendly people he and his late wife had met and travelled with over many years.
After making the rounds of the huge room, I realized I hadn't taken a single photo, so as we left him, I arranged to come back the next day and shoot pictures and chat some more.
The next afternoon, camera in hand, I returned, and after shooting pictures of his collection, I sat down with him and we got to know each other better. It turned out I knew his oldest daughter and her husband, as my kids had gone through school with their children. In a small town, it's hard not to have a lot of mutual acquaintances, though we both marveled at the fact that he and I, with so many common interests, had never met in all these years.
Central Texas Natural Offerings
I have had the pleasure of visiting the Houston Museum of Natural History many times, and last fall I spent a day at the Denver Museum of Nature and Science. Both have extraordinary collections and beautiful displays, acquired through donations and very deep pockets. I've also viewed a number of personal collections, but in my lifetime, never have I seen anything that even comes close to the Merritt Romans collection! It is both stunning and breathtaking to view.
If you are ever visiting Central Texas, it would be well worth your time to see Merritt Romans' museum. Of course, he only will open it up if it's convenient to him, and convenient to you, but I can tell you that Merritt, just like any one of us who collects rocks and minerals, loves to show his collection off. Since my visit, Merritt has turned 92. Although he moves a little slower than he used to, his mind is sharp as a tack as he tells you his tales and the history behind his collection.