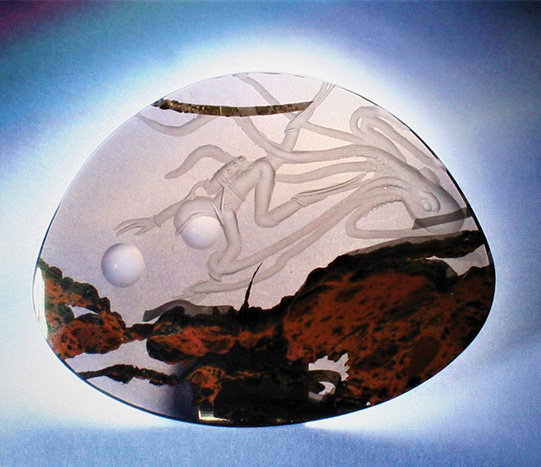 By Bob Rush
In a continuation of writing about Glass Buttes Mahogany Obsidian (the first article was published in the March 2019 issue), this column is about my meeting with Jack Hoque, the glyptic artist I wrote about in the December issue of Rock & Gem.
The society I am part of and currently serve as president – The Mother Lode Mineral Society of Modesto, California featured Jack's work at our annual show in Turlock, California. We invited him to demonstrate his beautiful reverse intaglio carving methods.
Sharing Glyptic Carving Awareness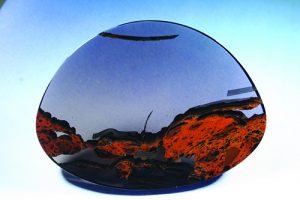 When I first met Jack last April at a show in Medford, Oregon, which was sponsored by the Roxy Ann Gem and Mineral Society, he told me one of his career goals was to share his method of glyptic carving with everyone who had an interest in learning the craft. To help spread the word, we invited him to our general club meeting in December 2018 to discuss and demonstrate reverse intaglio carving.
It was meant to be an educational opportunity for our members, as well as a test run of the equipment that will be used during our show to project images on a screen. The club members really enjoyed Jack's presentation and an indication of this was the sheer number of questions asked by the audience.
The Saturday before our meeting was a travel day for Jack because he had to drive 425 miles to get to our location. My wife, Pat, and I invited him to stay at our house, which gave me an opportunity to share my dry sanding methods of working obsidian. I was especially interested in learning what criteria he used to select the various materials that work well within his glyptic procedures.
The primary requirement is that the pieces he works on must be transparent enough for the carving to show through. In particular, he looks to see if he can read printed material through the carving material. This puts some limitations on the varieties of substances available, mostly quartz crystals but also some lightly colored stones like amethyst, light smoky quartz, and citrine.
Tapping Into Near Transparent Obsidian
In digging through my many slabs of Glass Buttes Mahogany Obsidian we saw quite a few that might be possible candidates for his work. Obsidian material usually exhibits some areas that are nearly transparent, but quite often it has a moderate gray tone.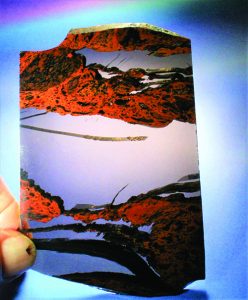 After his presentation at our meeting and after he left to drive home, I got serious about finding a piece of obsidian that would be transparent enough for Jack to work with. Finally, I came across a slab that was a possible candidate. It was 3 inches wide and 4 inches high and it had an excellent pattern and plenty of clear area on which he could carve. I decided on the shape that I wanted and made a cab from the slab.
In conversations with Jack, we discussed what would be a suitable subject for the carved image. I told him I would like an underwater scene with a diver looking for some sort of treasure while being threatened by some sort of sea creature. I am always astounded by how he can formulate a mental image in his mind while carving it in reverse. With the piece he created for me he definitely lived up to his reputation as a premier reverse intaglio carver.
To see more examples of his work including some guitar picks made from iris agate go to a website geomancygems.com and on Instagram @forged_elements.
---
Author:
Bob Rush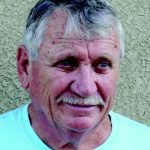 A professional within the lapidary industry since 1958 and metal work and jewelry since 1972.
He teaches at clubs and Modesto Junior College.