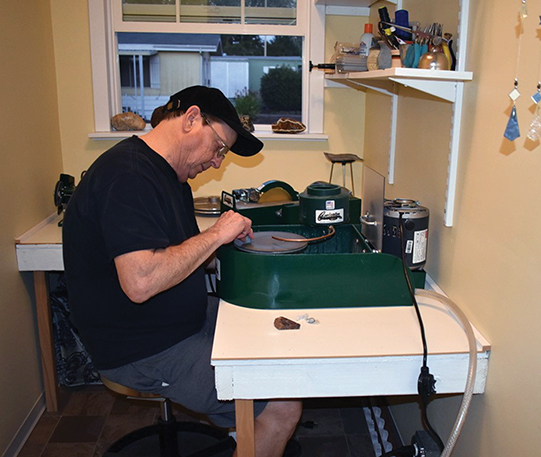 By Antoinette Rahn
Bill Staggenborg
Lapidary Hobbyist
(Mr. Staggenborg is an artist featured in the Tools of the Trade profile sponsored by Covington Engineering.)

Bill Staggenborg of Eugene, Oregon, first discovered rockhounding, which also led to his love of lapidary work, by way of his greatest love, his wife, and her grandparents.
"My wife's grandparents loved hunting in the Eastern Oregon desert and picking up petrified wood. Their farm had 'flower beds' of petrified wood, agates, and jaspers," Staggenborg explained. "My interest was rekindled about 20 years ago when we moved into a new house in the Willamette Valley, Oregon, and discovered a treasure trove of agates and jaspers that were dug up in putting in the new subdivision."
After collecting the bounty of agates and jaspers, the Staggenborgs decided they needed to take a peek "inside" the rocks, which meant a need for equipment.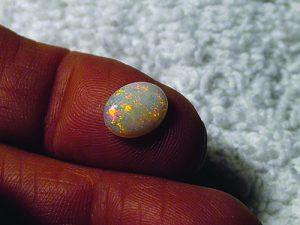 Since then, everywhere we go, we are looking down for more treasure finds. Our favorite digging place is Hampton Butte, Oregon, where we find beautiful green petrified wood," said Staggenborg, who considers himself a hobbyist, but once he enters retirement full time, he is planning to ramp up efforts to sell his lapidary work.
Staggenborg has been a customer of Covington Engineering since 2003, and in that time, he's purchased several pieces from the company as his skills and interest in lapidary have evolved. Presently, Staggenborg owns a 16-inch combination saw, a Super Maxi Lap, a 6-inch trim saw and grinder, a triple half-gallon tumbler, and the newest addition, a Small Sphere Machine.
The decision to purchase equipment from Covington Engineering was simple.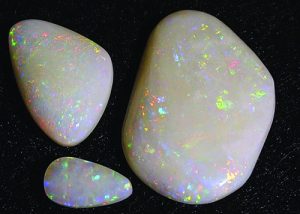 "I chose Covington Engineering because they are an American company with an excellent product guarantee," he said. "In my opinion, their equipment is the highest quality available in the marketplace."
Just as equipment purchases evolve, one of the most rewarding aspects of lapidary work is seeing the evolution of the material he works with, according to Staggenborg.
"The items I have purchased let me take the raw material from rough form to finished form, whether that is slabs, cabs, tumbled rock or spheres/marbles," he said. "I think the two most important skills for anyone working lapidary are cutting and cabbing. Cutting raw material on the big saw and then trimming on the small saw to shape material prior to polishing is just fundamental."
Over the years, Staggenborg has discovered his favorite material to cut is Australian opal rough, which he makes into cabs specifically for inclusion in jewelry settings. It's not the only thing he's found to be a favorite part of his appreciation for rocks.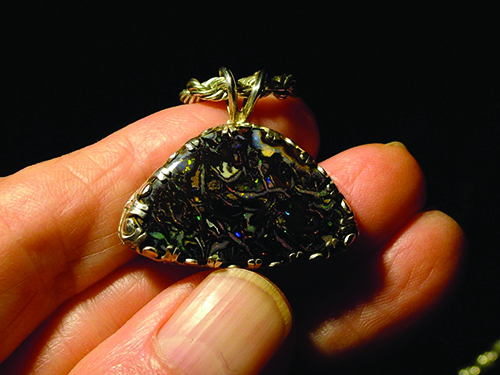 "As my interest was sparked by (my wife's) grandparents' love of rockhounding, I find great pleasure in watching my grandkids pick up their own treasures on our camping and fishing trips," Staggenborg said.
Sometimes one of the significant things that connect people is unexpected treasures of the Earth.
---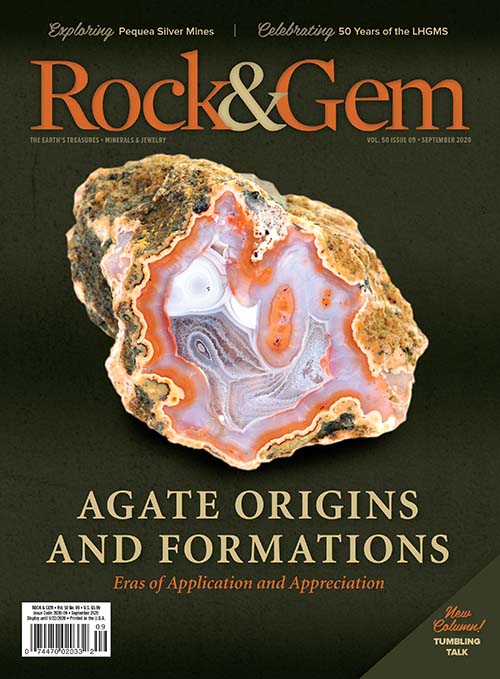 If you enjoyed what you've read here we invite you to consider signing up for the FREE Rock & Gem weekly newsletter. Learn more>>>
In addition, we invite you to consider subscribing to Rock & Gem magazine. The cost for a one-year U.S. subscription (12 issues) is $29.95. Learn more >>>
---