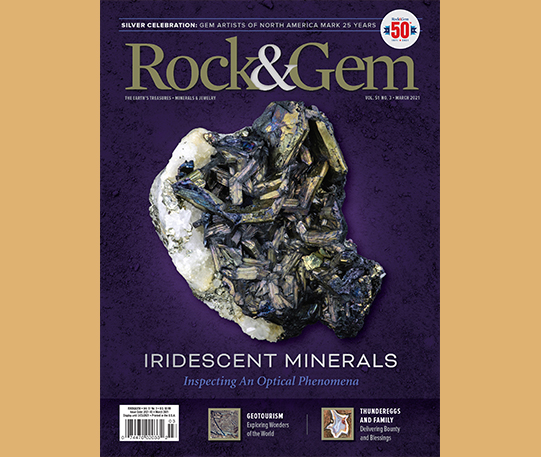 Below is a snapshot of some of the topics and interests you can expect to see in the pages of the March 2021 issue of Rock & Gem. Plus, we've included some sample pages for you to enjoy.
• THE ESSENCE OF IRIDESCENCE: Understanding the "Rainbow" In the Mineral World. By Steve Voynick.
• EPIDOTE: A Beautiful Product of Metamorphism. By Bob Jones
• GEM ARTISTS OF NORTH AMERICA: Celebrating a Quarter Century of Creativity & Camaraderie. By Helen Serras-Herman
• EVOLUTION OF A THUNDEREGG HUNTING FAMILY: Spanish Stirrup Rock Shop — Finding Blessings In Rockhounding and Family. By Antoinette Rahn
• HUNTING FOR THUNDEREGGS — Uncovering a "Ghost" Volcano's Treasures. By Jim Landon
• WULFENITE-MIMETITE: A Breathtaking Combination Found in Sonora, Mexico. By Bob Jones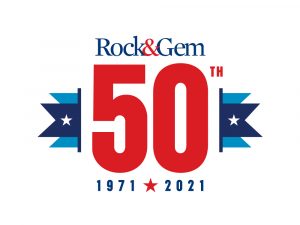 • LOOKING BACK: Reader Recollection of Youthful Pegmatite Hunting. By Gary Handle
• ROCK & GEM REVISITED — BRUNEAU-PATTERN JASPERS: Discoveries in Oregon, Idaho and Mexico. (March 2008 issue). By Eugene Mueller, founder and co-owner of The Gem Shop, Inc.
• GEOTOURISM: A Unique and Intriguing Approach to Exploring Our World. By Jim Brace-Thompson
In addition, you'll find the following regular R&G columns: Bench Tips with Bob Rush, Rock Science with Steve Voynick, What to Cut with Russ Kaniuth, On the Rocks with Bob Jones, Rock & Gem Kids and Earth Science In the News with Jim Brace-Thompson, Sneak Peek: Opals, The Road Report with Helen Serras-Herman, Show Dates, and the always popular Parting Shot.