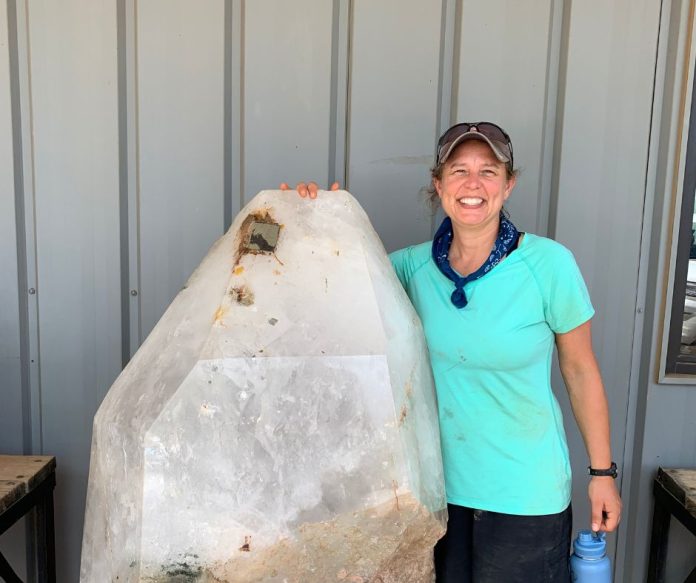 Rockhounding women are enthusiastically stepping up to the rockhounding experience.  While diamonds might be a girl's best friend, a chunky piece of rough agate can also make our hearts go pitter-patter. Long the realm of men who gravitated to the water and dirt to find treasure, rockhounding women are enthusiastically stepping up to the experience.
Whether teaming together for all-female outings, or introducing the world of rocks and minerals to the next generation, women bring a new perspective, and sometimes a different approach, to this age-old endeavor.
Following Her Calling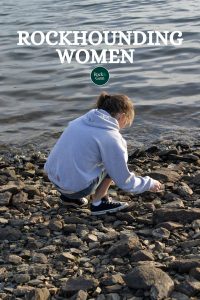 For some rockhounding women, their affinity for interesting finds started at an early age.
"Ever since I've been little, I spent time at Crystal Park, (a recreational area in southwestern Montana where natural crystals abound)," said Brianne Scott, founder of the informal group, Rockhounding Women Montana.
Even though rocks were in her DNA from an early age, Scott went another route, instead earning a degree in Elementary Education, but it wasn't the right fit. "It's tough to be in the classroom all day long," she said. So she stepped away from the profession and started collecting more rocks, mostly for the fun of it.
During her excursions around her Butte home, she said, " There's one piece that I have that's a really neat little piece." She said she spotted it caked in dirt, but discovered it was a combination of feldspar, smoky quartz castle-like structures, and albite, all coated with epidote. "It's my favorite because of the complexity of it. It's so unique."
"I found myself with an overabundance of rocks," she said, " That's how I got introduced to the rockhounding groups in Montana."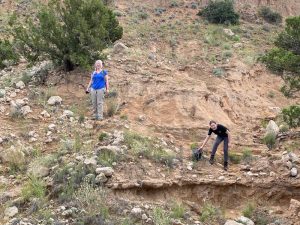 Finding Other Rockhounding Women
Scott also discovered other groups on social media. Being able to trade or buy specimens not found in her area is one benefit of these connections, along with the opportunity to learn from others' experiences.
"The biggest thing I've noticed about rock people is they are so friendly. I really get that sense of community," Scott noted. "That's where the lady rockhounding group started. I've gone digging with a lot of boys, but wanted to find more women."
"We did one field trip in the summer. A group of us gals went to Crystal Park and went digging for the day," she said. Scott is already lining up field trips, as well as learning opportunities for any of the women who want to participate. "It's knowing what to look for on your hikes."
Scott loves hanging out with any rock enthusiast, but women's groups are sometimes less intimidating to new rockhounds. "I noticed a lot of the men are very technical with things," Scott explained, which isn't always conducive to a newbie. She believes women have a broader view of the landscape and notice what's going on around, or in, the ground.
"Really it's still a good partnership with men and women. It's just a different dynamic," she said.
When it comes to women, or really anyone, who wants to step into this fascinating world, Scott's best advice is, "Reach out to folks. You'll be able to find someone who is more than willing."
Teaching the New Generation
While some rockhounding women are born with rocks in their pockets, others grow into it. Becky Weldy, a high school science teacher in Covington, Ohio, said her interest began during her post-graduate work. At that time, Wright State University offered a Master's Degree program to educate teachers in geology.
"The professor opened my eyes to it," Weldy said, particularly because the courses were far from mere academic musing with field trips in the Ozarks, Finger Lakes of New York, as well as the east coast of New Jersey.
Now she offers college-level courses in a high school class, enlightening the students to see beyond the textbooks. "I think a lot of the kids don't seem to travel as much," noted Weldy who aims to inspire them and bring the outdoors inside through her curriculum.
Field Trips & School
Weldy plans several field trips throughout the academic year, including visiting the Ohio Caverns, which are geological wonders in and of themselves, as well as Caesars Creek State Park in Waynesville. She said the area was developed by the Army Corps of Engineers in 1938 as flood control. The dam formed Caesar Creek Lake, which at 115 feet deep is the deepest in Ohio, and the spillway is rich in fossils such as trilobites and horn corals. This whole area is known throughout the world as a hotspot for geologists. A permit is required, but she turns the day into a multi-course study for her students.
Weldy also strives to bring her geology studies to the school. "My other big project is behind our football field in eight acres of woods," she said. Several years ago, teachers began working to turn the area into a working land lab cutting through new trails, spraying out the invasive honeysuckle, and replanting native trees.
Of course, the elementary kids already love exploring the space, plus Weldy incorporates the natural area into her geology classes with her 11th and 12th graders where they're able to conduct real-world tests.
"It brings it into perspective to see and to touch," she said. "It is eye-opening to a lot of them."
She hopes that even though she didn't experience the wonders of geology until later in life, her students will have a jump on an appreciation of the rocks and minerals.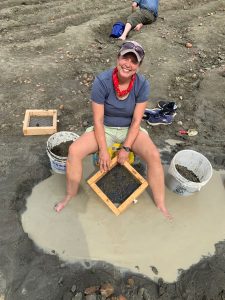 Rocks in Her Pockets
Dr. Kerry Griffis-Kyle, Ph.D., is an associate professor teaching classes involving complex ecosystems at Texas Tech University. Throughout her career, Griffis-Kyle primarily focuses on living things, but rocks are what make her happy.
She laughed when remembering her move from Syracuse to the Southwest when the movers picked up a particularly heavy box and wondered what could be in it. It read: "Rocks and Dead Things."
Griffis-Kyle said, "That's what it was because I am a biologist!"
The landscape at her home in Lubbock, Texas, is extraordinarily flat so for years she brought home larger specimens to add visual interest. Now that she is delving into the art of rock tumbling, she has shifted her focus.
"With the rock tumbling I'm picking up smaller rocks," Griffis-Kyle noted. This focus on tumbling also requires a different form of attention. She's learned to use a flashlight and black light to inspect the stones for structures within them. But she added, "I need to be better at identifying them. Some rocks are toxic. Some have mercury or uranium in them." She pointed out that rocks with bright yellows and greens are particularly important to identify and handle properly.
Social Media Connections
In this new endeavor, she said that social media connections, especially with rockhounding women, are invaluable, whether it's choosing the best rocks or specifics on using the tumbler. It's a combination of art and science where a strong streak of experience goes a long way.
"I'm paying attention more to where the resources are," Griffis-Kyle noted. When choosing where to camp, rockhounding is at the top of the activity list, and she enjoys visiting New Mexico. She said the state does an excellent job explaining where you can find different rocks and where it's permissible to keep them.
She pointed out, "State by state you have to pay attention to what is allowed. Most of the time it's okay to pick up a few rocks for personal use on federal land, but you can't pick up fossils and artifacts. And never pick up anything on Park Service or DOD (Department of Defense) land."
Always a scientist at heart, Griffis-Kyle appreciates the geological processes it requires to create colorful and unique specimens, but in the end, she said she looks for rocks because they make her happy. "It's kind of like art appreciation. Different things speak to different people."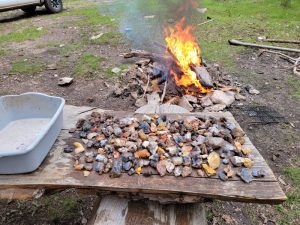 Gaining Knowledge in Groups
Although Valerie Steichen brought home rocks throughout her life, it wasn't until she attended a rock and gem show in Missoula, Montana, that she noticed the long list of field trips hosted by the Hellgate Mineral Society. She was immediately on board.
" They're looking for young members," said Steichen, noting the reality is many people within the group are over 70 years old, a common trend of these types of groups. There are lifetimes of knowledge waiting to be shared with the next generations, which is one of the main reasons Steichen appreciates the group.
"The main reason I go is so I get to walk in the forest with a geologist and learn," she said. And besides the fieldwork, the club offers numerous educational workshops to keep everyone sharp.
Joining the Men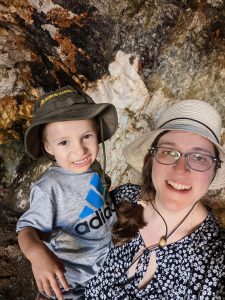 Whether it's potentially the older membership and generational differences or an intimidation factor for women who are new to rockhounding, Steichen noted that when they go on field trips, the group is roughly 90 percent men.
But she is quick to allay concerns and encourages rockhounding women, and younger people in general, to join a local mineral or gem hunting group. "All of them are friendly," she said.
Besides the innate knowledge of the landscape and the minerals found within it, Steichen noted, "What really struck me is their responsibility for nature." She appreciates the knowledge of how to ethically dig for minerals, which is a growing concern in some regions when, at times, visitors take too much or do not practice Leave No Trace principles. By digging with one of these well-educated groups, new enthusiasts learn how to protect the resources for everyone.
For Steichen, one of her favorite finds is agates, which is the state rock for Montana. "I think I can pick out agate at a mile away. They look like ugly rocks, but they have billions of years of a story to tell," she said.
And while the finds are beautiful, there are stories behind each one. Steichen said, "I remember where I found the rocks. There are memories to it and it means something." So whether she is rock hunting with the Mineral Society members or looking for agates with her family, Steichen is the mineral matriarch who passes on this knowledge to anyone who wants to learn.
This story about rockhounding women previously appeared in Rock & Gem magazine. Click here to subscribe. Story by Amy Grisak.