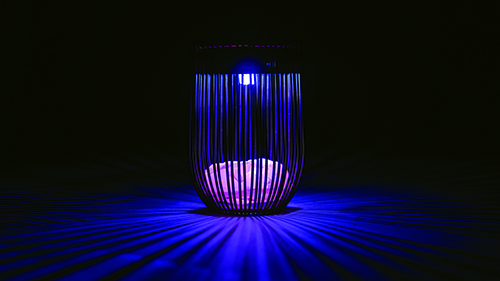 By Antoinette Rahn
Do you know what happens when a life-long rockhound — whose professional background involves product development and academia — encounters the problem of finding an affordable and effective display for fluorescent minerals? A solution happens, and it's in the form of the miniUVdisplay system.
The rockhound in question, Molly Reddish, began living out Plato's famous phrase "Necessity is the mother of invention," a little more than a year ago. "Prior to collecting UV reactive minerals, all of the stones I collected look beautiful in natural light, and even better in a jar full of water (with a splash of white vinegar)," explained Reddish, a Michigan native who spent much of her youth at her grandparent's cottage near Grand Marais, in Michigan's Upper Peninsula. "I have jars all around my house, and I enjoy their beauty every day, sitting on the windowsill or a table.
"When it came to displaying the UV reactive minerals, I put them in a jar, and under normal light, they were not that striking."
Enjoying Fluorescence Rocks
To fully enjoy the fluorescence of rocks in her collection Reddish would grab a UV flashlight and hold it over the rocks, which is fine, but not a great solution for long-term appreciation. That's when she discovered that the top rim of the Mason Jars she used to hold specimens could also hold the base of a UV flashlight. Well, she thought, if that works, then why not a hands-free battery-powered UV lamp to thoroughly enjoy the beauty of her collection?
After spending considerable time researching and asking for recommendations for devices that were within her budget and would fit well within a residence, as opposed to a public facility, Reddish was left with more questions and no answer.
That's when she decided to use her experience and connections in product design to create a device that would meet her needs. It turns out, the time she put in to create the miniUVdisplay was the answer others were also seeking.
Inspired to Invent
"I did not think it was 'so special,' but everyone I talked to wanted one and said they had been searching for something to display their UV reactive rocks," said Reddish, who now splits her time between Poughkeepsie, New York, where she is an assistant dean and fashion lecturer at Marist College, and a cottage in Grand Marais, Michigan, which often serves as the gathering point for her family. "I was then convinced to speak to a patent attorney, and I now have a provisional patent, with patent pending, on my display device that I call the miniUVdisplay."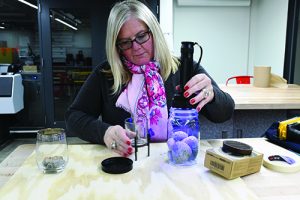 It's been a fascinating life for this native of Rochester, Michigan thus far, but wherever life takes her, the love of rockhounding and family are constants. She's lived in New York City, Portland, Oregon, Jakarta Indonesia, Minneapolis, Minnesota, Raleigh, North Carolina, Fort Wayne, Indiana, and has worked for various influential brands including Nike, Target, John Deere, and Vera Bradley. These locations and work experiences all contributed to the development of one, if not the most, important product to Reddish's credit: the miniUVdisplay.
Reddish sells the ornamental and mini lamp displays via Etsy and eBay. Each device is powered by 3 AAA batteries and range in price from $30 to $40.
Reconnecting With Her Roots
While the last year or so has been filled with discovery, progress, and achievement, it's also included many moments of reconnecting to her rockhounding roots.
"I suppose I never had a chance NOT to be a rockhound," she explained. "My love of hunting rocks comes from my grandmother. My grandfather would go brook trout fishing for the day around Seney, Michigan, and (during that time) my grandmother took my mom and uncle to Agate Beach, in Grand Marais, in search of agates and colorful rocks. This is how my mom grew up, and she just never stopped going to different beaches on the south shore of Lake Superior in search of agates and other beautiful stones, and when I came along, this is just how we would spend time "up north."
Despite a lifetime of rockhounding, Reddish's exposure to fluorescence minerals was quite limited, until the discovery of the syenite clasts containing fluorescent sodalite, along the shore of Lake Superior by Erik Rintmaki (www.yooperlites.com).
"This discovery led me to not only search for these UV reactive materials on the beach but also research and purchase other minerals that are UV reactive," Reddish said. "I have some nice specimens of UV reactive pink Mangano calcite that are just amazing, and since my favorite color is pink, it's a win-win."
Sharing A Love of Rock Hunting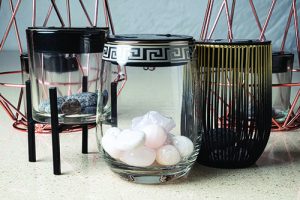 Developing the miniUVdisplay device has allowed Reddish to help fellow rockhounds who are looking for something to better display their fluorescence collections, and it's given her many opportunities to introduce the joy of rock hunting to others.
Plus, it's brought her back "up north," at least part of the year, to spend more time with family and continue one of their favorite traditions, rock hunting.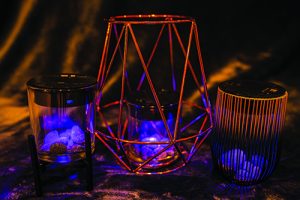 "The first thing that came to my mind is that we all love spending time together "up north" hunting for rocks, so having a place on Lake Superior was the goal," explained Reddish. "It is nice to enjoy the great outdoors, be in nature, viewing God's creation, and being with my family."
As Reddish continues along the path of enjoying a life well-lived, now she is making sure it is also well illuminated.
For more information about Reddish's miniUVdisplay, visit Etsy and eBay, and search for miniUVdisplay, and follow Reddish on Instagram @UV_reactive.