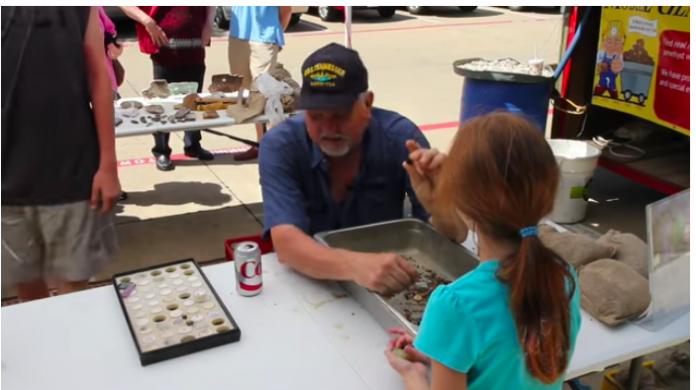 By Antoinette Rahn
"Ya got to get your hands down in there. Mining is dirty business, ya know."
This gem of truth is something Jim Wines, owner of JNE Lapidary, Inc. has likely said hundreds of times over the years. It's a statement you'll hear him utter in the video below. In it, Mr. Wines, a resident of Dickinson, Texas, assists a young rockhound with her discovery of treasures courtesy of the Mobile Gem Mining Sluice.
Mr. Wines built the sluice operation as an extension of his lapidary business. The mobile unit allows the military veteran and electronics engineer to share the wonder and joy of casual mining exploration. He does this by bringing the experience to people in their own communities and neighborhoods.
As you'll see in the video, which is the work of our new partner, Esteem (Explorer Multimedia, Inc.,) rockhounds of all ages flock to the Mobile Gem Mining Sluice to give mining a try. This video was shot in 2014, during the Arlington Gem & Mineral Show. It's one of many filmed and produced by Esteem. I thoroughly enjoy Mr. Wines' inviting personality and the manner that he informs the 'visiting miners' of the treasures they uncovered during their exploration.
Enjoy the short video…..
In addition, the renew/reuse approach and ingenuity Mr. Wines used to construct the sluice operation is just one more thing to admire about this exciting and inspiring operation of exploration education.
Thanks to the team of Esteem for allowing me to share this video with our Rock & Gem community. Esteem is a not-for-profit with a goal of providing engaging earth science and geology education through multimedia platforms. The founders, Devin Dennie and Todd Kent, are the visionaries behind this organization, which includes in its credits "RockHounds: The Movie," the "Geology Kitchen" series, "Oklahoma Rocks," and "Everyday Earth," an interactive science education program, among other projects.
Be on the lookout for more videos from the Esteem team to appear on our site.