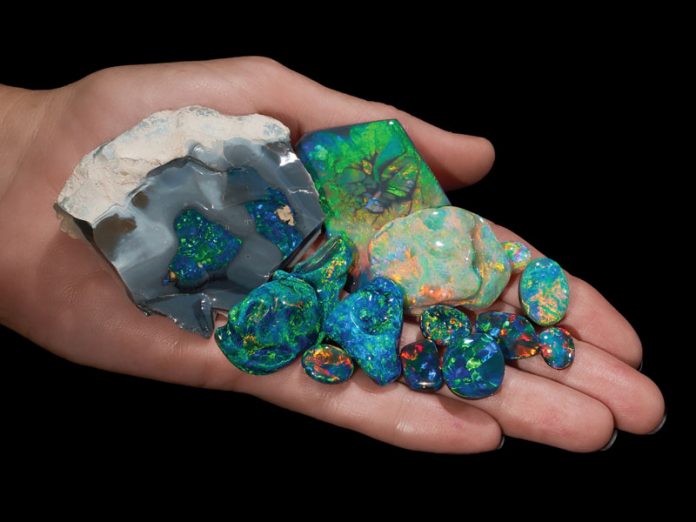 It's hard to think of opals without thinking of Australia. Opal is the national gemstone of Australia, and with good reason. Australia is the largest source of gem-quality opals in the world and Lightning Ridge in the New South Wales outback is where the rare natural black opal is found. The region is also famous for ancient freshwater mollusks, turtles, crustaceans, crocodiles and land-based dinosaur opalized fossils.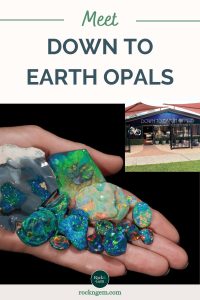 Opals are unique gemstones. They display a distinctive dynamic play of color caused by a silica dioxide microstructure that both diffracts and refracts light into the colors of the visible spectrum. Colors seen in opals are because of interference of light waves, so the observable play of color depends on the nature of the light where the opal is being viewed.
Getting Started @ Lightning Ridge
In the early 1990s, a young woman named Vicki Bokros, who grew up on Australia's Gold Coast, fell in love with opal. After a chance encounter with a gemstone dealer where she saw a stunning collection of opals, Vicki set out to Lightning Ridge to seek her fortune.
At only 19 years old, Vicki's goal was to stay at Lightning Ridge for a few weeks, buy opals, then head home to process and sell them. But her plans changed when a rough opal nobby purchased with her last $500 revealed a stone that became the famous 'Southern Princess' — a5.40-carat oval-shaped black opal with a rare ribbon pattern.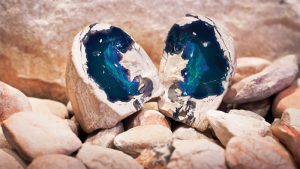 The sale of this opal enabled Vicki to buy a beautiful sandstone miner's camp on the fields, where she settled and became an opal miner, cutter and wholesaler.
This was not a traditional job for a young woman. The small, male-dominated mining town was a tough place, but it provided the perfect setting to learn everything there was to know about opals, especially black opals.
By the mid-1990s, Vicki opened her first shop on the main street because of buyers knocking on her camp door. In 2000, she purchased the property that is now the global headquarters of Down To Earth Opals (DTEO) and where a stunning state-of-the-art retail store and gallery emerged in 2021.
Down to Earth Opals Today
These days, DTEO is run by Vicki and her husband Andrew Kemeny, a former mortgage broker whose passion is the science, physics and chemistry of opals. Andrew has also become an accomplished opal cutter, award-winning opal carver and is designated mine manager for their hobby opal mine.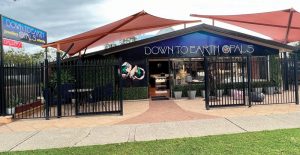 The DTEO retail shop in Lightning Ridge celebrated 20 years in its current location in 2020. During the pandemic, Vicki and Andrew planned an extension of their space to 1,000 square feet, coupled with a complete renovation to create a world-class retail space that would be a must-visit destination.
This included incorporating opal education and hands-on experiences for visitors including all opal types mined in the Lightning Ridge area and their top gem-quality black opals which are rarely seen on public display. This is all complemented by authentic First Nations artworks, textiles and handmade jewelry from around the world.
Lighting is critical as opals viewed in the showroom must look the same when they are taken home. "The most sophisticated elements of the new showroom are lighting, flooring, I.T. and cabinetry, which were tackled simultaneously by expert suppliers within Australia and around the world," says Andrew.
"It took six months for our lighting contractor to source an appropriate solution, eventually from the U.S. Lighting throughout the new space has a color temperature envelope as close to natural sunlight as possible and is all created by efficient LED technology incorporating hybrid chips. The final layout and intensities are determined by computer simulations to desired lux levels at every part of the shop."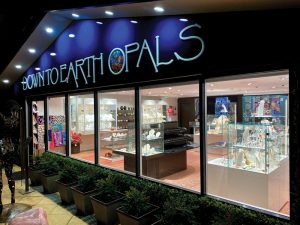 The space also features bespoke cabinetry designed from the ground up, a first-of-its-kind simulated 3D photographic image of an opal washing tank printed on commercial vinyl flooring from the Netherlands, comprehensive security systems with backup electrical power, and a state-of-the-art opal cutting and polishing workshop created in the back of the house allowing for hands-on visitor demonstrations and personal teaching.
Coming to America
You don't have to make a trip Down Under to take advantage of all Down to Earth Opals has to offer. The company's website has been overhauled to complement the physical showroom in Lightning Ridge.
Featuring a new contemporary look, the website uses professional photography, video and animation to tell the story of DTEO and showcase the highest quality black opals and opal jewelry. Vicki is the jewelry designer and creates each jewelry piece from scratch.
"I consider the best orientation for maximum play of color, vibrancy and appeal, and then create the setting to accentuate the opal's beauty," says Vicki. "Our designs are all bespoke and every setting is passionately hand-made for the stone.
I am proud that the opal is mined here, cut or carved in our workshop, designed on the premises and then set by one of our three jewelers who all reside within Australia."
Of course, nothing can compare with meeting Vicki and Andrew and seeing their opals in person. After a three-year hiatus, DTEO will be present at the 2023 Tucson Gem & Mineral Show at their usual locations (listed below).
"We have been longing to return to Tucson to see our customers, friends and colleagues. Over the past 20 years, we have met the most incredibly talented and passionate people from all over the world at Tucson.
Many have become personal friends, with the love of opal being the common thread that binds us together," says Vicki. "If you have been watching the Aussie series of Outback Opal Hunters then we may have a treat in store for you."
Contact Information
Contact email: info@downtoearthopals.com.au
Website: www.dteo.com.au
Contact phone: +61 2 6829 2616
Shop address: 11 Morilla Street, Lightning Ridge NSW 2834 Australia
Mailing address: P.O. Box 1005, Lightning Ridge NSW 2834 Australia
This sponsored business profile about Down to Earth Opals appeared in Rock & Gem magazine. Click here to subscribe. Story and photos by Audrey Pavia.