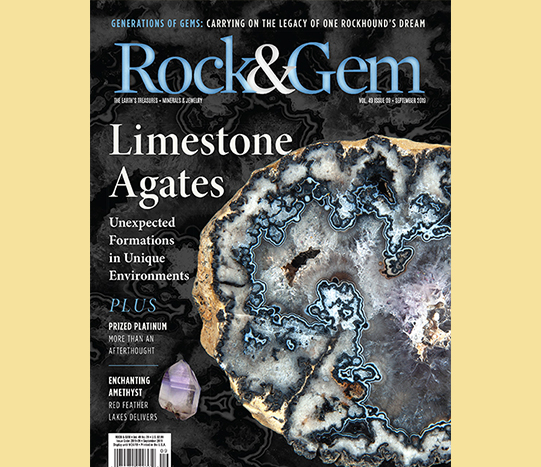 Below is a snapshot of some of the topics and interests you can expect to see in the pages of the September 2019 issue of Rock & Gem. Plus, we've included some sample pages for you to enjoy.
• Limestone Agates: Unique Formations. By Roger Clark and Doug Moore
• Sapphire Discovery: Blue Jay Claim Inspires Adventure. By Stuart 'Tate' Wilson
• Rock & Gem Kids: The Many Facets of Nadine Marshall. By Jim Brace-Thompson
• Platinum and the PGMs: A Look at the 'Other' Precious Metals. By Steve Voynick
• Bisbee's Rich History of Mining (Part II): Post Mine Closures The Popularity of Bisbee Minerals Lives On. By Bob Jones
• Red Feather Lakes Mineral Smorgasbord: Enchanted by Quartz and Amethyst. By Mark Leatherman
• Evolution of a Gem Shop: The Sanchez Family of San Juan Gems Rock Shop. By Antoinette Rahn
• Driven By Jade Appreciation: Connecting a Community of Collectors and Dealers. By Bob Rush
• Gems and Minerals of Maine (Part II): Reviewing "The Pine Tree State's" Early Jewel Box. By Bob Jones
In addition, you'll find the following regular R&G columns: Bench Tips with Bob Rush, Rock Science with Steve Voynick, What to Cut with Russ Kaniuth, Club Corner, On the Rocks with Bob Jones, Rock & Gem Kids with Jim Brace-Thompson, Community Outlook-Question of the Month, Picks & Pans, as well as an extensive Show Dates section, and the always popular Parting Shot.
---
Get in on the excitement and inspiration found in the pages of Rock & Gem each month. Enjoy 1 year (12 issues) of the publication that celebrates and showcases geology and the people who love it. Learn more about subscribing>>> 
---