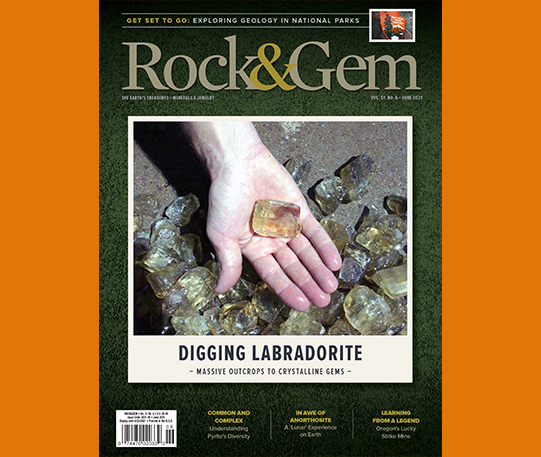 Below is a snapshot of some of the topics and interests you can expect to see in the pages of the June 2021 issue of Rock & Gem. Plus, we've included some sample pages for you to enjoy.
• LABRADORITE: A Feldspar Mineral With a Rainbow Inside. By Bob Jones.
• GEOLOGY IN THE NATIONAL PARKS: The Science Behind the Scenery. By Steve Voynick.
• NEW DISCOVERIES IN NEWFOUNDLAND: Research and Rockhounding Help to Uncover Fascinating Treasures and History. By Antoinette Rahn.
• 7 QUESTIONS WITH HELEN SERRAS-HERMAN
• LEARNING FROM A LEGEND: Visits to Lucky Strike Mine Produce Great Memories and Material. By Bruce McKay.
• THE GOLDEN IRON MINERAL: Pyrite's Many Crystal Forms Keep Collectors Fascinated. By Bob Jones.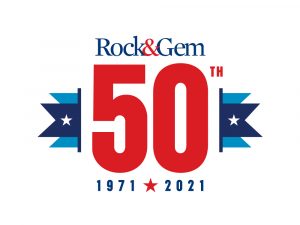 • "TOUCH THE MOON" WITHOUT LEAVING EARTH: Discovering Similarities Between Space and the Upper Midwestern U.S.. By Jordan D. Marche II.
• R&G REVISITED: IDAHO STAR GARNETS: Just Drive Down Emerald Creek to Pee Wee Gulch (February 1985). By Earl Spendlove
In addition, you'll find the following regular R&G columns: Bench Tips with Bob Rush, Rock Science with Steve Voynick, What to Cut with Russ Kaniuth, On the Rocks with Bob Jones, Rock & Gem Kids and Earth Science In the News with Jim Brace-Thompson, Just Off the Wheels with Erin Dana Balzrette, The Road Report with Helen Serras-Herman, Show Dates, and the always popular Parting Shot.